The first three games of their College World Series saw the Virginia Cavaliers' elite stable of arms look nearly unhittable. For the most part Monday night, Vanderbilt fell victim to a similar fate.
The only difference here is the Commodores didn't need to slug the ball to light up the scoreboard.
Vanderbilt scored nine runs amid a complete loss of command from Virginia starter Nathan Kirby and held on late as the Cavaliers mounted a comeback for a 9-8 win in Game 1 of the 2014 College World Series.
Vanderbilt wins Game 1 of CWS Final over Virginia, 9-8. Commodores now one win away from National Championship. pic.twitter.com/fPl8I3Qlxs

— SportsCenter (@SportsCenter) June 24, 2014
The Commodores are one win away from their first men's national championship in school history. Both schools are making their first appearance in a World Series final and are relatively new to the Omaha scene.
"I think the programs have been built along the same lines," Vanderbilt head coach Tim Corbin told reporters before the series. "There's a very similar timeline. We both had great mentors and have done our best to maintain high academic standards while trying to reach the pinnacle of baseball."
Game 2 will take place Tuesday night, while the deciding third game will happen Wednesday if necessary. Both games will be held at TD Ameritrade Park in Omaha, Nebraska.

A favorite to most coming into the series, Virginia is left to pick up the pieces after a surprising failure from its pitching staff.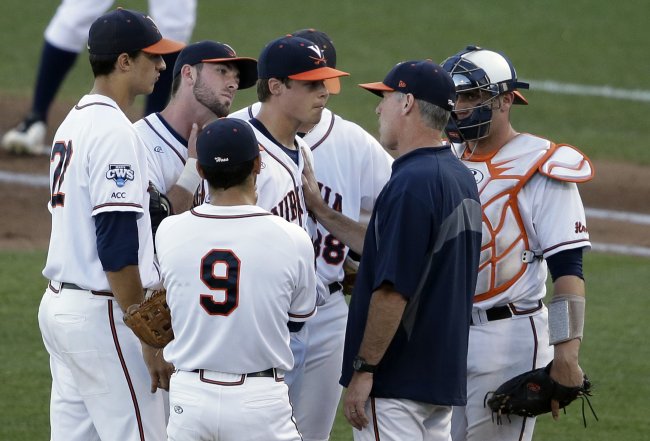 Nati Harnik/Associated Press
Kirby, the sophomore left-hander who had been Virginia's ace all season, saw two years' worth of improved command crumble in the critical third frame. After sitting the Commodores down in short order the first two innings, a one-out walk to Jason Delay began a frame that quickly snowballed out of control.
Kirby did not record another out. A Tyler Campbell double and RBI single from Bryan Reynolds were sandwiched in between five walks, the last three of which came with the bases loaded. When Kirby finally settled down enough to force Rhett Wiseman into an easy ground ball to first base, Mike Papi booted it and allowed another run to cross the plate.
Whit Mayberry entered the game with Vanderbilt ahead, but was unable to stop the bleeding. He hit Delay and then allowed Campbell his second double of the inning, this one clearing the bases to give the Commodores a commanding 9-2 advantage at the end of the frame.
Strangest line ever for Nathan Kirby: 2 1/3IP, 2H, 8R, 5ER, 5BB, 4K. #CWS

— Mitch Sherman (@mitchsherman) June 24, 2014
The loss was a considerable blow to the Virginia pitching staff, which came into Monday night looking like the most dominant in the nation. The Cavaliers allowed only four runs in their first three College World Series contests and only allowed opponents to hit a minuscule .147. That continued a trend from the entire season, in which Virginia ranked fifth in national ERA and consistently won on the back of its starters.
Kirby had been the ace of that cause, compiling a 9-2 record with a 1.70 ERA in 17 starts before Monday night. His performance hearkened memories of his freshman-year struggles and high school scouting reports that wondered whether he'd ever find command. One lost inning was enough to hand him the loss and raise his ERA to 2.06.
While the dominant third inning was enough to bring Vanderbilt within a win of a College World Series title, the result proved anything but certain.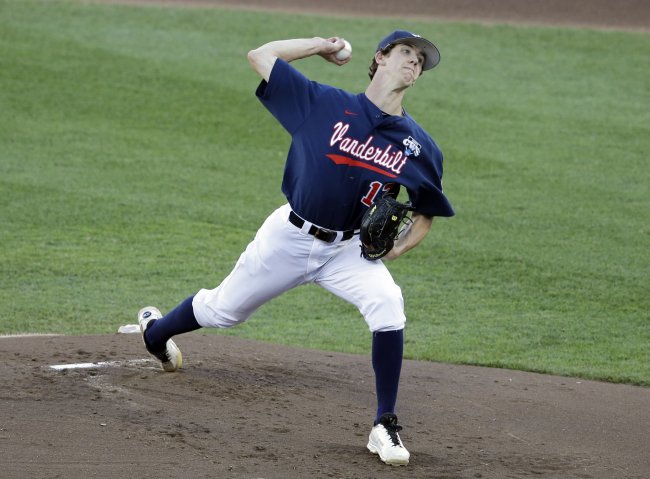 Nati Harnik/Associated Press
Starting pitcher Walker Buehler, chosen to start Game 1 over ace and first-round pick Tyler Beede, turned in a less-than-stellar performance of his own. Buehler gave up three hits in the first inning, culminating in a two-RBI Derek Fisher single that gave the Cavaliers an early lead.
The right-handed sophomore kept a ray of hope alive for Virginia in the fateful third by giving up three more runs before hitting the showers. Buehler allowed five earned spread across eight hits in his three innings of work.
Walker Buehler is done after 3 innings; here's LHP Jared Miller. Amazing that neither of those 2015 1st-rounders-to-be lasted to the 4th inn

— Aaron Fitt (@aaronfitt) June 24, 2014
Jared Miller relieved Buehler and earned his seventh win of the season despite giving up two earned on five hits in his two innings of work. The Cavaliers players were hitting the ball off the barrel the entire night—to the point a once seemingly dominant Vanderbilt team was holding on for dear life in the late innings.
Fisher and Brandon Downes each drove in two runs apiece. Every Virginia batter with the exception of Papi, who went 0-for-4, had at least one hit. Looking at the box score in every column besides runs, it looks like a Cavaliers rout; they out-hit Virginia 15-6 and allowed runs in just one inning.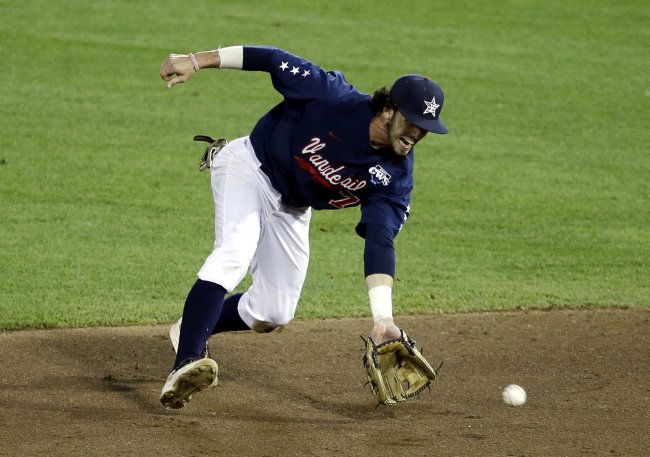 Nati Harnik/Associated Press
Virginia couldn't get the one hit to finish off the comeback. Joe McCarthy hit a screaming ground ball that went off reliever John Kilichowski and then right to an infielder, turning a game-tying hit into an RBI groundout in the eighth. One batter later, Fisher hit a rocket right into the shift at shortstop to finish off the Cavaliers' last gasp.
Adam Ravenelle came in for a 1-2-3 ninth inning to close it out.
Given the discrepancy from the way the game looked after the third inning on, the Commodores are lucky a baseball game is nine innings instead of 10. But there's a little luck involved in every championship—college or professional.
Vanderbilt wore the rabbit's foot Monday night. Now, it's their job to get it done with Beede on the mound Tuesday.
Follow Tyler Conway on Twitter: