As the 2014 College World Series carries on into Day 4, contenders are being eliminated while the top schools are emerging as national title favorites.
Vanderbilt beat UC Irvine on Monday, meaning the Commodores are just one win shy of the championship series. Meanwhile, Texas eliminated Louisville on Day 3—making the Cardinals the first team to be eliminated from Omaha.
That has only set the stage for Day 4, which boasted an elimination game as well as a winners bracket game that sent one team to the semifinals.
Let's break down all the results from Tuesday at the College World Series.
2014 College World Series: Day 4

| | | | |
| --- | --- | --- | --- |
| Game No. | Matchup/Result | Time (ET) | TV |
| 7 | Ole Miss 2, Texas Tech 1 | - | ESPN2 |
| 8 | Virginia 3, TCU 2 (15) | - | ESPN |
NCAA.com
Day 4 Results
Ole Miss 2, Texas Tech 1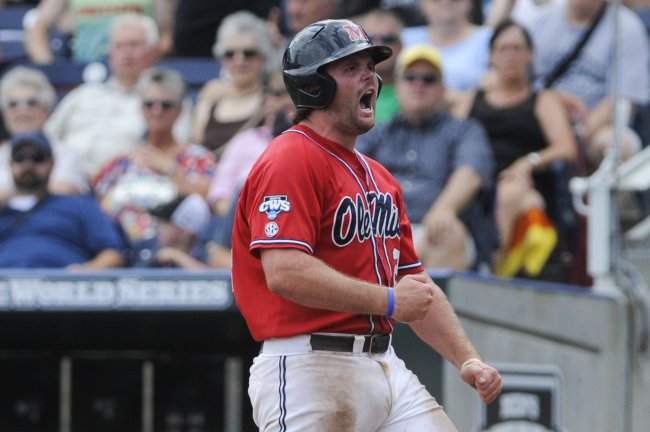 Eric Francis/Associated Press
The offense in Tuesday's game between Ole Miss and Texas Tech was late to arrive, but it finally came. The Rebels were the last to strike, earning a walk-off 2-1 victory to survive and advance in the elimination game.
NCAA Baseball capped up the walk-off:
HOTTY TODDY!!!!! Hero status John Gatlin... @OleMissBSB walks off winners!! #CWS pic.twitter.com/M0iFq2R27E

— NCAA Baseball (@NCAACWS) June 17, 2014
Hot pitching was the story for much of the contest. Starting pitchers Ryan Moseley of Texas Tech and Christian Trent of Ole Miss dueled to a stalemate throughout the better part of Tuesday's game.
Neither side brought a runner home through six innings, but the stalemate was finally broken in the bottom half of the seventh. Ole Miss reached base on a fielding error, and after a walk, pinch hitter Holt Perdzock came through with a single down the line to bring around the game's first runner to score.
That inning was huge for Ole Miss, spoiling a masterful game from Moseley—who pitched 7.1 innings and let up just four hits and zero earned runs. But the last hit doomed him and allowed the Rebels to be in control heading down the stretch.
Texas Tech's season came down to one final inning with the Red Raiders down 1-0 entering the top half of the ninth.
Designated hitter Adam Kirsch connected on a single with one out in the inning, paving the way for pinch runner Zach Davis to do the rest, as Durango Herald's John Livingston summed up:
Unreal job by Texas Tech's Davis to get from 1st to 3rd with two steals with one out trailing 1-0. Mighty fine baseball. Tied up 1-1 #CWS

— John Livingston (@jlivi2) June 17, 2014
The Red Raiders stayed alive with the clutch final-inning moment from Davis, and they were half an inning away from extending the game to extras. But that proved to be half an inning too long.
Ole Miss got on base with a one-out walk. Then, the second fielding error of the game for Texas Tech spelled doom. A ground ball came back to the pitcher, who threw it over second base and allowed the Rebels runner to advance to third with just one out.
Texas Tech put two strikes on John Gatlin, but he reached his bat out for a blooper that brought around the winning run. The Rebels stormed the field in celebration, and the Red Raiders were left hanging their heads.
With the crushing defeat, the Red Raiders' season is now over after losing their opening two games of the tournament in heartbreaking fashion to TCU and now Ole Miss.
But Texas Tech still reached Omaha for the first time, and that can't be ignored, per Perfect Game's Kendall Rogers:
#OleMiss faces #UVA/#TCU loser. With that said, what a hell of a season for @TTU_Baseball to get to Omaha. Foundation is set. #CWS #TTU

— Kendall Rogers (@KendallRogersPG) June 17, 2014
The team reached new heights in 2014, and that wasn't lost on head coach Tim Tadlock after the game, per Baseball America's Aaron Fitt:
Texas Tech coach Tim Tadlock got a little emotional talking about what this run has meant for his program. Don't see that side of him much.

— Aaron Fitt (@aaronfitt) June 17, 2014
During the emotional postgame press conference, Tadlock made sure that there was no doubt his Red Raiders will fight to get back to Omaha, per Texas Tech Associate Athletics Director of Communications Blayne Beal:
Tim Tadlock: "We will lay our head on the pillow every night and wake up every morning trying to get back here." pic.twitter.com/AS8plLsD5p

— Blayne Beal (@BlayneBeal) June 17, 2014
While emotions were high for Texas Tech, they were just as high in the other locker room. The Rebels just barely survived and saw their season continue after battling to the very end.
Up next for Ole Miss is the loser of the night game between TCU and Virginia. Should the Cavaliers lose, Ole Miss will have a chance to eliminate the team that beat them earlier in Omaha.
Virginia 3, TCU 2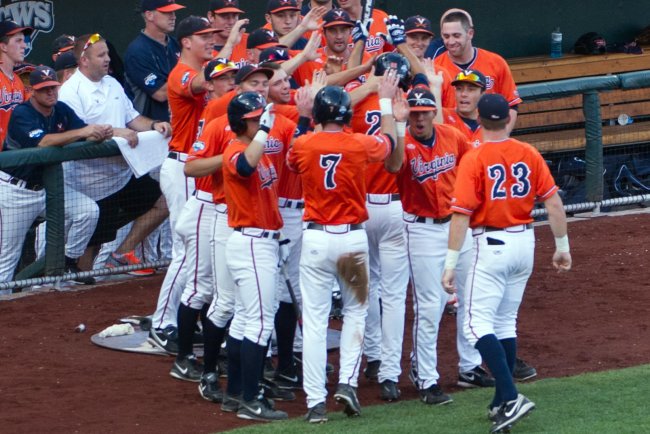 USA TODAY Sports
In one of the longest games the College World Series has ever seen, Virginia stunned TCU in the 15th inning with a walk-off sacrifice fly to send the Cavaliers one win away from the championship series.
NCAA Baseball summed it up:
HOOOOOOOOOOOOOOOS!!! Daniel Pinero delivers another walk-off W for @UVABaseball! #CWS pic.twitter.com/JvCVWSko9f

— NCAA Baseball (@NCAACWS) June 18, 2014
It was the longest game at the College World Series since 1970, per Associated Press via NCAA.com.
Although they would soon after cool off, the bats started out hot for both teams.
In the bottom half of the first, Virginia jumped on TCU pitcher Brandon Finnegan early. Leadoff hitter Branden Cogswell doubled to start things off, and came around to score on a throwing error to third base as the Cavaliers took an early 1-0 lead.
It took no time for the Horned Frogs to respond with a two-run second inning. Garrett Crain, Jerrick Suiter and Dylan Fitzgerald singled back-to-back-to-back to kick off a hitting display that ended with TCU sporting a 2-1 lead.
Virginia tied things up in the fifth, but heading down the stretch it was anyone's game. The best chance for either side to pull in front before extras came in the eighth, when Kenny Towns was tagged out at home after a crazy fielding play that ended with TCU first baseman Kevin Cron saving the day.
Fort Worth Star-Telegram's Stefan Stevenson summed up the epic play:
Kevin Cron ended up taking the final throw after Towns was caught in a rundown between home and third. Cron tagged him in the face.

— Stefan Stevenson (@StevensonFWST) June 18, 2014
That play for TCU ended up preserving the game, as unhittable pitching for both sides made way for a marathon of a game. Batters were retired left and right, and the game went on to the 15th inning.
Then, finally, came the winner.
Virginia went down one-two-three from the 10th inning to the 14th, but Nate Irving jumpstarted the Cavaliers with a leadoff double in the bottom of the 15th.
Irving's bomb to left-center field was just out of reach, as NCAA Baseball captured:
Nate Irving leads off the @UVABaseball 15th with a ground-rule double just out of Boomer White's reach. #CWS pic.twitter.com/y4zUjrqLRH

— NCAA Baseball (@NCAACWS) June 18, 2014
Branden Cogswell advanced the runner to third on a sacrifice bunt, and next up was Daniel Pinero, who flied out to center field. The desperation throw was way too late.
The win was incredibly inspiring for Virginia while just as deflating on the TCU side, but both sides showed a ton of heart by going deep into the night, as Perfect Game's Kendall Rogers noted:
Both @UVABaseball and @TCU_Baseball showed a lot of championship qualities tonight. CF play, bullpens, etc., just terrific. #CWS

— Kendall Rogers (@KendallRogersPG) June 18, 2014
TCU head coach Jim Schlossnagle hinted toward some frustration concerning the park, per Baseball America's Aaron Fitt:
Jim Schlossnagle: "It's just a travesty what we've done to college baseball." Talking about the park and bat combination.

— Aaron Fitt (@aaronfitt) June 18, 2014
Virginia and TCU seemed like they were going to play until the sun came up, with neither offense amounting much during the extra innings. Had the Cavaliers not mounted that late 15th-inning winner, it would have become the longest game in terms of innings in CWS history.
TCU will head to the losers bracket for an elimination game against Ole Miss. Meanwhile, Virginia is sitting pretty as it enters the semifinals, just one win away from advancing to the final series.
Follow Steven Cook on Twitter.