Russell Wilson is a smart guy, but he may not be the biggest soccer fan you know.
The Seattle Seahawks quarterback made a valiant attempt at congratulating the U.S. men's national soccer team on their group-stage win over Ghana at the World Cup on Monday night, but he ended up botching the particulars.
Wilson tweeted out his support to the U.S. side for their 2-1 victory, but something in the message didn't look quite right:
Ah, yes. Good ol' "Cliff Dempsey." I don't remember him making the USMNT roster, but I do remember him being quite helpful after I drove a car through my living room.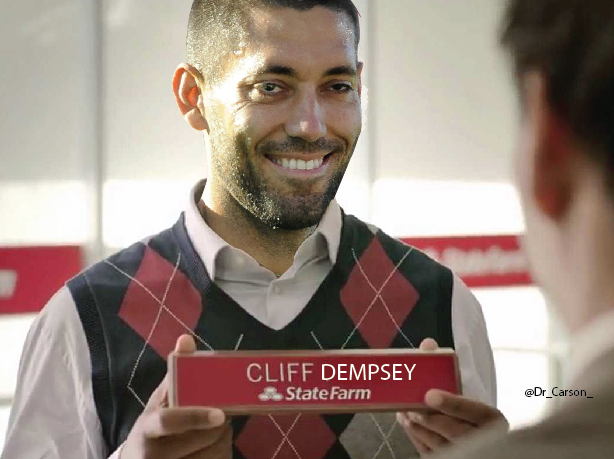 B/R
Wilson quickly deleted the tweet and tried again, this time to better results:
Congrats fellow Seattleite Clint Dempsey on the big goal and win!!! #usavsgha #worldcup http://t.co/vi2YpPBE2a

— Russell Wilson (@DangeRussWilson) June 17, 2014
Soccer fans who jumped on the quarterback's first tweet thanked him for getting it right the second time around:
@dangerusswilson Much better haha!

— Nikki Jones (@fuzzybunny_feet) June 17, 2014
@DangeRussWilson good recovery. As always.

— Andrew White (@RipCity_Zag) June 17, 2014
I'd like to give Wilson a pass on this one. While he is far from exciting on social media, he seems to be personally tweeting from his Twitter account. He, like so many other Americans, is probably a casual soccer fan getting caught up in the excitement of the World Cup.
Then again, Clint Dempsey is the biggest star in American soccer who isn't named Landon Donovan, and as Wilson says, he's a fellow Seattleite.
Let's just say Wilson owes Dempsey a beer once this tournament is over.
On the Twitters.