The 2014 College World Series has officially begun with a pair of thrilling matchups on the Day 1 slate.
UC Irvine and Texas were first to do battle in Omaha on Saturday, followed up by the nightcap that featured Louisville and Vanderbilt going head-to-head. The winners moved to being just one victory away from the semifinals, while the losers fell into the losers' bracket, one defeat away from elimination.
Let's take a look at the Day 1 results as the national championship picture begins to take shape in Omaha.
2014 College World Series Day 1 Scores

| | |
| --- | --- |
| Game No. | Matchup/Result |
| 1 | UC Irvine 3, Texas 1 |
| 2 | Vanderbilt 5, Louisville 3 |
NCAA.com
Full Schedule
Visit NCAA.com for the complete list of upcoming games.
Day 1 Results
UC Irvine 3, Texas 1
They didn't strike first, but the Anteaters slowly crawled back into the College World Series opener against Texas on Saturday afternoon, as UC Irvine ended up with the 3-1 victory.
Baseball America's Aaron Fitt reported the Anteaters' win:
UC Irvine beats Texas 3-1 to open #CWS. Evan Brock fans side in order in 9th; stuff really played up in relief, 90-93. Retired 7 straight.

— Aaron Fitt (@aaronfitt) June 14, 2014
UC Irvine tested the Longhorns out of the gates when leadoff hitter Taylor Sparks singled and got to third before the side was retired. Texas also put a runner on third in the opening inning, but to no avail.
It didn't take long after that for the Longhorns to strike heading into the second. Collin Shaw cracked a double to open the inning, advancing to third on a sacrifice bunt to give Texas a runner well within scoring position and just one out.
Third baseman Zane Gurwitz, the last hitter in the lineup, took it from there with a creative bunt that allowed Shaw to come around and score, as Perfect Game's Kendall Rogers observed:
It's a bunt show as expected in this one. The first run of the #CWS comes home on a bunt RBI single by 9-hole hitter Zane Gurwitz. 1-0 #UT

— Kendall Rogers (@KendallRogersPG) June 14, 2014
The Anteaters continued testing Longhorns starting pitcher Nathan Thornhill by getting into scoring position each of the first four innings, but it was nothing doing for much of the game. Through seven innings, he had only conceded four hits and held a 1-0 lead through magnificent pitching.
Well, that changed in a hurry. The Longhorns stuck with Thornhill in the eighth, and UC Irvine made them pay. Adam Alcantara singled to open the inning, then Justin Castro grounded out to put Alcantara in second with Smart coming to the plate.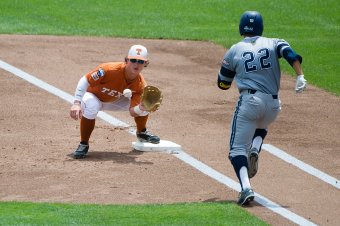 USA TODAY Sports
The nation's leader in triples added another to his collection in the biggest moment of the season, ripping one into left-center field that easily brought Alcantara home. His speed and the threat of a scoring runner allowed Smart to get to third, and Chris Rabago came up to the plate to single him home for a 2-1 lead even after Texas changed pitchers.
One more big hit, this time from Jonathan Munoz, brought Rabago around to score before the inning ended. In a flash of lightning, the Anteaters led 3-1.
That just proved to be too much, too late for Texas to overcome. The Longhorns ended up leaving runner after runner on base seemingly every inning but couldn't ever get those valuable insurance runs. UC Irvine made them pay.
Next up for the Anteaters is the winner of the night game of Vanderbilt-Louisville, while Texas will have to face the loser in an elimination game. Both will be on Monday.
Vanderbilt 5, Louisville 3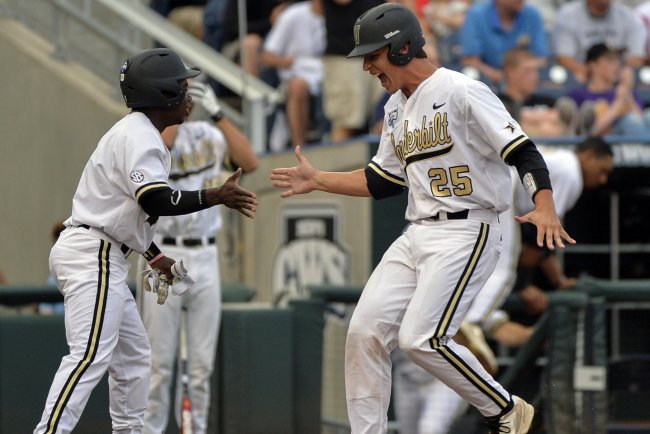 Ted Kirk/Associated Press
In a battle between two of the better pitchers in baseball, Carson Fulmer did his job to help lead Vanderbilt to a 5-3 win.
This pitching battle was the highlight coming into this game, as hyped by ESPN's Karl Ravech:
Great pitching match up tonight at #cws Kyle Funkhouser of Louisville and Carson Fulmer of Vanderbilt. . Both will be in majors. 8et ESPN2

— karl ravech (@karlravechespn) June 14, 2014
Unfortunately, Kyle Funkhouser struggled in the second inning to help give Vanderbilt the lead. With two outs and no men on, the pitcher walked two and gave up a single to load the bases. This was followed by a wild pitch to score John Norwood.
Dansby Swanson then came through in the clutch with a two-run double to make it 3-0 in favor of the Commodores.
They were then able to add to the lead in the fourth inning on a big hit from Bryan Reynolds, as described by Aaron Fitt of Baseball America:
Funkhouser hangs a slider, and Bryan Reynolds rips it into right-center gap for an RBI triple. It's 4-0 Vandy, B4. Deep hole vs. Fulmer.

— Aaron Fitt (@aaronfitt) June 15, 2014
While it seemed like Louisville would have a tough time getting back into the game, the squad finally got a big hit from an unexpected source, according to Jeff Greer of The Courier-Journal:
Leave it to .212-hitting Sutton Whiting to drill an RBI triple to right to get #UofL its first run. Vandy up 4-1, but Cards with RISP, 0 out

— Jeff Greer (@jeffgreer_cj) June 15, 2014
Sutton Whiting then came around to score on an RBI groundout by Kyle Gibson, cutting the lead to 4-2.
The Cardinals then cut the lead to one in the top of the seventh on an RBI single by Nick Solak, but Vanderbilt got the run right back in the bottom of the inning when Vince Conde scored on a passed ball.
Adam Ravenelle took care of the rest with 2.1 scoreless innings out of the bullpen to close out the game.
Vanderbilt will now move onto face UC Irvine, who were the surprising winners earlier in the day over Texas. From this point, two more victories can put them in the finals of the College World Series.
On the other hand, Louisville in a more desperate position with a matchup against Texas on Monday. In a double-elimination bracket, one more loss could end the season for the talented squad. If the Cardinals want to stay alive, they will need to perform better in all phases of the game in the next contest.