With three teams punching their tickets for the 2014 College World Series on Saturday, Sunday's slate guaranteed that at least one more would join them, but also gave an opportunity for all of the eight spots to potentially be filled.
Texas, Louisville and UC Irvine all saw their way into the final eight by going 2-0 in the super regionals while Vanderbilt fell to Stanford, making their Sunday game the decider for who advances to the College World Series.
Maryland, Texas Tech, TCU and Louisiana-Lafayette all entered the day with a 1-0 advantage and the chance to move onto Omaha. Meanwhile, Virginia, Charleston, Pepperdine and Ole Miss were fighting on Sunday to keep their seasons alive.
The chance to compete for a national championship is on the line, so it's safe to say the stakes are high as these schools try to make their way into the College World Series.
Let's break down the latest scores from Sunday's action and take a closer look into the games.
2014 College Baseball Super Regionals: Day 3

| | | |
| --- | --- | --- |
| Home | Score/Time | Series Score |
| Maryland at Virginia | 7-3 Virginia | Tied 1-1 |
| Stanford at Vanderbilt | 12-5 Vanderbilt | Vanderbilt Wins |
| Charleston at Texas Tech | 1-0 Texas Tech | Texas Tech Wins |
| Pepperdine at TCU | 3-2 Pepperdine | Tied 1-1 |
| Ole Miss at La.-Lafayette | 5-2 Ole Miss | Tied 1-1 |
NCAA.com
Complete results courtesy of NCAA.com
Virginia 7, Maryland 3
A narrow 5-4 defeat at home on Saturday against Maryland put the Virginia Cavaliers' backs against the wall entering Sunday; another defeat would mean a sour end to their season.
The Cavaliers certainly played with that mentality, as they forced a decisive Game 3 by overpowering Maryland's pitchers and quieting the Terrapin bats en route to a 7-3 win.
Virginia Baseball was certainly excited to see its season extended to Monday:
'HOOS WIN!! UVa ties up the series with a 7-3 win over Maryland to force game three. Tomorrow's game time is TBD #RoadToOmaha

— Virginia Baseball (@UVABaseball) June 8, 2014
The offense started slowly for both sides as the starting pitchers had their way early on. The Cavaliers and Terrapins traded a run apiece in the first five innings, and the game entered the sixth at 1-1.
Then, things got going in a big way for the home team.
Third baseman Kenny Towns doubled to open the sixth and advanced to third on an error. Towns then came around to score on a groundout by designated hitter John La Prise, giving Virginia a 2-1 lead through six.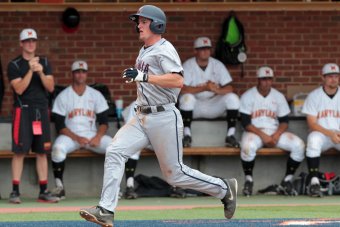 ANDREW SHURTLEFF/Associated Press
That momentum set the stage for a three-run seventh that ultimately decided the game for the Cavaliers. Virginia connected for four singles in the inning, and suddenly, the score was 5-1—and the Cavaliers had finally see their hot hitting pay off.
Baseball America's Aaron Fitt thought it was about time:
Felt like it was only a matter of time before Virginia broke through—Cavs have taken plenty of good ABs last 2 days. UVa. up 5-1 after 7.

— Aaron Fitt (@aaronfitt) June 8, 2014
The rain started coming down lightly in the final few innings, but by then it was all but certain that Virginia would soon be wrapping things up. Maryland caused a bit of a stir for the home fans when they put two runs on the board in the bottom of the ninth, but Virginia quickly shut the door before things got too serious.
With a 17-9 advantage in hits, it's no secret that Virginia's bats were on fire with the season on the line. Keeping it going heading into a winner-take-all game is a whole new task, though—especially after Maryland was able to build a bit of confidence in the final inning.
Game 3 between Virginia and Maryland is on Monday, and the winner will advance to Omaha while the loser will see the curtains close on their season.
Vanderbilt 12, Stanford 5
In Sunday's only winner-take-all affair, Vanderbilt bounced back from a Game 2 loss to Stanford and the Commodore bats caught fire en route to a 12-5 victory.
NCAA Baseball welcomed Vandy to Omaha for the program's second ever appearance:
PACK YOUR BAGS! @VandyBaseball is headed to Omaha for the program's 2nd #CWS appearance! pic.twitter.com/8NAdOlVcxE

— NCAA Baseball (@NCAACWS) June 8, 2014
The Commodores needed to get off to a strong start in order to quell the momentum Stanford built in the middle game of the series, and boy did they.
Vanderbilt exploded in the top of the first inning, and nearly 40 minutes after the game opened up and after Stanford had replaced its starter, the Cardinal finally got out of the half-inning.
The problem was, they were already nursing a 5-0 deficit by the time their batters first got to the plate:
Vanderbilt has already surpassed their run total from yesterday in the 1st. It's 5-0

— David Lombardi (@DavidMLombardi) June 8, 2014
The good thing for Stanford was that was out of the way in the first inning, and it had plenty of time to mount a comeback—which it did. A four-run third inning from the Cardinal got them right back in it with a one-run deficit, trailing 5-4.
It wasn't easy for Vandy at that point despite its hot start, The Tennessean's David Climer observed:
Nothing coming easy for Vanderbilt bball. 5-0 1st inning lead down to 5-4 thru 3.

— David Climer (@DavidClimer) June 8, 2014
After trading runs in the fourth, Vanderbilt and Stanford went down part of the stretch neck-and-neck before the home team pulled away for good. Vandy piled on four runs in the seventh, then two more in the eighth. A couple of insurance runs turned into a couple more, and suddenly the game was all but over.
The desperation for both teams showed in the way that Vanderbilt started and how Stanford responded, but in the end, the Commodores proved why they were hosting the super regional and why they have been one of the nation's top programs over the last few years.
Vanderbilt moves on to play Louisville, who advanced Saturday, on the first night of the College World Series.
Texas Tech 1, Charleston 0
While Sunday's first two games were more of the offensive type, Texas Tech and Charleston dueled it out on the mound as the Red Raiders squeaked out a 1-0 victory to win the super regional and punch the fifth of eight tickets to Omaha.
KMBT's Ashly Elam noted that it was the program's first trip to Omaha:
Texas Tech advances to first CWS after defeating College of Charleston 1-0 to sweep series (2-0). #12SportsSETX #RoadToOmaha

— Ashly Elam (@AshlyKBMT12) June 8, 2014
The game started slow offensively, just as it ended, but that didn't mean that both teams didn't have their chances. Texas Tech left runners on base after each of the first three innings, while Charleston did so on two of three occasions.
The fourth time was the charm for Texas Tech. When Tyler Neslony singled to start the fourth inning, Adam Kirsch doubled just two batters later and knocked Neslony in for the game's only run.
From that point on, the Red Raiders only mustered up two more hits for the rest of the game—meaning it would come down to the arms of the Texas Tech bullpen.
Needless to say, they got the job done, just as they have all postseason per NCAA Baseball:
The @TTU_Baseball pitching staff has combined to surrender only 4 runs in 6 postseason games... Good for a 0.65 ERA!

— NCAA Baseball (@NCAACWS) June 8, 2014
The only real challenge that Texas Tech saw came in the seventh, when Alex Pastorius singled to open the inning and he moved to second on a sacrifice bunt. But the Red Raiders got the next two batters to ground and fly out, effectively ending the best chance Charleston would have.
Texas Tech head coach Kliff Kingsbury tweeted his support of the fellow Red Raiders:
Congrats @TimTadlockTTU and Texas Tech Baseball!! So proud of these boys! See you in Omaha! #WreckEm

— Kliff Kingsbury (@TTUKingsbury) June 8, 2014
History was assured to be made in this series, as both schools were looking to advance to their first ever College World Series.
In the end, it was Texas Tech doing so, and it didn't waste much time in the process as the Red Raiders wrapped things up before a decisive Game 3.
Pepperdine 3, TCU 2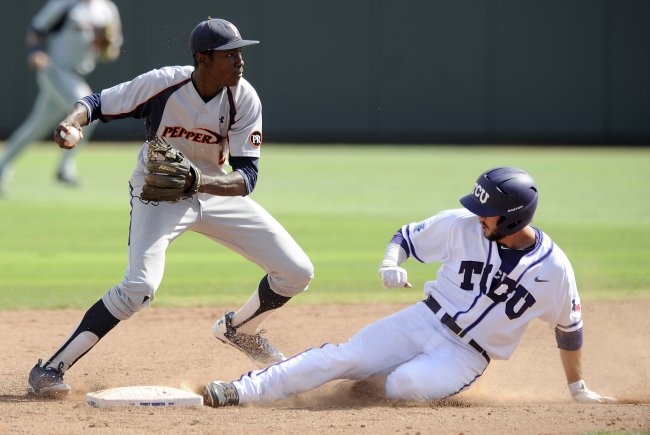 Matt Strasen/Associated Press
TCU opened Sunday with a chance to oust Pepperdine at home and advance to the College World Series, but the Horned Frogs didn't take advantage and fell, 3-2.
NCAA Baseball noted that the series will head to a decisive Game 3:
Waves crash the party in Fort Worth! @PeppBaseball knocks off TCU 3-2 to force a game 3 tomorrow. #RoadToOmaha pic.twitter.com/nAXblRhW7b

— NCAA Baseball (@NCAACWS) June 9, 2014
There was nothing doing between the two schools for the former half of the game. Through four-and-a-half innings, the score was still level at 0-0.
That changed in the bottom of the fifth, when a couple of singles and timely base running allowed the Waves to take a 1-0 lead.
Both sides were quickly retired in the sixth, and heading into the seventh inning stretch, Pepperdine seized one more opportunity to add to its lead, as ESPNU described:
2nd Wave. Hutton Moyer scores for 2nd time on Manny Jefferson fly to CF. Then, Brandon Caruso nailed his 2nd RBI a batter later. Waves 3-0

— ESPNU (@ESPNU) June 9, 2014
Though, TCU wasn't quite done there. A fielding error gave the Horned Frogs life in the eighth, and they added two runs to make it 3-2.
Pepperdine would have to close out one more inning to stay alive for another game, and it did just that in a quick, one-two-three ninth inning that closed the door on the Horned Frogs.
The Waves nearly forked over their season with some untimely errors, as they committed four as a team to TCU's one. But their seventh-inning outburst was just enough to get over the hump and keep their season going.
The rubber match between these two sides will take place Monday, with the winner advancing to Omaha.
Ole Miss 5, Louisiana-Lafayette 2
Louisiana-Lafayette couldn't send Ole Miss home Sunday night as the Rebels won, 5-2, to tie the series at 1-1:
LET'S PLAY 3! @OleMissBSB forces a winner-take-all 3rd game in the Lafayette Super Regional. #RoadToOmaha pic.twitter.com/C6QXl11lfs

— NCAA Baseball (@NCAACWS) June 9, 2014
Christian Trent was the star of the night. He pitched seven innings, giving up one run on four hits and striking out seven. Those seven strikeouts tied a career high, per Bill Bunting of Ole Miss Athletic Media Relations:
Trent has tied a career-high at Ole Miss with seven strikeouts tonight through 7.0 IP. #RebsBSB

— Bill Bunting (@WMBunt) June 9, 2014
Head to Head radio's Matt Wyatt thought the sophomore left-hander did a great job of avoiding giving any Ragin' Cajun hitters anything good to hit:
Christian Trent's formula is working vs ULL: away away away off-speed away away away jam-inside away away away slider. K

— Matt Wyatt (@MaroonWyatt) June 9, 2014
With Trent's performance, the Rebels didn't need a ton of offense.
They started the game off well, with Austin Anderson scoring on a Will Allen double in the bottom of the first inning.
Louisiana-Lafayette tied the game in the top of the fifth inning after Dylan Butler drove in Seth Harrison. Ole Miss was its own worst enemy during the scoring sequence, though, as a throwing error from Allen allowed Harrison to score.
The Rebels grabbed a 2-1 lead in the bottom of the seventh inning after a solo home run from Preston Overbey. The Ragin' Cajuns had a quick response, with Blake Trahan's single driving in Michael Strenz.
Ole Miss exploded for three runs in the bottom of the eighth. Auston Bousfield scored after a fielding error by Harrison, and then Colby Bortles drove in two with a single to make it a 5-2 game, which is how it ended.
The decider is scheduled for tomorrow night at 7 p.m.
Monday Schedule: TCU v Pepperdine - 4 PM ET (ESPN2) ULL v Ole Miss - 7 PM ET (ESPN2) Virginia v Maryland - 7 PM ET (ESPNU) #RoadToOmaha

— NCAA Baseball (@NCAACWS) June 9, 2014
Follow Steven Cook on Twitter: