In another life, Darryl Sutter could have been the leader of a cult.
Anyone on the outside of the inner circle is left wondering what people see in him. But on the inside, he inspires belief, protects his charges and has them all willing to sacrifice for the cause.
The cause, of course, is winning the Stanley Cup. With a second straight comeback overtime victory over the New York Rangers on Saturday, this one 5-4, Sutter's Los Angeles Kings are just two wins away from accomplishing that goal for the second time in three seasons despite more adversity than most teams could handle:
A 3-0 series deficit to the San Jose Sharks in the opening round.
A three-game losing streak in the second round against the Anaheim Ducks.
Two missed opportunities to eliminate the Chicago Blackhawks in the third round.
A pair of 2-0 deficits to the Rangers early in the first two games that the Kings somehow found ways to overcome.
"We weren't thinking about scoring the fifth goal, we were thinking about scoring the next goal," Kings captain Dustin Brown told CBC's Scott Oake after scoring the overtime winner Saturday. "I think that's what allows us to have the ability to stay in games even when it looks like we're out. We're not worrying about the end game, we're worrying about the next shift."
It's cliche. It's terrible fodder for journalists hoping to sink their teeth into something new. It's also absolutely true in the case of these Kings.
"We just grind away and find a way to turn the tide over the course of a game," Brown continued.
If you're looking for a reason for the Kings players' resiliency, look no further than Sutter and his tactics. He has created a mental strength among his players that has gone beyond their physical abilities and led to their apparent nine lives this spring. They believe anything is possible. They've been coached to.
@28doug 100 per cent agree that Darryl Sutter is doing a remarkably fine job. And that's an understatement.

— Stan Fischler (@StanFischler) June 8, 2014
Everything Sutter does has a purpose, from his tension-filled press conferences—with answers ranging from indifferent to offensive depending on who asks them and how they're posed—to his more casual scrums with familiar reporters.
He operates under the idea that everything he says will be read by his players, so he's as calculated as they come with his answers and efforts to steer the storylines.
When a player needs a bit of a boost, he's there to pump his tires.
If a player is getting too much individual attention, his tendency is to play it down.
Sutter on Justin Williams: "He's a really good player for our hockey team. He's our best right winger." What a gem.

— James

Mirtle

(@mirtle) June 5, 2014
Sutter tries to keep the team focused on the next shift rather than the next game. They act as if they're the less talented team of the two in any matchup, and that mindset makes them work harder than the opposition.
In the minutes following Game 7 of the Western Conference Final against the Chicago Blackhawks, Sutter wasted no time declaring his Kings the underdogs while looking ahead to the Rangers series.
Per NHL.com: "Great goaltending. Great defense. Great forwards. Great special teams. We're up against it again."
He shelters his players from outside influences and does everything he can do to make sure the attention isn't on his guys—whether it's positive or negative—and that the spotlight instead lands on his opponents. It's just another distraction that could get in the way of the quest for the Cup.
While Rangers coach Alain Vigneault was comfortable allowing CBC cameras in his dressing room before Game 1 of the Stanley Cup Final—even showing his pregame address to the players to be filmed—Sutter refused. It's the Los Angeles Kings against the world. Nobody other than those in the inner circle have the privilege of taking part in that private ritual.
In a brief moment of honesty recently, Sutter succinctly defined his philosophy for Curtis Zupke of NHL.com: "In a locker room (there's) 25 men and you don't let anybody in. There's a circle there. You're on the island with them. Don't let anybody on the island."
Its effectiveness has been proven in the past.
Since Sutter joined the Kings partway through the 2012 season, the team has made three straight conference finals and two Stanley Cup finals.
Before "firing" himself as Calgary Flames head coach and focusing solely on the general manager role a little less than a decade ago, Sutter guided a ragtag crew of players past the top three seeds in the conference, all the way to Game 7 of the 2004 Stanley Cup Final. The next season was lost to a lockout, but he took the Flames to the Northwest Division title the first season following that as an encore.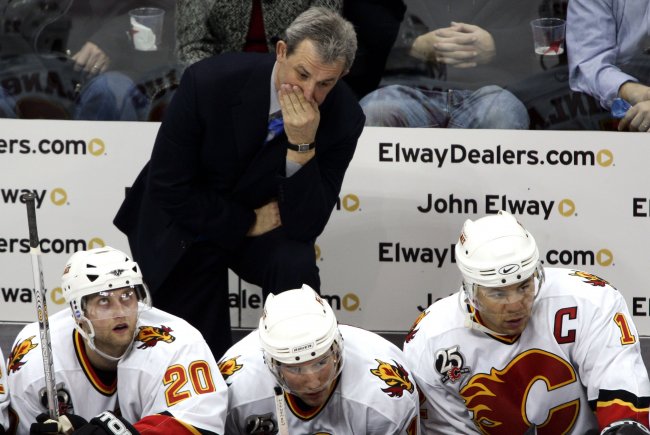 JACK DEMPSEY/Associated Press
How he gets his players to play to their potential—or beyond it—is still somewhat secretive. Having covered the Flames during the transition from Sutter as head coach to full-time GM, and then a few years following his dismissal from that role, I've heard a few stories of his motivational tactics.
Many of them involved yelling. In one particular incidence, a longtime team leader was in his stall before a game when Sutter decided to challenge his preparedness. When the player finally responded to the repeated barbs with some yelling of his own, Sutter calmly told the rest of the room, "Yup, he's ready."
Wins weren't celebrated for long, and losses made things downright miserable at the Saddledome during those Flames years. But Sutter knows the game, and he knows how players tick. The ability to get his team to buy into how he wants them to play in order to win is what makes him a quality coach—even if the shelf life on his tactics has an expiration date.
Veteran Kings defenseman Willie Mitchell also spoke to Zupke of Sutter's strengths without giving too much away:
He's understands the game very well as a coach. I've played a while now with a few different coaches, but I think his strength is as master motivator. He's a really good motivator. He'll push the buttons necessary to make sure people are realizing the significance of the moment or the time. That's what he does best.
He's doing it again this season. And with apologies to the Rangers, who have played well enough for the majority of the first two games to be up 2-0 in the series, or at worst sitting with a 1-1 tie, they've got no shot to come back now.
The Kings are too resilient. They aren't satisfied. They are following the lead of their coach, who after both overtime victories stayed on the bench only long enough to make sure the puck went in before walking off to the dressing room to get ready for the next game.
There's more work to be done.
"We've got Darryl running the bus here," Mitchell said with a grin after the game, his interview carried live on the NHL Network. "It's just one game at a time with him, everyone knows that. As he says, you get nothing for two (wins)."
Everyone says it.
Few do it as effectively as Sutter.
Steve Macfarlane has been covering the NHL for more than a decade, including seven seasons with the Calgary Sun. Follow him on Twitter @macfarlaneHKY.