As if Sunday's action in the college baseball tournament's regionals was not enough, some of the contests trickled over to Monday's slate thanks to interference from Mother Nature.
Like the day before it, Monday proved another critical moment for several teams looking to survive the double-elimination format before advancing to the super regionals.
The battle between North Carolina and Long Beach State was a focal point of the day as their duel that began on Sunday night picked up on Monday in the seventh inning with runners on base. The winner was forced to suit up again only a few hours later for a game against Charleston.
Here is a look at all the scores for Monday's games. Check back for updates as the results develop.
2014 NCAA Baseball Day 4 Tournament Scores

| | | |
| --- | --- | --- |
| Regional | Matchup | Result |
| Gainesville | No. 2 Long Beach St. vs. No. 3 North Carolina | Dirtbags 12, Tar Heels 5 |
| Tallahassee | No. 2 Alabama vs. No. 3 Kennesaw State | Owls 4, Crimson Tide 2 |
| Miami | No. 1 Miami (Fla.) vs. Texas Tech | Hurricanes 2, Red Raiders 1 |
| Miami | No. 1 Miami (Fla.) vs. Texas Tech | Red Raiders 4, Hurricanes 0 |
| Gainesville | No. 2 Long Beach St. vs. No. 4 Charleston | Cougars 4, Dirtbags 2 |
| Oxford | No. 1 Mississippi vs. No. 2 Washington | Rebels 3, Huskies 2 |
| Bloomington | No. 1 Indiana vs. No. 3 Stanford | Cardinal 5, Hoosiers 4 |
| Houston | No. 3 Texas A&M vs. No. 2 Texas | Longhorns 4, Aggies 1 |
| Lafayette | No. 1 La-Lafayette vs. No. 2 Mississippi St. | Ragin' Cajuns 5, Bulldogs 3 |
| Baton Rouge | No. 1 LSU vs. No. 2 Houston | Cougars 12, Tigers 2 |
| Corvallis | No. 3 UC Irvine vs. No. 1 Oregon State | Anteaters 4, Beavers 2 |
NCAA.com
Day 4 Results
Long Beach State 12, North Carolina 5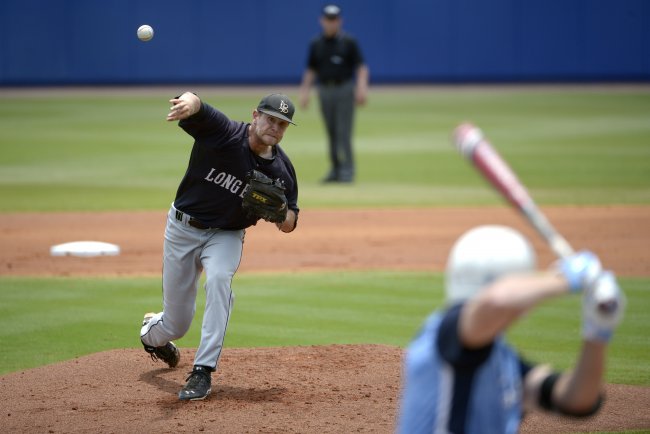 Phelan M. Ebenhack/Associated Press
The matchup between the Tar Heels and Dirtbags was an entertaining one over the course of two days, to say the least. After Long Beach State downed North Carolina on Friday, the two played a much closer affair on Sunday night.
Ino Patron hit a two-run bomb to allow the Dirtbags to jump out to a 2-0 advantage, but North Carolina was quick to answer in the early goings with a home run from Skye Bolt and a squeeze bunt from Korey Dunbar.
UNC Sports Turf helped to illustrate the horrific condition of the field during the delay:
Safe to say @RichaelMussell has a job with us when he gets back to Chapel Hill if he wants it... pic.twitter.com/iHa8awddpY

— UNC Sports Turf (@Tar_Heels_Turf) June 2, 2014
After a rain delay that lasted more than three hours, Sunday's game was postponed with the Dirtbags up 5-4 with two runners on in the seventh inning. Monday, Long Beach State plated two runs in that frame. The team saw North Carolina respond with one of its own in the bottom of the frame before exploding for five runs in the top of the ninth.
An infield single and a walk produced the first two runs of the final frame for the Dirtbags before Garrett Hampson hit a two-RBI single to right field. Patron then hit a sacrifice fly to eliminate the Tar Heels from the tournament.
With the win, Long Beach State gets a shot at No. 4 Charleston. Given the Dirtbags' efficient blend of small ball that produced 15 hits over the course of two days against the Tar Heels, anything less than a continued offensive onslaught will be considered a disappointment.
Miami (Fla.) 2, Texas Tech 1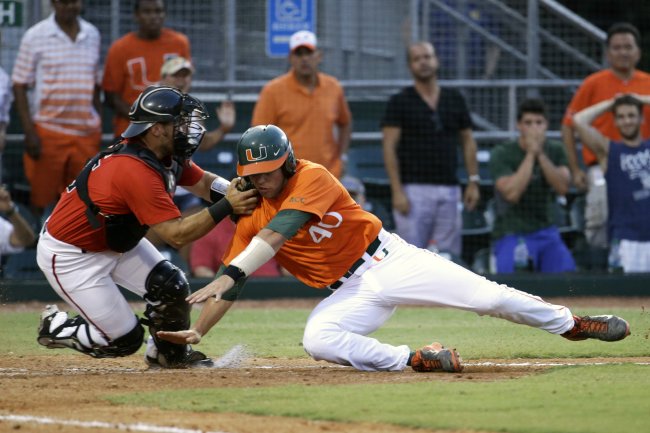 Lynne Sladky/Associated Press
The other postponed game that did not get to finish on Sunday night was a duel between the Miami Hurricanes and Texas Tech Red Raiders.
The end result between two sides with bad blood did little to settle the score—Miami's victory meant the two faced off yet again about an hour later for the regional title.
We say bad blood because Sunday night saw even the coaches get involved in a bench-clearing scuffle, as captured by ESPNU:
#RoadToOmaha Miami's David Thompson collides w/ TTU's 1st baseman causing the benches to clear. http://t.co/FshNR7fPZi

— ESPNU (@ESPNU) June 2, 2014
Interestingly enough, Texas Tech took a 1-0 lead into the eighth inning on Monday and wound up losing after allowing a run in the top of the eighth and 10th frames. An RBI double from David Thompson set up the fateful rematch.
Kennesaw State 4, Alabama 2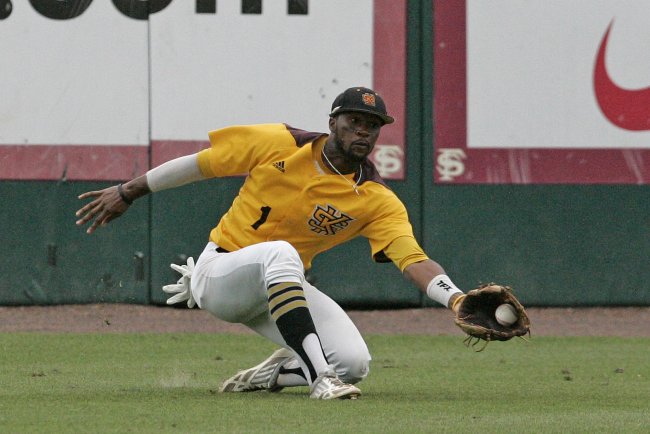 STEVEN CANNON/Associated Press
Kennesaw State is headed to its first super regionals after downing the much bigger Alabama Crimson Tide in impressive fashion on Monday.
With the victory, the Owls became the first team in 21 years to win a regional in its debut. The school's Twitter account captured the moment:
SUPER OWLS!!! @KSUOwlsBaseball is heading to the Super Regionals after a 4-2 win vs. Alabama. #GoKSUOwls pic.twitter.com/HLONaNRv2w

— Atlantic Sun (@AtlanticSun) June 2, 2014
Thanks to playing its fourth game in as many days, Kennesaw State elected to use four different pitchers on Monday, including Travis Bergen—who was named the region's most outstanding player after picking up the win, allowing just one hit in 3.1 innings of work and fanning two batters.
Jacob Bruce knocked in an RBI double in the seventh frame to give the owls a 3-2 advantage, before an RBI single from Jeremy Howell in the eighth inning gave the team insurance and a date with Louisville in the super regional.
Charleston 4, Long Beach State. 2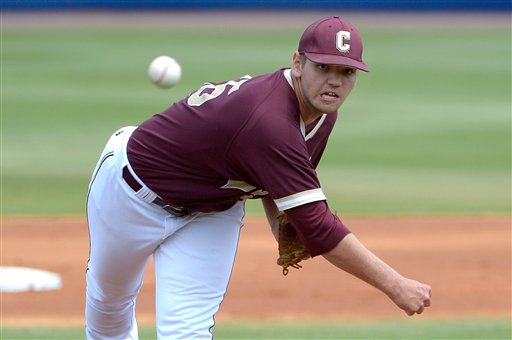 Phelan M. Ebenhack/Associated Press
The dose of double action proved too much for Long Beach State on Monday, as an offensive-happy triumph over North Carolina did not translate to much offense against Charleston in the afternoon.
The Dirtbags at first glance looked to still have the offensive momentum after jumping out to an early lead via two runs in the bottom of the first inning to take a 2-1 lead. An RBI double from Richard Prigatano and an infield RBI single from Johnny Bekakis suggested things were just fine at the plate.
That thought proved 100 percent incorrect.
Cougars freshman pitcher Tyler Thornton went on to pitch all nine innings and allowed just four total hits while fanning as many batters. The team's Twitter account summarized his day, while its Instagram captured the celebration:
Tyler Thornton pitches a complete game and didn't allow a run after the first inning. He gets his 7th win in a monumental performance.

— CofC Baseball (@CofCBaseball) June 2, 2014
The performance means the Cougars are on to the next round to keep the Cinderella story going.
Texas Tech 4, Miami (Fla.) 0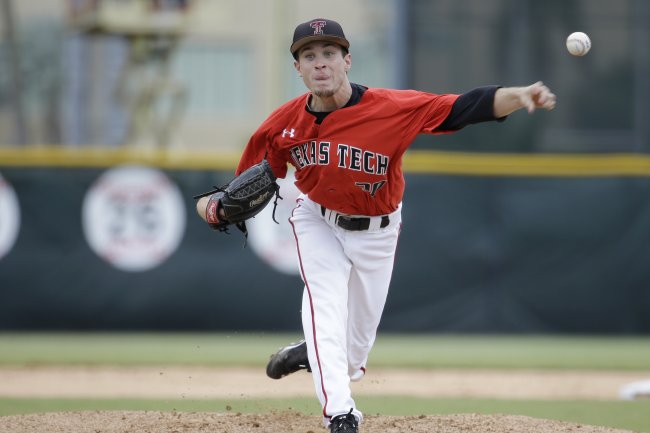 Lynne Sladky/Associated Press
The rematch forced by Miami's victory earlier in the day proved to be a boring affair until the seventh inning, when the Red Raiders got two runs to assume the lead—one came via a throwing error and the second was the result of a sacrifice fly from Alec Humphreys.
Self-inflicted wounds were surely not the way the Hurricanes envisioned the day going, which goes double for their suddenly silent bats in the face of Red Raiders ace Cameron Smith.
Smith went the distance and struck out three at the plate while allowing as many hits. Not only was it his first career shutout, Smith's career day propelled Texas Tech to its first-ever super regional to boot.
There, the Red Raiders will duel Charleston for the right to advance once more.
Note: All info courtesy of NCAA.com unless otherwise specified.