Updates from Tuesday, August 5
Three weeks later, the Cavs officially announced the signing of Mike Miller on their Twitter account:
The #Cavs have officially signed Mike Miller and James Jones. [DETAILS]: http://t.co/B02zwJGECJ #AllForOne pic.twitter.com/owrgpWaPT6

— Cleveland Cavaliers (@cavs) August 5, 2014
Ira Winderman of the South Florida Sun Sentinel notes what number Miller will be wearing:
James Jones will wear No. 1 for the Cavaliers; Mike Miller will wear No. 18.

— Ira Winderman (@IraHeatBeat) August 6, 2014
Original Text
The Cleveland Cavaliers were looking to add a long-range threat, and they significantly improved their three-point shooting on Tuesday after agreeing to terms with free-agent veteran Mike Miller.
ESPN's Chris Broussard reported the news, later confirmed by Yahoo Sports' Adrian Wojnarowski:
Sources: Mike Miller will sign with Cleveland. 2 yr deal with player option after 1 yr. Miller turned down more $ from Houston & Denver

— Chris Broussard (@Chris_Broussard) July 15, 2014
Miller will sign a two-year, $5.5M deal with Cavs, league source tells Yahoo Sports.

— Adrian Wojnarowski (@WojYahooNBA) July 15, 2014
Miller spoke about the decision on his Instagram:
Thanks to Memphis for a great year!! But I'm so excited to be a part of the Cleveland family and their fans. The only thing you can expect from me is everything I have! Thanks for the opportunity #letitfly
Miller posted per-game averages of 7.1 points, 2.5 rebounds and 1.6 assists behind 48.1 percent shooting from the field and 45.9 percent shooting from behind the three-point line for the Memphis Grizzlies in 2013-14.
As those numbers indicate, Miller is definitely best known for his ability to connect with deadly consistency from deep at this point of his career. He is one of the most reliable three-point shooters in the entire NBA, and he has proved time and again that he can do so in the clutch moments. Don't forget, he was essential in helping the Miami Heat win back-to-back titles thanks to his critical postseason shots.
At his peak, Miller actually scored 18.5 points a game in 2006-07 for the Grizzlies and could create his own shot off the dribble. The Cavs certainly won't be getting that version of the former Florida Gator, but his long-range stroke has aged well.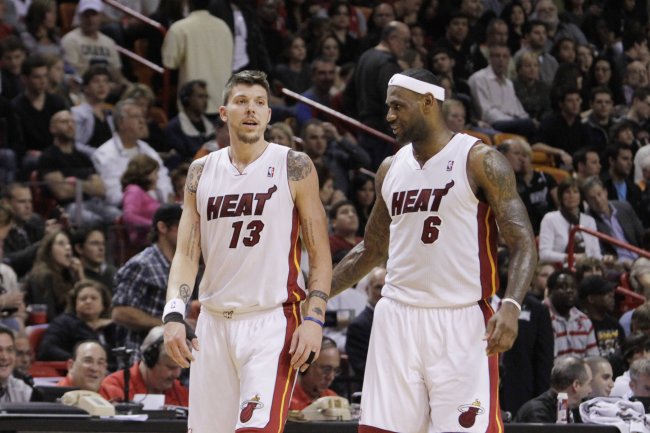 J Pat Carter/Associated Press
Miller will also provide Cleveland with veteran leadership during this stage of his career. Ethan J. Skolnick of Bleacher Report pointed out as much during Miami's most recent playoff run that fell short of the title:
Biggest reason LeBron cited for needing to take more leadership role: to keep locker room together after loss of Mike Miller.

— Ethan J. Skolnick (@EthanJSkolnick) May 23, 2014
Even Dwyane Wade praised Miller's leadership and overall effectiveness as a teammate, via Michael Wallace of ESPN.com:
You have a connection, and it's special from that standpoint. He was my locker mate. Obviously, his unbelievable shooting ability is something that not many people have, but just his infectious laugh and how he was in the locker room, we miss that.
Outside of the intangibles of his leadership and his three-point stroke, Miller provides the Cavaliers with some more depth in the backcourt rotation, and at 6'8", he is more than versatile enough to play both guard and small forward. That can cause some matchup problems for opponents.
Miller is 34 years old and entering his 15th NBA season. His prime is well behind him in a career that started in 2000, but he can still be a valuable contributor for Cleveland, especially when he is hitting consistently from behind the three-point line.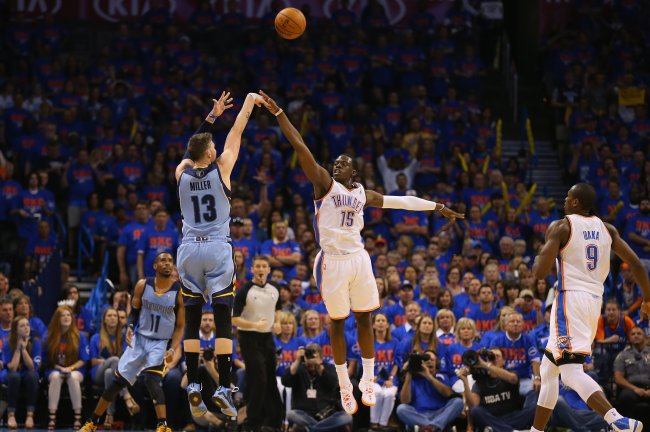 Ronald Martinez/Getty Images
His presence on the floor alone will stretch out the defense and allow LeBron James to penetrate and create open looks for the entire team, as the two already have a certain level of comfort with one another.

The mere interest in his services this offseason at his advanced age and experience is a testament to the type of immediate impact he can have on a game or team if he gets hot from downtown.