Liverpool loaned 21-year-old Portuguese centre-back Tiago Ilori to La Liga club Granada in the January transfer window—did he succeed or fail? Here is a scouting report on Ilori's loan spell at Granada.
Overview
Liverpool manager Brendan Rodgers agreeing to send Ilori to Granada was strange.
Rayo Vallecano, a La Liga team that averaged more possession per game (59.5) than Real Madrid (58.8) and Atletico Madrid (48.9), was the obvious destination.
Rayo are a ball-playing team under Paco Jemez, one of the best young managers in Europe, and the experience would have refined Ilori's passing.
Atleti loanee Saul Niguez, a defensive midfielder, was being exposed out of position at centre-back.
Defending was Rayo's Achilles' heel, and the team finished with the worst defensive record in La Liga (80 goals conceded in 38 games).
There was a Portuguese player on Rayo's squad in Ze Castro, who could have acted as a mentor to

Ilori.
"He [Ilori] has come in and he now knows what Liverpool is about and the standards," Rodgers said, per Neil Macdonald at the Liverpool Echo. "We'll probably look to get him a loan period now, where he can get some games."
Rodgers was right, Ilori did "get some games."
Nine starts at right centre-back, seven alongside 21-year-old young gun Jeison Murillo, and two with seasoned captain Diego Mainz.

Source: Marca.com.
Ilori got several breaks.
Pape Diakhate, once the most expensive player at Granada, was loaned out to Kayseri Erciyesspor.
Mainz could not stay fit.
"Anything that could go wrong for me, has," Mainz said, per InsideSpanishFootball.com. "The truth is though, this season hasn't gone particularly well for me."
Captain @diegomainz spoke about Monday night's match at Anoeta against Real Sociedad, keen to secure three points. pic.twitter.com/dGgYYXqkox

— Granada C.F. (@GranadaCdeF_en) May 2, 2014
Alexandre Coeff, a 22-year-old French defender, was not convincing at the back and started as a fill-in midfielder against Sevilla, so management don't rate him as highly as Murillo.
This was why what initially looked like a risky loan has worked out for Ilori.
Ilori's average Marca player rating was 5.28.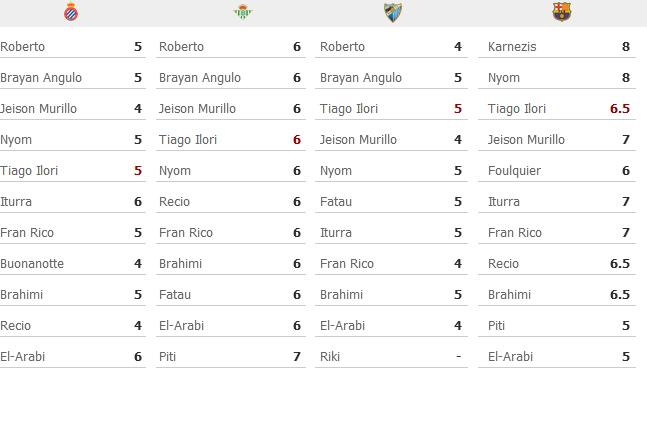 Source: Marca.com.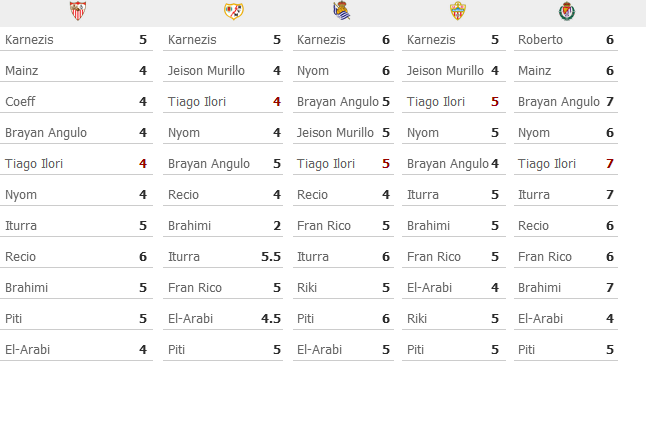 Source: Marca.com.
Under ideal circumstances, you should always use a combination of subjective (eye-test) and objective (statistics) analysis.
Ilori's WhoScored.com player rating was 6.97, so by combining his Marca rating, you end up with a 6.13 rating.
It is an accurate summary of his loan at Granada, which has been a learning curve for him.
Positives
What enamoured Granada sporting director Juan Carlos Cordero to the thought of signing Ilori is the Portuguese's potential for greatness.
"For the experience he [Ilori] has, he is calm, he has pace, moves the ball well," Cordero said, per Sky Sports. "When the end of the summer comes we'll see if he is wanted by the Liverpool first team or if they want to sell or loan him."
Club President Quique Pina & Sporting Director Juan Carlos Cordero, keeping a close eye on training at @LaMangaClub pic.twitter.com/ysdALEt3Ti

— Granada C.F. (@GranadaCdeF_en) February 12, 2014
It is rare to see a top-flight centre-back like Ilori either be the fastest player or one of the quickest players on the field.
His pace helped him lead Granada in interceptions per game (2.7).
What you love about Ilori is he immediately identifies the adverse situation and deals with it.
Espanyol centre-back Diego Colotto attempted to shoot but did not even get to swing his boot as Ilori swiftly won the ball.
Murillo was caught out of position by a through ball from Barcelona right-forward Alexis Sanchez, which played in Barcelona left-forward Neymar.
As Granada goalkeeper Orestis Karnezis came out, Neymar poked the ball beyond Granada's No. 1.
Ilori demonstrated his instant read-and-react proficiency by being in position to intercept the ball.
Not only did Ilori bail out Murillo, it was a season-changing play.
Granada held on to beat Barcelona 1-0 and ended up finishing two points ahead of Osasuna, the last team relegated from La Liga.
While Ilori was not able to showcase his passing (another reason why he should have gone to Rayo), there was a glimpse of brilliance with a piercing diagonal long-pass to Granada wide forward Piti against Real Betis.
Negatives
Ilori was placed in a difficult set-up.
He did not have a pre-season at Granada and was threatening to take the starting position of either Mainz, the club captain, or Murillo, a cash cow.
Interesante nota al defensa Jeison Murillo, central de selecciones Sub-17 y Sub-20, en @diariomarcaco de hoy. pic.twitter.com/SbYG4MedAt

— Juan Felipe Mejía B. (@jumejia) May 10, 2013
Invariably, communication problems were a consistent factor when Ilori had a moment to forget.
This was evidenced with Ilori's botched offside trap when Malaga right-back Jesus Gamez launched a long ball.
Ilori's team-mates were unresponsive, so the offside trap was unsuccessful and Malaga centre-forward Juanmi scored.
Karnezis was caught off-guard by Ilori's back-pass, which enabled Sevilla centre-forward Kevin Gameiro to poach a goal.
A series of defensive miscues from Granada led to Sevilla left attacking midfielder Vitolo scoring.
Ilori did not correspond with his team-mates, failed to track Vitolo's run and missed a tackle.
Another concern with Ilori was his 15 percent drop-off in headers won percentage, per Squawka.com.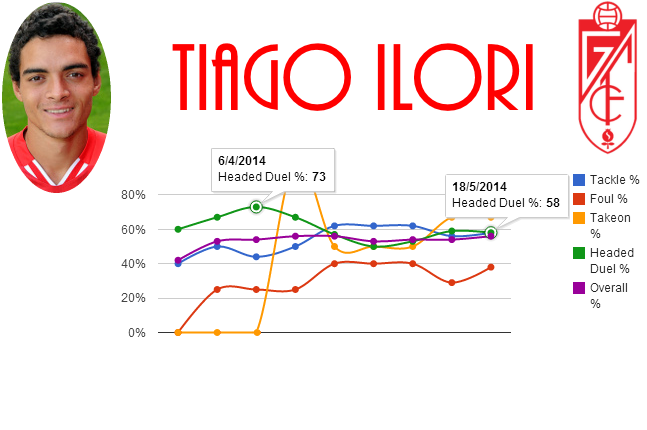 Source: Squawka.com.
This was exemplified with Ilori's lax marking of Real Sociedad centre-forward Haris Seferovic, who headed just wide.
Bottom Line
You might be thinking: "How does Ilori stack up against other promising centre-backs?"
Let's compare his league displays to Everton centre-back John Stones, Granada centre-back Jeison Murillo, Hamburg centre-back Jonathan Tah and Hoffenheim centre-back Niklas Sule.
| | | | | | |
| --- | --- | --- | --- | --- | --- |
| | Ilori | Stones | Murillo | Tah | Sule |
| | | | | | |
| Age | 21 | 19 | 21 | 18 | 18 |
| Height | 6'3" | 6'2" | 6'0" | 6'4" | 6'4" |
| Weight | 176 lbs | 154 lbs | 181 lbs | 198 lbs | 205 lbs |
| Tackles Per Game | 1.4 | 1.2 | 1.7 | 1.4 | 2.2 |
| Fouls Per Game | 0.6 | 0.1 | 1.1 | 0.4 | 1.0 |
| Tackles Per Foul | 2.6 | 8.7 | 1.6 | 3.3 | 2.1 |
| Interceptions Per Game | 2.7 | 0.9 | 2.2 | 1.6 | 1.9 |
| Headers Per Game | 2.2 | 1.5 | 2.8 | 3.9 | 4.0 |
| Pass Completion % | 78.5 | 89.8 | 85.3 | 83.8 | 79.7 |
| Long Pass Completion % | 65.6 | 75 | 73.9 | 56.1 | 61.7 |
| | | | | | |
Murillo is prone to committing unnecessary fouls.
Tah and Sule have not consistently demonstrated correct defensive positioning for Hamburg and Hoffenheim respectively, two teams that are even more negligible on defence than Liverpool.
Stones is the best centre-back in the select statistical study, but lacks pure athleticism.
The point is, you shouldn't be disappointed if Ilori did not wow you when you turned on to watch Granada since other young centre-backs have issues too.
Now if you wanted Ilori to be a breakout star in La Liga, then he failed.
He hit a line-drive single, rather than a 482-foot David Ortiz-like home run.
Two words: baby steps.
LOL :) pic.twitter.com/fvj0DGTlVQ

— Alexandre COEFF (@alexcoeff) February 25, 2014
Rodgers wanted Ilori to spend the first half of the season acclimatising to life in Liverpool and the second half getting "some games" on loan.
You can question Rodgers not giving Ilori playing time at Liverpool or the loan destination, but at the end of the day, both objectives were accomplished.
Therefore, it was a successful season for Ilori, a £7 million signing from Sporting Lisbon, based on Rodgers' plan.
Next season, Ilori needs to win a starting position at Liverpool.
If he doesn't, then all the negatives he showed on loan at Granada will be turned into red flags foreshadowing a transfer bust.
Statistics via WhoScored.com