Novak Djokovic fell short once again in his quest to complete the career Grand Slam at the French Open. The talented Serbian star was eliminated by Rafael Nadal in the men's final on Sunday.
Sky Sports noted his exit from the season's second major:
Rafael Nadal wins the French Open title for a fifth consecutive time with a 3-6 7-5 6-2 6-4 win over Novak Djokovic. pic.twitter.com/jw2g2g4pMJ

— Sky Sports (@SkySports) June 8, 2014
Djokovic is the owner of six Grand Slam singles titles. Four of them have come at the Australian Open with one each at Wimbledon and the U.S. Open. He's never triumphed on the clay courts of Roland Garros, though.
Of course, the main reason for that is the dominance of Rafael Nadal on the surface. Only once over the past nine years has he failed to win the French Open, and that came in 2009.
Matt Zemek of Bloguin talked about Nadal's dominance:
You can continue to pick against Rafael Nadal in Paris. You can continue to pick Djokovic. You can continue to pick the field...and be wrong

— Matt Zemek (@mzemek) June 8, 2014
That said, it also doesn't help that it's Djokovic's weakest surface. His winning percentage at the French is the lowest of any major and he's only appeared in one final (2012).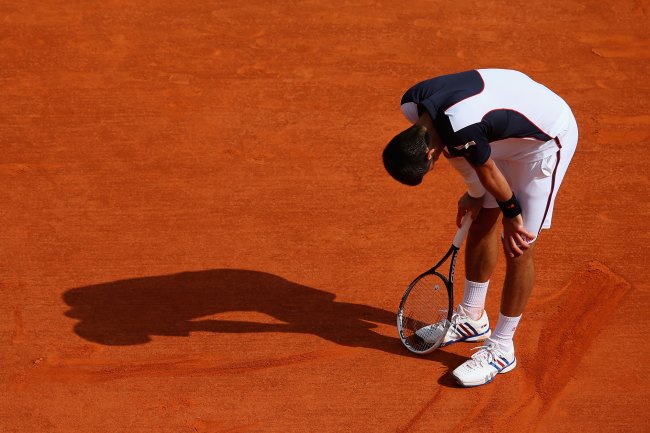 Julian Finney/Getty Images
After the latest loss, he's once again forced to wait another year for a chance to finish off the elusive career Grand Slam. Now, the focus shifts to the grass-court season leading up to Wimbledon.
One thing to watch closely is Djokovic's health. He missed some time leading up to the French Open with a wrist injury. Although he returned rather quickly, it's a problem he hopes doesn't arise again during the very busy summer portion of the schedule.
The former No. 1 spoke to reporters when he returned at the Madrid Open, saying the time off was more of a precautionary measure to prevent further damage:
It's a wiser decision if you try to heal it 100 percent than 50 percent and compromise the next weeks.

The second time that it comes back it becomes a chronic injury, which you definitely don't want to have. From now on I will be extra careful about my wrist.
Assuming the wrist holds up, Djokovic will arrive to the All England Club as one of the top contenders. He has reached at least the semifinals four straight years and won the title in 2011, which remains his best season to date with three major championships.
Quite simply, the French Open loss won't have any type of lasting impact on him. Though he would eventually like to capture the title, he's never let the disappointment of failing to do so hurt him over the course of the remaining majors.
How many Grand Slam titles will Djokovic win in 2014?
He hasn't been eliminated before the quarterfinals at Wimbledon or the US Open since 2008, when he suffered a second-round exit at Wimbledon. So whatever frustration mounts at Roland Garros is quickly dispatched and he proceeds to showcase why he's one of the best players in the world.
The most important thing for Djokovic is rediscovering his consistency. There have been a lot more peaks and valleys than normal for him during the first half of 2014. That's why his performance on the biggest stages has fallen short so far.
Given his success at Wimbledon in the past, there's a good chance fans will see a return to form at the third major. Expect a deep run and, if draw luck is on his side, it certainly wouldn't be a surprise to see him take home another title.
All told, the outlook remains bright for Djokovic despite some lackluster showings by his standards so far this season.