Former British No. 1 overall player Elena Baltacha passed away on Sunday after a battle with liver cancer. She was 30 years old.
BBC Sport reported the news via Twitter Sunday evening:
Former British number one tennis player Elena Baltacha dies of liver cancer, aged 30

— BBC Sport (@BBCSport) May 4, 2014
Baltacha held the No. 1 position in the United Kingdom intermittently from 2002 through 2012, before ultimately retiring in 2013.
During her career, the Briton reached as high as No. 49 in the singles rankings in 2010 and won 11 separate ITF titles. While she never won a Grand Slam during her career, Baltacha reached the third round of both Wimbledon (2002) and the Australian Open (2005, 2010).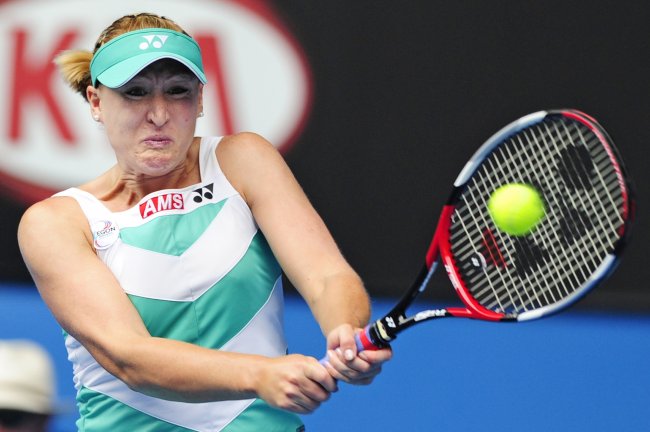 Shuji Kajiyama/Associated Press
John Greechan of the Scottish Daily Mail passed along his condolences after hearing of Baltacha's death:
Shocked and saddened by passing of Elena Baltacha. Cannot imagine what her family are going through, losing someone so young.

— John Greechan (@jonnythegreek) May 4, 2014
British Tennis also commented on Baltacha's passing:
The whole of British tennis is deeply saddened to hear about the death of Elena Baltacha (part 1 of 2)

— British Tennis (@BritishTennis) May 4, 2014
Our thoughts and prayers are with her family and friends at this time - http://t.co/5dBWHBKc3G (part 2 of 2)

— British Tennis (@BritishTennis) May 4, 2014
Baltacha didn't go down without a fight, though. She had plenty of players supporting her throughout the battle, along with British Tennis, which planned to hold a rally event for the former player in June, per the WTA:
.@BritishTennis to hold rally against cancer charity event, #Rally4Bally June 15th for #WTA star @ElenaBaltacha--> http://t.co/QtkZAlKv5v

— WTA (@WTA) April 16, 2014
The Rally for Bally event will now be held in honor of Baltacha, per Romi Cvitkovic of Tennis View Magazine:
#Rally4Bally will now be held in the memory of Elena Baltacha on June 15. http://t.co/P3G24L76Oa via @TheEmiliaGroup pic.twitter.com/1DVCTC8TC5

— Romi Cvitkovic (@RomiCvitkovic) May 4, 2014
While the loss of Baltacha is extremely sad news for the tennis community, her family and loved ones, British tennis is no doubt in a good place thanks to players like her and the success she had in her career.
Andy Murray has become the face of British tennis in the last few years with two Grand Slam titles, including the 2013 Wimbledon win. One of Baltacha's final tweets before her passing was about Murray:
What a lift to see @andy_murray fighting so hard in Miami, behind you all the way Andy, love Bally xx

— Elena (@ElenaBaltacha) March 26, 2014
As tough as Baltacha's death is to understand at such a young age, the tennis community, and Great Britain in particular, will surely rally around the once great player. Thanks to events like the Rally for Bally by the WTA, tennis players and fans can continue to honor Baltacha for her greatness on the court.
Follow R. Cory Smith on Twitter.