Warning: Article contains an image of an alligator bite you might find unappealing.
Why was Merritt Paulson putting his hand near alligators?
We don't know, but it appears one of those scaly mothers bit him good. Earlier this week, the Portland Timbers owner allegedly tweeted out a nasty image of his mangled finger.
Twitter user @nomadpdx (h/t Brian Stern of FanSided.com) received the image of said finger in a conversation Thursday. It looks less like a human digit and more like a gently used Vienna sausage.
So, yeah. This is what an alligator bite looks like: http://t.co/6JYPgZmgbR

— kristen g ™ (@nomadpdx) May 1, 2014
Paulson has since deleted the tweet with the picture, leaving fans in the dark regarding the exact circumstances in which he acquired the wound.
Naturally, the denizens of the Internet have taken to drawing their own conclusions.
Tick Tock Tick Tock #MerrittBomb #RCTID pic.twitter.com/fqo8KLX3vd

— Jon Mauser (@jmauser) May 2, 2014
@MerrittPaulson has had to deal with a lot of pitfalls, folks. pic.twitter.com/OM8LC4CwGv

— Brent M. Diskin (@BrentDiskin) May 2, 2014
I have my own theories.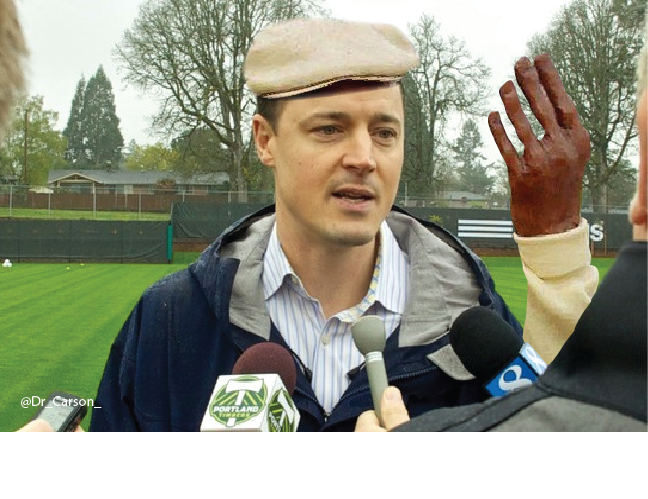 BR
Whether Paulson's accident involved a tournament down in Florida and hooking a ball near the water remains to be seen. What we do know is that alligators are ornery and the Timbers are probably going to see a lot of the Gator chomp from D.C. United fans at their next match.
Get well, Mr. Paulson, and next time: Run in a zigzag.
They got all them teef...and no toofbrush.