Playing alone, in a pair, in a threesome, it doesn't matter. Apparently the only thing that can cure Rory McIlroy's weekend woes at Augusta National is playing with a non-competitive marker.
The former world No. 1, playing in a group with club member Jeff Knox on Saturday, carded a one-under 71 to finish his day with an aggregate score of three over. At the end of his round, he was 10 shots removed of Bubba Watson, who hadn't teed off.
| | | | | | | | | | | |
| --- | --- | --- | --- | --- | --- | --- | --- | --- | --- | --- |
| Hole | 1 | 2 | 3 | 4 | 5 | 6 | 7 | 8 | 9 | OUT |
| Par | 4 | 5 | 4 | 3 | 4 | 3 | 4 | 5 | 4 | 36 |
| Score | 4 | 4 | 5 | 3 | 4 | 3 | 5 | 5 | 4 | 37 |
| Hole | 10 | 11 | 12 | 13 | 14 | 15 | 16 | 17 | 18 | IN |
| Par | 4 | 4 | 3 | 5 | 4 | 5 | 3 | 4 | 4 | 36 |
| Score | 5 | 4 | 3 | 5 | 4 | 4 | 3 | 3 | 3 | 34 |
PGATour.com
McIlroy, who has not won on the PGA Tour since September 2012, spent most of his day flirting with last place among remaining golfers. He dropped as low as six over for the tournament and was seemingly well on his way to a nondescript, early-morning finish.
Thanks in large part to a surge on the back nine, though, McIlroy managed to finish with a respectable day. Birdies on Nos. 15, 17 and 18 gave made up for his three bogeys on the first 10 holes.
Rory McIlroy birdies Nos. 17 and 18 to post a 1-under 71. Solid comeback round after Friday, but still a mile back of the leaders.

— Shane Bacon (@shanebacon) April 12, 2014
Still, with only 18 holes to play, this was a far cry from the expectations he had coming into Augusta.
Tiger Woods' absence due to a back injury and Phil Mickelson's myriad issues (performance and injury related) had many looking for McIlroy to carry the field. He was the pre-tournament co-favorite with defending champion Adam Scott, per OddsShark, and seemed to be carrying momentum following a solid finish at the Shell Houston Open.
It will nonetheless be back to the drawing board after Sunday.
Woes are nothing new for McIlroy at Augusta. Going back to his fourth-round collapse in 2011, the Northern Irishman had played four of his last five weekend rounds at the Masters over par. The lone exception was a 69 in last year's fourth round that gave some hope McIlroy had finally broken through at the United States' most fabled course.
The past two days have proven he's still a ways away from his peak.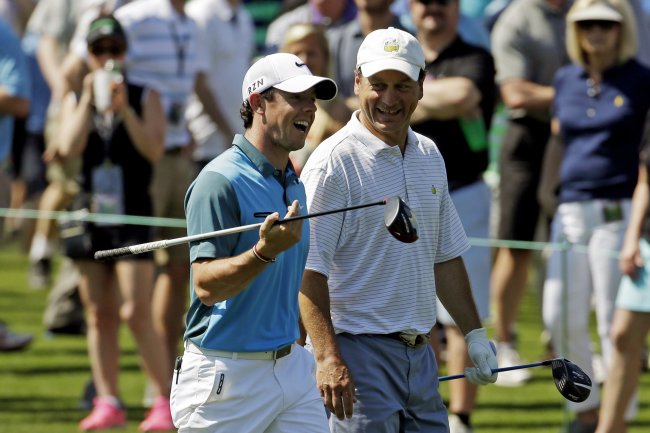 Darron Cummings
Following a promising opening-round 71, McIlroy fell apart Friday, carding a five-over 77. He needed to sink a tricky par putt on No. 18 to even make it above the cut line, which he did by only one stroke. Despite driving well enough and getting onto greens in regulation at nearly a two-thirds clip, McIlroy floundered with the short stick and exhibited an inability to get out of his own way.
He had as many double bogeys as birdies (two) in his second round. Heading into Saturday, McIlroy was the last man to make the cut and sounded defeated in his meeting with reporters:
I just couldn't get anything to go my way. Eleven shots back with two rounds to play is going to be nearly impossible to make up. So I'm trying to shoot two really low rounds and see where that puts me. Anything in the 60s is a really, really good score out here. And it will take something phenomenal to shoot something in the mid 60s.
He'll have a playing partner Sunday, but he'll likely walk away more frustrated that he couldn't match his back-nine performance on the front.
McIlroy actually began his day with a promising start. Following a par on No. 1, he carded a birdie on the par-five second hole to move to three over for the tournament. That semi-excitement would last exactly one hole.
Just outside the green for his third stroke on the par-four third, McIlroy nearly holed out a chip that would have moved him to two under on the day. Instead, the ball just missed going through the cup and McIlroy's putter failed him again on the par attempt, as he gave back a stroke within minutes of making one up.
The variance calmed down a bit afterward, though McIlroy was still unable to make up strokes. He parred the next three holes before his second bogey on No. 7, taking the turn at 37 and five over for the tournament. Safe to say Ian Carter of BBC Sport was correct in his assessment:
McIlroy to the turn in a one over par 37, so five over par for the tournament. Itt's not his year. #Masters

— Iain Carter (@iaincartergolf) April 12, 2014
Rory makes the turn in 1 over....and in 90 minutes on the button. #Masters #dewsweeping

— Brian Wacker (@pgatour_brianw) April 12, 2014
McIlroy carded his second bogey in four holes at No. 10, essentially capping off any remaining hopes of a late-Saturday run. The remainder of McIlroy's round was largely uneventful, as he fought to save par amid more struggles with the putter. McIlroy spent most of his day being outplayed by Knox, a non-competing marker who only got the call to play this weekend because of the uneven number of players who survived the cut.
Noncompeting marker Jeff Knox playing well on the back 9 with McIlroy. Knox rolled in a long birdie putt at 12 and added birds at 13 & 15.

— Augusta.com (@AUG_Masters) April 12, 2014
Then, by some stroke of inspiration, McIlroy began looking like the player many hoped would win at Augusta. He birdied No. 15 for the second time in three days before closing out with consecutive under-par scores on No. 17 and No. 18 to finish at one-under. As noted by Golf Digest's Ashley Mayo, though, Knox still managed to get the best of his playing partner in an unofficial capacity:
Rory McIlroy played with Augusta member Jeff Knox, whose unofficial score is 2-under 70. Rory shot a 71. #masters2014

— Ashley Mayo (@AshleyKMayo) April 12, 2014
While it may have been unrealistic to hoist green-jacket expectations on McIlroy, one dispiriting round has again been his Achilles heel. Once considered the heir apparent to Woods' throne atop the golf world, McIlroy's stagnation has instead put the sport in something resembling arrested development. Tiger Woods is no longer Tiger Woods.
McIlroy, the guy with the latest nine-figure Nike contract, may be being passed up by the likes of Jordan Spieth for the "who's next" mantle.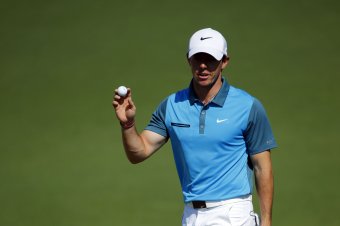 USA TODAY Sports
In retrospect, perhaps this shouldn't be a surprise. McIlroy, even at the height of his game, has always been a high-variance player. Since 2011, he's missed as many cuts in major championships as he has top-five finishes (two), though both of those are wins. McIlroy has been more likely to finish outside the top 50 the past two-plus years than do anything resembling contention.
Still not yet 25, it's obviously too soon to write McIlroy off. Golfers peak at wildly different ages. Phil Mickelson was 33 before winning his first major. Tiger was 21, but he didn't reach Tiger Slam greatness until 24. There is still plenty of wiggle room for McIlroy to get his head right and ascend back into the national conversation.
For now, McIlroy will instead have to take solace in merely finishing under par on a weekend round at Augusta.
Follow Tyler Conway on Twitter: