Could Bordeaux central midfielder Gregory Sertic be Manchester United's summer transfer window alternative to Bayern Munich central midfielder Toni Kroos?
As United meet Bayern in the UEFA Champions League quarter-final second leg, Kroos has still not resolved his contractual dispute with Bayern.
"He shouldn't raise the stakes too high," Franz Beckenbauer warns Toni Kroos. The Kaiser joins the poker game.

— Paul Hayward (@_PaulHayward) March 11, 2014
This has opened the door to a potential move to United in the summer transfer window, per John Cross at the Mirror.
Monday's @MirrorSport back page. United will pay Toni Kroos £250,000 to join from Bayern http://t.co/d4RFHbcePL pic.twitter.com/NB3I0qAjid

— Daily Mirror (@DailyMirror) February 23, 2014
If United fail in their pursuit of Kroos, a suggested transfer alternative is Sertic, so here is a scouting report on the 24-year-old French Croatian.
Bordeaux's Gregory Sertic gives interview to Eurosport, says he's learning Croatian because he expects to be called up for Croatia NT.

— Aleksandar Holiga (@AlexHoliga) April 19, 2013
Can Sertic Emulate Kroos?
In Bordeaux 1-0 win over Lille, Sertic controlled a throw-in from Bordeaux left-back Maxime Poundje, but did not robotically play it back.
Instead Sertic turned, scanned the field and anticipated Bordeaux central midfielder Landry N'Guemo's run.
Sertic caught Lille—a well-marshalled team with the second-best defensive record in Ligue 1 (20 goals conceded in 32 games; second to Paris Saint-Germain)—off-guard.
He pulled two Lille players out of position and released a ball to N'Guemo.
This is the type of forward-thinking play Kroos makes intuitively for Bayern and Sertic can mimic Kroos, albeit with less efficiency.
Kroos is a crucial component of Pep Guardiola's Bayern team, completing 91.8 percent of his 78.2 passes per game in league play.
It elevates to a 95.4 pass-completion percentage and 90 passes per game in the Champions League, so Kroos' proclivity to dominate midfield proceedings is why United desperately want him.
Sertic completes 85 percent of his 48.5 passes per game in league play, which is elite, but not on Kroos' level.
However, Sertic made 71 of 79 passes (90 pass-completion percentage) in Bordeaux's 2-2 draw against Rennes, therefore he has the potential to become as influential of a midfield orchestrator as Kroos.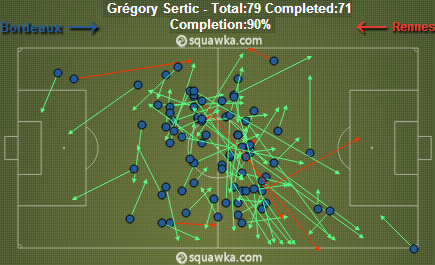 Source: Squawka.com
In terms of key passes per game this season, which is a pass that leads to a goal-scoring opportunity, Sertic (1.8) edges Kroos (1.3).
Sertic has accumulated more league assists (six) on a weaker team in Bordeaux than Kroos (four), who has the luxury of playing on Bayern, the reigning Champions League holders.
During a play in Bordeaux's 1-0 win over Guingamp, Sertic shrugged off Guingamp central midfielder Younousse Sankhare's challenge, advanced forward, played a through ball bypassing Guingamp left-back Reynald Lemaitre, enabling Bordeaux right winger Julien Faubert to cash in.
Sertic has an extensive passing scope like drifting out wide to send in an accurate low cross to Bordeaux centre-forward Jussie—positioned at the near post—who headed past Ajaccio goalkeeper Guillermo Ochoa in Bordeaux's 4-0 win.
United manager David Moyes would appreciate Sertic's willingness to cross because United average the most crosses per game (27) in the Premier League.
Sertic is in the zone when he can set and deliver, hence why five of his last eight assists stretching back to the 2012-13 season have come via a dead-ball situation.
Like Kroos, Sertic is not a 15-20-goals-per-season midfielder, but he will punish teams if given space.
Bottom Line
If United executive vice-chairman Ed Woodward does not pull off a masterstroke in signing Kroos from Bayern, United management need to have alternatives.
One backup option is Sertic from Bordeaux.
Before you point it out, it's just a coincidence that Gabriel Obertan and William Prunier, two of United's worst players in the Sir Alex Ferguson era, were signed from Bordeaux.
Manchester United bid for Gabriel Obertan 'surprises' Bordeaux manager Laurent Blanc: Bordeaux manager says wing.. http://tinyurl.com/l7j783

— The Telegraph (@Telegraph) July 8, 2009
"@chousty8: @GNev2 @strettynews william prunier lol must be your worst defensive partner ever?" Think I was his too!

— Gary Neville (@GNev2) March 4, 2012
Sertic is one of Ligue 1's most impressive footballers this season.
L'équipe type de la 12ème journée pic.twitter.com/64oN0mxyB6

— France Football (@francefootball) November 4, 2013
L'équipe type de la 16ème journée de Ligue 1 pic.twitter.com/jyB1zqzkj3

— L'ÉQUIPE (@lequipe) December 6, 2013
Sertic is United material and would be a quality transfer alternative to Kroos.
Statistics via WhoScored.com