The interest in bruising running back LeGarrette Blount had begun to heat up in the last several days, but the Pittsburgh Steelers were able to earn his signature.
The Steelers made things official shortly via Twitter:
We have signed RB @LG_Blount READ: http://t.co/orMurbhnHk WATCH: http://t.co/v3otuMTi89 pic.twitter.com/pWEFU6dIvq

— Pittsburgh Steelers (@steelers) March 28, 2014
ESPN's Adam Schefter provided the financial details:
Steelers gave RB LeGarrette Blount a two-year, $3.85M deal, including a $950K signing bonus.

— Adam Schefter (@AdamSchefter) March 28, 2014
Boston Globe reporter Ben Volin added another detail:
Heard that the #Patriots only offered Blount a 1-year deal. He got 2 years from the #Steelers

— Ben Volin (@BenVolin) March 28, 2014
Details of the new contract were first reported by Aaron Wilson of The Baltimore Sun.

Blount followed up a 1,000-yard rookie campaign in 2010 with two seasons of inconsistency with the Tampa Bay Buccaneeers, but the New England Patriots took a flyer on him last campaign—and the move paid huge dividends for both sides.
The 27-year-old gave the Pats a strong, physical force in the backfield, rushing for 772 yards and seven touchdowns on 153 carries (5.0 YPC) while the team struggled through injuries on the offensive side of the ball.
In a dominant divisional-round win over the Indianapolis Colts, Blount proved to be unstoppable, turning 24 touches into 166 yards and four touchdowns.
Bleacher Report's Ian Kenyon talked about the lack of respect for the powerful back:
I don't understand why LeGarrette Blount doesn't get more love. His career numbers on a per carry basis are top-of-the-line.

— Ian Kenyon (@IanKenyonNFL) February 27, 2014
Blount may not contribute all that much in the passing game, but for his career, he is averaging a stout 4.7 yards per carry. Considering that type of production and his hard-nose running style, he makes for a valuable early-down and short-yardage ball-carrier.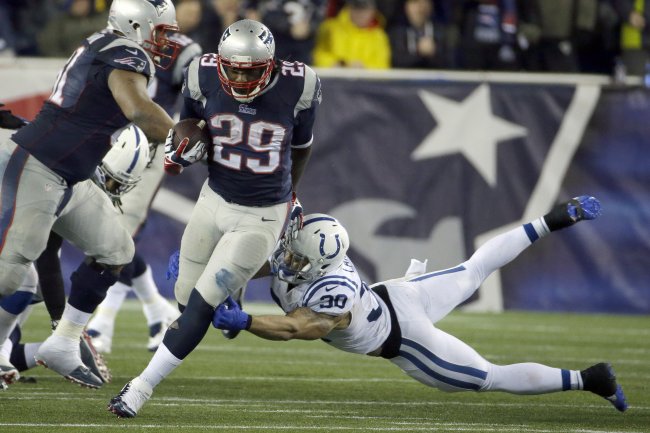 Matt Slocum/Associated Press
Moreover, as he proved with New England, he is quite adept in the return game, as well—he took 17 kickoffs back for 494 yards (29.1 per return) during the regular season.
Blount's career seemed over before it began thanks to punching incidents at Oregon and while with the Titans, but "The Winnebago" has quickly turned things around and proved that he can be a productive, important player in this league.
Patriots head coach Bill Belichick, via CSNNE's Mary Paoletti, put it simply:
Belichick on Blount: "Look, you get what you earn, and he's earned everything he's got."

— Mary Paoletti (@Mary_Paoletti) January 15, 2014
Blount's new team will be hoping he continues that trend and earns every dollar of his new contract— recent production suggests that will be no problem.