The 2014 NHL trade deadline is approaching fast, and fans from markets across North America are ecstatic for the rumored deals that could come to fruition before the deadline passes.
With huge stars like New York Islanders scorer Thomas Vanek, Vancouver Canucks power forward Ryan Kesler and newly acquired Buffalo Sabres goaltender Jaroslav Halak all reportedly on the market, what happens before the deadline is the focus of the entire league.
Here is all the vital information for the deadline and where fans can watch all the latest news and updates as the 11th hour approaches.
When: Wednesday, March 5
Time: 3 p.m. EST
Watch: TradeCentre on NHL Network (8 a.m. to 6 p.m. EST)
Hottest Rumors
Martin St. Louis Back in the Rumor Mill
TSN's Bob McKenzie reports the Rangers and Lightning continue to negotiate a potential deal involving Martin St. Louis as the trade deadline nears:
Dialogue between NYR and TB on Marty St. Louis trade is continuing. No guarantee it gets done but still a possibility. #TSN #Tradecentre

— Bob McKenzie (@TSNBobMcKenzie) March 5, 2014
John Shannon of Sportsnet reiterated:
Rangers have put an offer in on Martin St.Louis. Really up to Yzerman and St.Louis if there is any traction. #TradeTracker

— John Shannon (@JSportsnet) March 5, 2014
Islanders Looking to Trade Thomas Vanek
According to Arthur Staple of Newsday, Vanek has been traded:
#Isles have traded Thomas Vanek, source says. Waiting to hear where and what's coming back.

— Arthur Staple (@StapeNewsday) March 5, 2014
Damien Cox of the Toronto Star reports that Vanek is headed to Montreal:
Doug MacLean confirms Vanek to MTL #Sportsnet

— Damien Cox (@DamoSpin) March 5, 2014
Pierre LeBrun of ESPN provides more details on the trade:
Vanek to Montreal in exchange for a 2nd round pick and a prospect

— Pierre LeBrun (@Real_ESPNLeBrun) March 5, 2014
Thomas Vanek wasn't in Tuesday's lineup for the Islanders against the Jets, and Pierre LeBrun of ESPN.com reporeds on what the team was attempting to do with the left winger:
Isles working on a Vanek deal, which is why he's sitting. Whether or not it comes together, we shall see...

— Pierre LeBrun (@Real_ESPNLeBrun) March 4, 2014
Dallas Makes a Move for Tim Thomas

Bob McKenzie of TSN reports that Thomas has been dealt to Dallas:
Tim Thomas headed to DAL. #Tradecentre

— Bob McKenzie (@TSNBobMcKenzie) March 5, 2014
McKenzie previously reported that while multiple teams were interested in goaltender Tim Thomas, one key detail could make it difficult:
Lots of spec FLA G Tim Thomas will be moving. Keep in mind, though, Thomas has a NTC. Only moving if he wants to go.

— Bob McKenzie (@TSNBobMcKenzie) March 4, 2014
Sabres and Wild Complete Deal:
John Vogl of BuffaloNews.com provides trade details of the deal between the Sabres and Wild:
Source: Sabres send Matt Moulson and Cody McCormick to Minnesota for undisclosed picks and Torrey Mitchell.

— John Vogl (@BuffNewsVogl) March 5, 2014
Roberto Luongo Dealt to Panthers:
According to Renaud Lavoie of TVA Sports, Roberto Luongo has been traded to the Panthers:
#canucks traded Roberto Luongo to Panthers.

— Renaud Lavoie (@LavoieRenaud) March 4, 2014
TSN's James Duthie provides confirmation from Luongo himself:
Roberto Luongo confirms he has been traded to Florida. Signing papers right now. #Tradecentre

— James Duthie (@tsnjamesduthie) March 4, 2014
Louis Jean of TVA Sports reports that Jacob Markstrom was acquired by the Canucks in the deal:
Told Jacob Markstrom acquired in Luongo trade. Other player also in the trade. #Canucks #Panthers

— Louis Jean (@LouisJean_TVA) March 4, 2014
Katie Strang provides the additional player moved in the swap:
Can confirm that it is Shawn Matthias as the additional player going back to Vancouver

— Katie Strang (@KatieStrangESPN) March 4, 2014
Gord Miller of TSN reports that Luongo's salary will be retained by the Canucks:
Vancouver retains part of Luongo's salary as part of the deal with Florida.

— Gord Miller (@GMillerTSN) March 4, 2014
Edmonton Moves for Goaltending Help
The Edmonton Oilers have confirmed that they have traded for Ilya Bryzgalov from the Minnesota Wild:
#Oilers have acquired a 2014 fourth-round draft pick from the @mnwild in exchange for goaltender Ilya Bryzgalov.

— Edmonton Oilers (@EdmontonOilers) March 4, 2014
Anaheim Testing the Market
Eric Stephens of the Orange County Register has the latest on the Anaheim Ducks' action in the trade market:
Some stuff definitely in the works with #NHLDucks. Am hearing that @TSNBobMcKenzie report of acquiring Stephane Robidas is very possible.

— Eric Stephens (@icemancometh) March 4, 2014
Pierre LeBrun of ESPN is reporting that a deal is close to completion, but not official yet:
Anaheim Ducks are indeed acquiring Stephane Robidas from the Dallas Stars. ... not official yet though

— Pierre LeBrun (@Real_ESPNLeBrun) March 4, 2014
In another move, Bob McKenzie of TSN is reporting that the Ducks have moved Dustin Penner to Washington:
Dustin Penner is a Washington Capital. #TSN #Tradecentre

— Bob McKenzie (@TSNBobMcKenzie) March 4, 2014
The team confirmed the deal in a release:
The Washington Capitals have acquired forward Dustin Penner from the Anaheim Ducks in exchange for Anaheim's fourth round pick in the 2014 NHL Entry Draft, previously acquired by Washington, vice president and general manager George McPhee announced today.
Helene Elliott of the Los Angeles Times had more info on the Penner deal:
Ducks get fourth-round pick from Caps for Penner, give that pick up for Robidas

— Helene Elliott (@helenenothelen) March 4, 2014
Stephens is also reporting that the Ducks have move Viktor Fasth to Edmonton:
Also hearing @Dustinpenner25 to Washington is real in addition to Viktor Fasth heading to Edmonton.

— Eric Stephens (@icemancometh) March 4, 2014
Darren Dreger of TSN had more information on the deal:
Fasth to the Oilers for a 5th in 2014 and 3rd in 2015.

— Darren Dreger (@DarrenDreger) March 4, 2014
David Pagnotta of The Fourth Period reports that the Ducks may not be done making deals yet:
Hearing same thing that @JoshRimerHockey reported, that the Ducks are trying hard to acquire Vanek from the Islanders.

— David Pagnotta (@TheFourthPeriod) March 4, 2014
Islanders are interested in a number of Anaheim's young players, including Vatanen and Etem.

— David Pagnotta (@TheFourthPeriod) March 4, 2014
Andrew McDonald to Flyers:
The Islanders provide official details of the trade that sent Andrew McDonald to Philadelphia:
#ISLES TRANSACTION: Andrew MacDonald has been traded to the #Flyers for 2014 3rd-round pick, 2015 2nd-round pick & Matt Mangene

— NYIslanders (@NYIslanders) March 4, 2014
Devin Setoguchi Returning to Sharks?
TSN's Bob McKenzie reports that there has been a discussion about Devin Setoguchi returning to the Sharks:
WPG and SJ have had some discussions on Devin Setoguchi returning to Sharks. Let's see if it gets done. #tsn #Tradecentre

— Bob McKenzie (@TSNBobMcKenzie) March 4, 2014
Canadiens Land Defensive Help
The Montreal Canadiens have confirmed their deal for defenseman Mike Weaver:
Montreal Canadiens general manager Marc Bergevin announced on Tuesday the acquisition of defenseman Mike Weaver from the Florida Panthers in exchange for a fifth round draft pick in the 2015 NHL Entry Draft.
Ryan Kesler to Philadelphia?
According to Frank Seravalli of The Philadelphia Daily News, the Flyers are in the mix for the Canucks' Ryan Kesler:
Two league sources told the Daily News that the Flyers have tabled a "substantial offer" to try and pry Kesler from the Canucks. They have also asked about acquiring Vancouver defenseman Alexander Edler, who is reportedly on the market, as part of a larger trade - though that combined price is steep.

At this point, a little more than 24 hours shy of Wednesday's 3 o'clock finish line, any deal of this magnitude seems rather unlikely. There are numerous obstacles in the way
Ryan Callahan, Staying or Going?
Renaud Lavoie of TVA Sports reports Ryan Callahan is facing a major crossroads as the trade deadline approaches:
Big day for Ryan Callahan and the Rangers. Goal is to have a deal in place today. If not, a trade will be really possible. #tvasports

— Renaud Lavoie (@LavoieRenaud) March 4, 2014
Martin Brodeur to Minnesota?
Rich Chere of the Star Ledger and NJ.com confirmed the Wild have denied a potential move for Brodeur:
Talk that Devils have agreed to trade Brodeur to Minny. Wild deny it.

— Rich Chere (@Ledger_NJDevils) March 4, 2014
Michael Russo of the Star Tribune later provided additional insight surrounding a potential move for Brodeur to the Wild:
I don't make a habit of refuting reports, but there's no indication inside the #mnwild that this Martin Brodeur story is true and (1/2)

— Michael Russo (@Russostrib) March 4, 2014
No #NHL GM is going to risk a trade to let somebody play one more ceremonial game in front of fans, risk injury and ruin trade. #mnwild

— Michael Russo (@Russostrib) March 4, 2014
Mark Spector of Sportsnet previously commented on the link between Brodeur and the Wild:
Also keep hearing Martin Brodeur and Minnesota. Hoping it doesn't happen. Only other jersey I'd like to remember Marty in is Team Canada.

— Mark Spector (@SportsnetSpec) March 3, 2014
Larry Brooks of The New York Post has more on the potential deal, that seems unlikely to happen at this point:
Just told by informed source that Wild has targeted Halak and are expected to get him from Buffalo...so that would be a NO re Brodeur....

— Larry Brooks (@NYP_Brooksie) March 4, 2014
Rangers Interested in Alex Hemsky and Ryan Callahan?
Mark Spector of Sportsnet has the latest on possible interest in Alex Hemsky from the New York Rangers:
New York Rangers talking internally re: Ales Hemsky. Like most teams, scouts are split. 3rd'er sounds right, tho EDM will ask for a 2nd.

— Mark Spector (@SportsnetSpec) March 3, 2014
TSN's Bob McKenzie reports that Ryan Callahan and the Rangers are nearing an agreement:
I am hearing NYR and Ryan Callahan are inching towards a contract agreement but they're not there...yet. #TSN #Tradecentre

— Bob McKenzie (@TSNBobMcKenzie) March 4, 2014
Teams Making Moves for Marian Gaborik:
Aaron Potzline of The Columbus Dispatch provides the latest on interest surrounding Marian Gaborik:
#CBJ GM Jarmo Kekalainen knee deep right now, trying to move Marian Gaborik. Believe they're looking for immediate help on defense.

— Aaron Portzline (@Aportzline) March 4, 2014
#LAKings are in on Gaborik. Nothing would spike their interest more than if #Ducks land Vanek.

— Aaron Portzline (@Aportzline) March 4, 2014
Matt Moulson on the Move?
Matt Moulson wasn't at the morning skate on Monday for the Buffalo Sabres, according to John Vogl of The Buffalo News:
One notable exception missing from the Sabres' morning skate -- Matt Moulson. Everyone else is out there.

— John Vogl (@BuffNewsVogl) March 3, 2014
However, coach Ted Nolan says that the morning skate was optional and that Moulson will be in the lineup (via the Sabres):
Nolan says Matt Moulson will play tonight on a line with Ennis and Stafford. Today's morning skate was optional. #sabres -CR

— Buffalo Sabres (@BuffaloSabres) March 3, 2014
Moulson has been a target of interest across the league as Chris Botta of SportsBusinessJournal.com reported in February:
More than a dozen teams have contacted the Sabres about Matt Moulson. A lock to be moved before deadline, if not a lot sooner.

— Chris Botta (@ChrisBottaNHL) February 5, 2014
Brian Lawton reports more info on Moulson's price:
Moulson price settling in at a first and a mid level prospect. Debate over which year for the first happening now.

— Brian Lawton (@brianlawton9) March 4, 2014
Jason Spezza Staying Put?
David Pagnotta of TheFourthPeriod.com has the latest on the trade market for Jason Spezza:
As I said, Spezza trade is not imminent. But Sens have made calls. I'd be a bit surprised if deal is done now, likely summer deal if happens

— David Pagnotta (@TheFourthPeriod) March 3, 2014
Christian Ehrhoff to Detroit?
TSN's Darren Dreger reports Christian Ehrhoff is receiving interest from the Red Wings:
Red Wings among teams with interest in Christian Ehrhoff, however, Det likes its youth and may do nothing if prices don't drop.

— Darren Dreger (@DarrenDreger) March 3, 2014
Thomas Vanek on His Way out of New York?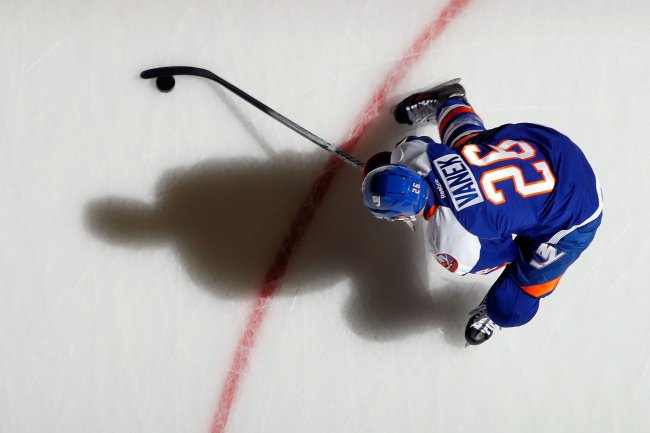 Jim McIsaac/Getty Images
The New York Islanders acquired scoring forward Thomas Vanek from the Buffalo Sabres earlier this season for Matt Moulson, a 2014 first-round pick and a 2015 second-round pick, and the hope was that the franchise could sign him to a long-term deal.
The Fourth Period reports that Vanek will be on the move:
The New York Islanders are currently mulling over offers for left wing Thomas Vanek and are currently negotiating with multiple teams, TFP has learned.

The Islanders will be trading Vanek before Wednesday's 3pm ET trade deadline, and GM Garth Snow is trying to obtain the biggest return for one of the most season's most coveted players.
Chris Botta of The New York Times reports that the Penguins are frontrunners for Vanek:
Source: Penguins join LA as teams most interested in Thomas Vanek, at least as of like right now Twittertime.

— Chris Botta (@ChrisBottaNHL) March 4, 2014
He also says all remains silent on the Ducks and Islanders front:
Source: Quiet for now with Ducks, Isles and Vanek. Anaheim views Vanek as distant backup plan. Ducks really want a center.

— Chris Botta (@ChrisBottaNHL) March 4, 2014
After Vanek turned down a contract extension worth $50 million over seven years, it became clear that he wanted to test the open market as a free agent. That will force New York to deal the newly acquired forward before the deadline.
According to Arthur Staple of Newsday, "A half-dozen teams have asked Snow about Vanek, who has no goals and three assists in his last eight games."
Vanek: "I know what's ahead and what could happen, but once you come to the rink you block it out."

— Mark Masters (@markhmasters) February 27, 2014
Despite Vanek's recent skid, there is no discounting the offensive prowess of the former Sabres first-round pick. He has scored 25 or more goals in seven seasons during his career and has reached the 40-goal plateau twice.
With plenty of teams looking to add offensive firepower before the deadline to boost the chances of making a deep run at a Stanley Cup, expect a perennial playoff contender like the Los Angeles Kings that need depth at forward to pull the trigger on a possible deal for Vanek.
Predicted Landing Spot: Los Angeles Kings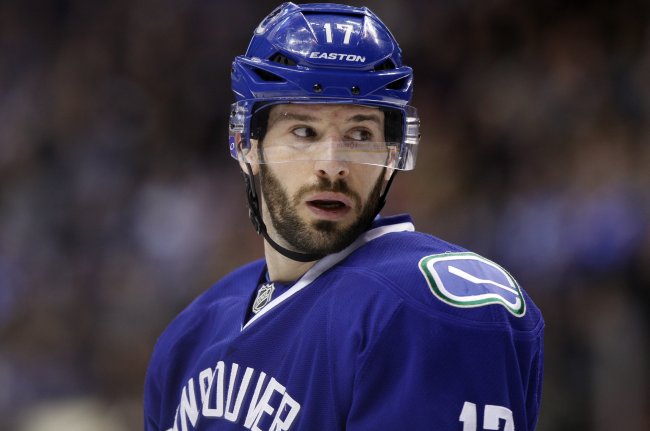 Ben Nelms/Getty Images
Ryan Kesler Drawing Interest from Pittsburgh?
Vancouver Canucks forward Ryan Kesler has been one of the most popular names rumored to be on the move before the deadline, but there are conflicting reports about whether or not he asked to be traded.
Which star would be the biggest deadline addition?
Louis Jean of TVA Sports
claims Kesler voiced his displeasure and has requested to be dealt, while
Adrian Dater of Bleacher Report
was told by Kesler's manager that his client is not forcing his way out of town.
Whatever the truth is, teams are very interested in Kesler's services.
According to a report from Rob Rossi of the Pittsburgh Tribune-Review, the Penguins are interested in adding center depth, scoring prowess and the tenacity that Kesler brings to the ice every night:
BTW, did some digging last 36 hrs. Yinz can officially consider it a #KeslerWatch. #pens very interested and sounds like they're on his list

— Rob Rossi (@RobRossi_Trib) March 1, 2014
Kesler had missed Vancouver's first game after the Olympic break while recovering from an injury, but he scored a shorthanded goal in his return to action and proved why he is one of the hottest commodities on the market.
The struggles for many of the top stars on the Canucks have hurt the team's chances of making a deep postseason run, but the effort of Kesler has never been a question. If Vancouver is thinking to the future, moving Kesler at the deadline would likely yield the richest return.
With the playoffs within reach, though, the Canucks won't part with Kesler.
Predicted Landing Spot: Vancouver Canucks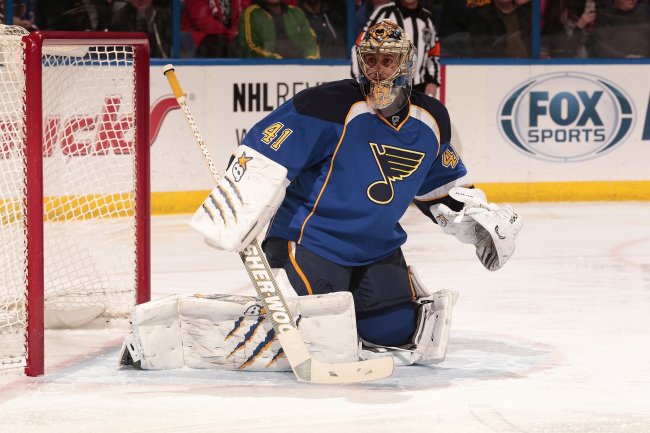 Mark Buckner/Getty Images
Buffalo's Jaroslav Halak on the Move Again?
The St. Louis Blues are one of the best teams in the NHL, and the franchise only got better when it traded starting goalie Jaroslav Halak to the Buffalo Sabres for veteran Ryan Miller.
The Sabres are now reportedly trying to trade Halak.
According to a report from the Star Tribune, the Minnesota Wild would be an ideal trade destination if the sides could agree on the terms of a deal:
Murray is now trying to trade Halak to the Wild. He's 28, in the last year of his contract and was 24-9-4 with the Blues with a 2.23 goals-against average. But some inside the Wild worry he was a product of the Blues' stingy system and there's a reason St. Louis felt Miller, not Halak, was the final piece of a Stanley Cup puzzle.
There is no questioning the validity of the concerns from the brass in the Wild organization about Halak's future, but with starter Josh Harding dealing with complications from his multiple sclerosis, Minnesota needs to add depth at that position.
Halak will be an inexpensive addition who has shared the starting job throughout his career and will flourish in the Wild's defense-first game plan.
Predicted Landing Spot: Minnesota Wild
*Stats via NHL.com. Salary information via CapGeek.com.