The aging process has not always been kind to Roger Federer, but an auspicious start to 2014 has produced a version of the Swiss more characteristic of yesteryear than last year.
For the 17-time Grand Slam champion, Federer's 2013 season left something to be desired, but with a back injury that hampered him for much of last season gone, the Swiss headed into 2014 better rested, better prepared and more focused.
Unshakeable focus. Unparalleled hunger. @RogerFederer pic.twitter.com/VJRpDYEyN4

— Nike Tennis (@NikeTennis) March 1, 2014
At the end of last season, Sports Illustrated's Jon Wertheim speculated that while Federer is undoubtedly nearing the end of his career, the Swiss still has more in him than his 2013 season might indicate:
His back is sore. His racket is small. He lacks a guru from the 1980s. He has won one Grand Slam in the last 47 months. The vectors tend to go in one direction: once athletes move beyond their primes, the downward slope is constant. Here's what Federer has going for him: he is still Roger Federer, blessed by the tennis gods. He still moves gracefully. He still can tinker with his schedule. He can regain self-belief. He can still discharge his duties better than all but three men on the planet. Write him off at your peril.
After a run to the semifinals in Melbourne in January, Federer looked to be regaining his old form after defeating Andy Murray, only to be cut down by Rafael Nadal, who has become not so much his rival as his personal bogeyman.
Back on court for the first time since Australia, Federer didn't start the week in particularly strong form, but he ended it with a bang. Like he has so many times before—at the 2008 U.S. Open, 2009 French Open, 2012 Wimbledon—Federer came up with a brilliant performance just when we were ready to pronounce him over-the-hill.
Two solid, if not astounding performances to begin the week in Dubai saw Federer through to the quarterfinals, where he faced No. 2 Novak Djokovic, who had bested Federer in nine of their last 12 meetings.
After dropping the first set, it looked as though Federer would be on the losing end of yet another Djokovic encounter, but he came back from the rain delay in the second set to break Djokovic and win 10 of the last 13 games to earn a berth into the final.
Roger Federer is playing tennis from a different world at the moment. Normal week then.

— DavidLaw (@DavidLawTennis) February 28, 2014
There is still nothing quite as wonderful as Federer in full flight. This would be a massive win for him for rest of the year.

— Neil Harman (@NeilHarmanTimes) February 28, 2014
Again in the final against No. 5 Tomas Berdych, Federer dropped the first set, but managed to fight his way back into the match and combine scrappiness with his trademark elegance to take the title 3-6, 6-4, 6-3.
You know those times when Roger #Federer defies the laws of physics? This dropper was one of them: pic.twitter.com/Gv5FNbxcKW

— TennisTV (@TennisTV) March 1, 2014
Somewhat paradoxically, it is precisely because he dropped the first set in both of these matches that Federer and his fans can take confidence in his performance. At the height of his career, Federer was so brutally effective not only because he won the biggest matches (which he frequently did), but because he almost never lost the smaller ones.
Once a champ, always a champ! Congrats Roger Federer to your title number 78. #dubai #atptour

— Jonas Bjorkman (@BjorkmanTennis) March 2, 2014
Matches never got away from Federer and having the consistency to win every day over an incredibly long period of time (he holds the record for most consecutive Grand Slam semifinals at 23) is arguably the most impressive of the Swiss's accomplishments.
Over the past season or two, Federer has won fewer and fewer of those big matches, a normal and inevitable part of an aging athlete's career. But what has been jarring is that Federer has lost an increasing number of those smaller matches and even worse, matches he should have won.
In Dubai, Federer won two matches he had no business winning. Particularly against Berdych, his first set numbers were mediocre and the Czech, who has had an incredible season himself, looked to be firmly in control.
First set stats: Roger #Federer v Tomas #Berdych #tennis #ATP pic.twitter.com/MizBNTFElk

— TennisTV (@TennisTV) March 1, 2014
Still early, but the 2013 version of Roger Federer is currently on display at the 2014 Dubai final. #ATP

— Erik Gudris (@ATNtennis) March 1, 2014
Since his slump, Federer has been accused of stubbornness in his matches and indeed in several of his losses last year, an inability to change his game plan mid-match proved problematic. On Saturday, however, Federer adopted a much more aggressive style of play in the second set, and the switch paid off.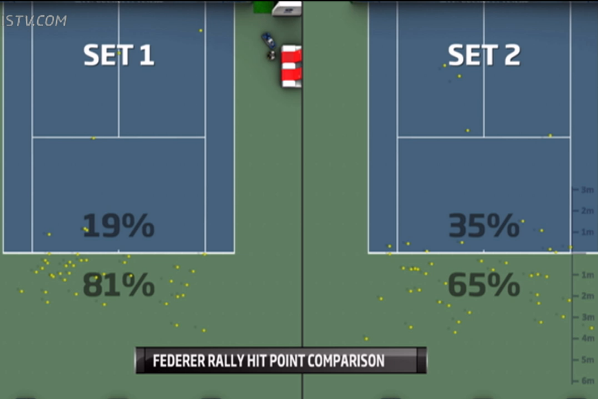 http://www.tennistv.com
One of the most important stats from Federer's week, particularly his last two matches, is his break-point conversion. One of his greatest weaknesses over the last few years, and against Nadal over the course of his career, Federer was 3/7 in break points against Djokovic and 4/10 against Berdych.
Though only one stat, it is enormously indicative of the state of Federer's game and illustrates how effective Federer is at capitalizing on the few opportunities that present themselves in a match against a top-quality player.
In his service game, Federer proved equally unflappable and managed to hold under pressure in both matches. He saved seven of 10 break points in his match against Berdych and five of six against Djokovic.
Roger Federer wins his sixth Dubai title, beats Tomas Berdych from a set and a break down to win 36 64 63. Moves to 4-1 vs. Top 10 in 2014.

— Beyond The Baseline (@SI_BTBaseline) March 1, 2014
So what does this mean for the rest of 2014? Undoubtedly, there are a host of positives to take away from this week. Federer defeated two players who were 3-0 against him last year and did so after dropping the first set, showing a level of grit and tenacity that we're not used to seeing from the Swiss in the last few years.
What's more, Federer managed to win when he wasn't playing his best, and finding a way to victory without one's A-game is the mark of a true champion. The numbers don't lie and Federer's success in break-point conversion and break points saved are both huge stats for the Swiss going forward.
Berdych and Djokovic are both top-level players and to secure wins over both of them in a 24-hour period is no small feat for the 32-year-old Swiss, who was 4-10 against top-10 players last year.
Berdych on Federer: "He's the greatest player of all time and he'll never give up and give you anything for free." http://t.co/ZpVHucom7g

— TENNIS.com (@Tennis) March 1, 2014
The new racquet looks to be paying dividends for Federer. After a failed experiment with a new frame at the German Tennis Championships last summer, Federer seems to have found a new stick better suited to his game than his old 90-inch model.
However, the season has barely gotten started and despite his health problems the last month, Nadal looms large. Federer's last win over the Spaniard came at Indian Wells in 2012 (he is 0-5 against Nadal since) and barring a spectacular turn-around, Federer's dismal head-to-head record against his rival will be one of the very few disappointing stats of his career.
Federer's game showed marked improvement this week and his win makes the upcoming tournament in Indian Wells much more interesting. The Swiss will have many more opportunities to tune his game before the next major, but at the end of the day, the Slams are what matter most.
Federer serves for the match. Lots to like here incl. the back-to-back-ness. Sustaining this level, a day after beating Djokoic augurs well

— Jon Wertheim (@jon_wertheim) March 1, 2014
For better and worse, Federer is held to perhaps unrealistically high expectations and until he can really make some noise at a Slam again, Federer's game will still be just a notch below what we've come to expect. As much as we try to manage our expectations, Federer will always be expected to produce awe-inspiring, championship-worthy tennis until he retires.
That said, a dominant performance at the BNP Paribas Open next week would send a very strong message to the rest of the field. Federer's win on Saturday did not so much set the tone for his 2014 season as it did confirm it, and the trophy in Dubai was another step in the right direction.
Last week Venus Williams. This week Roger Federer. I guess Ponce de Leon was looking in the wrong place.

— Beyond The Baseline (@SI_BTBaseline) March 1, 2014
Most importantly, Federer believes in himself. As any tennis player and fan knows, most matches are fought inside the player's head as much as they are on the court, and Federer has shown a belief in himself this week that we haven't seen in a while.
Perhaps it's not the same brand of subtle Federer bravado that categorized the Swiss maestro at the height of his career, but he has a quiet confidence about the state of his game.
"I feel as if I'm in as good shape as I have been for a year, so that's very encouraging," Federer said last Tuesday ahead of his first-round match (via Rachelle Corpuz of the International Business Times). "I feel my best tennis is just around the corner." After this weekend's performance, maybe that corner is a little closer than he let on.
Finally, one of the most likeable developments in Federer's game in the last 12 months has been his Twitter savvy and as this has become his custom, the Swiss sent out a thanks to his fans, replete with witty hashtags, after his win.
Thanks for the sweet tweets and encouragements #trophyshot #isthatasailingboat #itis #weneedwind #ilostit #sorry pic.twitter.com/vTrxvs7So3

— Roger Federer (@rogerfederer) March 1, 2014