Sorry to be the bearer of bad news, NBA fans, but it sounds like the superhero-style black mask worn by Miami Heat superstar LeBron James is going into retirement.
UPDATE: Saturday, March 1 at 8 p.m. ET by Joe Flynn
The clear mask is here!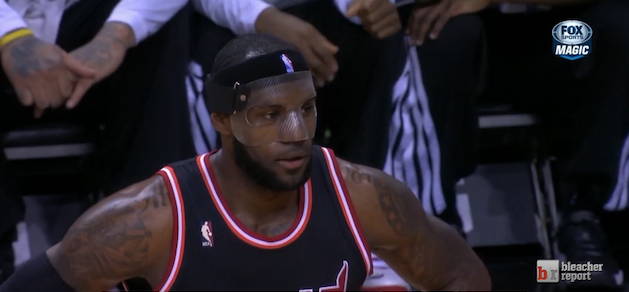 Bleacher Report
James took the court with the new mask for Saturday's game against the Orlando Magic, but he still doesn't seem to know exactly why he can't use the black mask, per ESPN's Michael Wallace:
I don't know if I expected it, but I'm not surprised. It's not a league rule, but it's the league's request that you don't wear the black one. For the reasons that they told me, it didn't make sense to me. But hey, I'm just a player in this league and I will abide by this request -- I'm not even going to say rule, but request -- by the NBA.
---End of update---
Update: Friday, Feb. 28 at 10:40 p.m. ET by Joe Flynn
It appears that James will acquiesce to the league's wishes and go with the clear mask, per corroboration from both Bleacher Report's Ethan Skolnick and ESPN's Michael Wallace:
If you missed my tweet from earlier today, LeBron will wear a clear mask Saturday, per league preference http://t.co/GP0ZcVnUu3

— Ethan J. Skolnick (@EthanJSkolnick) March 1, 2014
Spoelstra says LeBron will comply with NBA's request & choose from a selection of league-approved mask designs tonight

— Michael Wallace (@WallaceNBA_ESPN) March 1, 2014
You can't fight city hall, and you can't fight the commissioner's office.
---End of update---
Original Text
Bleacher Report's Ethan Skolnick broke the news via Twitter that LBJ might wear a clear mask against the Orlando Magic on March 1, per the NBA's preference.
Don't be surprised if LeBron wears a clear mask on Saturday. League has not banned the black mask, but prefers the clear. One is in works.

— Ethan J. Skolnick (@EthanJSkolnick) February 28, 2014
In an email, Skolnick explained why the league prefers a clear mask as opposed to a black one: "The reason the league prefers the 'clear' is so that opponents can see a player's eyes. They have set rules about goggles, which came into play with (Dwyane) Wade in New York in 2011."
Defenders already have enough trouble stopping James. If they're unable to read his eyes as a means of guessing where he plans to attack, guarding him would become even more impossible.
Still, this change will be a bummer for the Internet world. Twitter exploded with various comparisons, GIFs and Photoshop creations as King James donned the Zorro-esque mask in a 108-82 win against the New York Knicks Thursday night.
Lebron "King Zorro" James pic.twitter.com/OpMVTfwxHD

— Jean-Luc Picard (@WebbieCasseus) February 28, 2014
LeBron goes with the Darth Vader mask look.

— Michael Wallace (@WallaceNBA_ESPN) February 28, 2014
LeBron looks a little like Batman in that mask.

— Al Iannazzone (@Al_Iannazzone) February 28, 2014
The four-time MVP suffered a broken nose on Feb. 20 against the Oklahoma City Thunder when Serge Ibaka inadvertently whacked him as he went up for a dunk. He left the court, bloodied, and subsequently missed the Feb. 23 matchup against the Chicago Bulls—a 93-79 Miami win.
At 29 years old, James is still playing at an MVP-caliber level. He's averaging 27 points, seven rebounds and 6.4 assists per game while sporting a player efficiency rating of 29.59—second in the league behind OKC's Kevin Durant.
It's odd that the league hasn't decided to ban black masks outright, especially if it prefers players to wear the clear ones. Many may argue that this draws parallels to the NFL's infamous standing as the "No Fun League" among critical fans.
If this is truly the end for LeBron's Caped Crusader look, at least it was fun while it lasted.