Jabs at the WWE Network, big returns and a locker room full of champions generated the most enticing WWE-related social media in the last week of February.
On Instagram, LeBron James showed off the WWE titles he offered his teammates. Zeb Colter ruled Twitter, serving up the best jokes about the recently-launched network. Cesaro owned YouTube as the star of a video highlighting one of his most powerful moves.
In other WWE-centric social media, Undertaker and Hulk Hogan's returns attracted attention, an artist conceptualized the Hall of Fame and Alberto Del Rio and Bray Wyatt made an oddly appealing pairing.
We begin there with "The Eater of Worlds" and "Mexico's Greatest Export."
WWE has been highlighting several mashup artists on its YouTube page as of late. Eric Minnesota got the spotlight here as he created the most likely of combos, Del Rio and Wyatt's entrance themes. The result is a surprise success.
Undertaker returning to WWE was no surprise for fans who peruse backstage reports.
He confronted Brock Lesnar on Monday's Raw, setting up a bout at WrestleMania. Each year, he emerges from hibernation to defend his undefeated streak at that event. Each year, "The Phenom" steps into some new modified version of his ring gear.
WWE shared a shot of his newest digs on Instagram as Undertaker stalked the backstage area.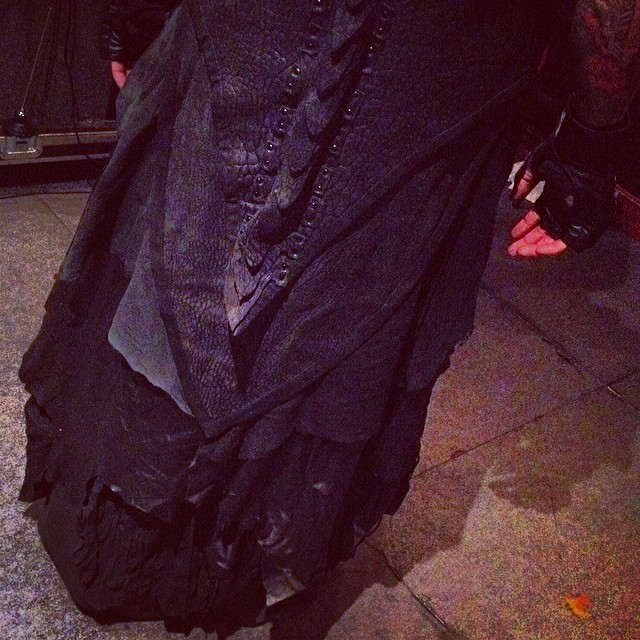 Photo from Instagram
Hogan came back on the same night as him. "The Hulkster" will be hosting WrestleMania XXX.
WWE is going to make full use of his star power and already have him helping hype that upcoming show. The media tour has already started.
Hogan appeared on The Today Show, decked out in his familiar red and yellow gear.

In case you missed it, @HulkHogan brought #Hulkamania to @NBC's @TODAYshow yesterday, and it was runnin' wild! http://t.co/56H8hOdi7u

— WWE (@WWE) February 27, 2014
It's hard not to morph back into a kid when seeing Hogan, the man who ruled WWE in the '80s. Dolph Ziggler was apparently one of many kids who zeroed in on the screen when Hogan went to battle.
Ziggler erupted in excitement after Hogan's return, mirroring the young fan inside all the now-cynical adult fans out there.
#Zigglermania was runnin' wild on the @WWE App last night w/ #Hulkamaniac @HEELZiggler loving @HulkHogan's return! http://t.co/4JGWJeIYtA

— WWE (@WWE) February 25, 2014
The WWE Network is partially built around feeding the feeling that Ziggler experienced on camera. The nostalgia-satisfying streaming service had a rough first few days, though.
Folks had trouble signing up and retrieving items off the on-demand library. Colter used the opportunity to poke fun at Obamacare.
PLEASE BE PATIENT W/@WWENetwork. UNLIKE @HealthCareGov IT REALLY IS AFFORDABLE...AND WORTH THE WAIT. #WeThePeople @WWE @JCLayfield

— Zeb Colter (@WWEZeb) February 24, 2014
BREAKING NEWS: IT IS BEING REPORTED THAT MORE PEOPLE HAVE ALREADY SIGNED UP FOR @WWENetwork THAN HAVE JOINED @HealthCareGov. @WWE

— Zeb Colter (@WWEZeb) February 24, 2014
One of the two Superstars Colter manages was the focus of the latest WWE top 10 video. The countdown clips highlight Cesaro's European Uppercut.
The jaw-rattling move is shown in various forms against foes like John Cena and Sami Zayn.
Cesaro has had a fantastic few weeks, competing for the WWE title at the Elimination Chamber pay-per-view and knocking off future Hall of Famer Randy Orton.
Fans have been pushing for a physical version of the WWE Hall of Fame, but it is still just an abstract concept for now.
Illustrator Rod Hunt recently dreamed up an amazing version of that potential future building. He included a section called the "Dog Pound" for both Mad Dog Vachon and Junkyard Dog, a "Piper's Pit" area and the "Heartbreak Kid Hotel."
The following tweet gives one a look at Hunt's wonderland.
Thanks @digital_arts for the feature! RT. Rod Hunt illustrates fantasy WWE Hall of Fame http://t.co/bBDe4obl1p … pic.twitter.com/tQrf6Rxli3

— Rod Hunt (@rodhuntdraws) February 28, 2014
A future Hall of Fame basketball player worked his way into WWE discussions when he treated his Miami Heat teammates with replica WWE titles.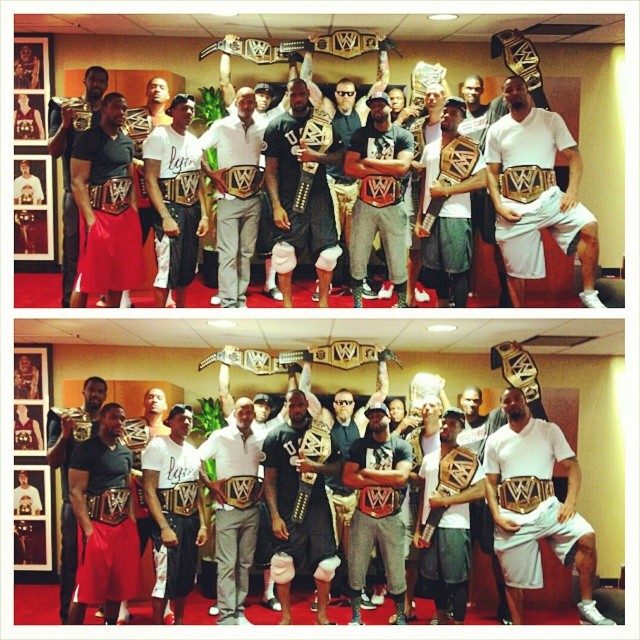 Photo from Instagram
LeBron looks mighty confident holding that title. It appears he's been watching how Orton holds his.
Orton may lose his championship come WrestleMania XXX. Unless the Indiana Pacers or the Oklahoma City Thunder can stop the Heat this year, LeBron and company will have every right to strut around with those titles for another year.