With only one week to go until the first Masters 1000 event of the season, the ATP has made one last stop in Dubai before heading into the American hard-court season. Novak Djokovic and Roger Federer have both returned to the court for the first time since the Australian Open, and the world No. 2 has looked solid through his first two rounds.
.@DjokerNole opens @DDFTennis title defence with 63 63 win over #Istomin. #ATP #tennis Photo: Getty Images pic.twitter.com/0ekoYLibbh

— ATP World Tour (@ATPWorldTour) February 25, 2014
The Serb easily handled his first-round opponent, Denis Istomin, 6-3, 6-3, though Djokovic said after the match that the straight-sets victory was not completely straightforward.
"It wasn't as easy as the scoreline indicates," Djokovic said, via Associated Press (h/t IBNLive.in.com). "I needed to work for my games. Having not played for more than four, five weeks, an official match, obviously it takes its toll on the court."
nice work from the Djoker to put away Istomin in the 1st rd of Dubai

— Brad Gilbert (@bgtennisnation) February 25, 2014
Looking more comfortable in his second match, Djokovic advanced to the quarterfinals with little fanfare, taking out Roberto Bautista Agut in a 57-minute win.
In a hurry, Novak? #Djokovic is destroying Bautista Agut with simply brilliant tennis. 18mins & it's 5-0 pic.twitter.com/GIVS1mC1Og

— TennisTV (@TennisTV) February 26, 2014
On the other side of the draw, No. 2 seed Juan Martin del Potro caused a stir after retiring during his first-round match against Somdev Devvarman due to a wrist injury.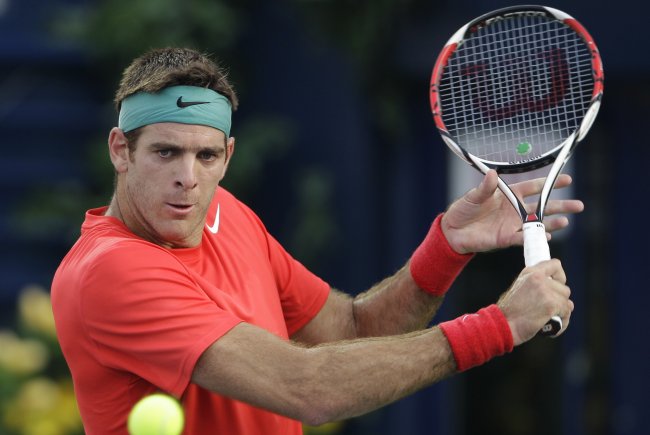 Kamran Jebreili/Associated Press
Juan Martin del Potro retires in 1R Dubai due to his left wrist pain. Going straight to the Mayo Clinic to see doctor. #atp

— Beyond The Baseline (@SI_BTBaseline) February 25, 2014
After right wrist surgery sidelined the Argentine four years ago, the emergence of a potential complication with del Potro's left wrist is particularly worrisome.
Very bad news from Juan Martin del Potro: "I'm feeling similar pains to the other hand and what I felt four years ago."

— Barry Flatman (@Barry_FlatmanST) February 25, 2014
Said del Potro after the match, via Associated Press (h/t FoxSports.com):
"I don't feel really well. My wrist is hurting a lot and everybody knows what happened to me four years ago with my other wrist. It was really tough to play today. I tried everything. I cannot be the player I would like to be."
Juan Martin Del Potro faces an uncertain future after admitting he may have to undergo wrist surgery again: http://t.co/DRbFD6qc1G

— Sky Sports Tennis (@SkySportsTennis) February 25, 2014
Perhaps one of the biggest question marks in tennis right now is Federer, who has gotten the job done through the first two rounds, though not in particularly dominant fashion.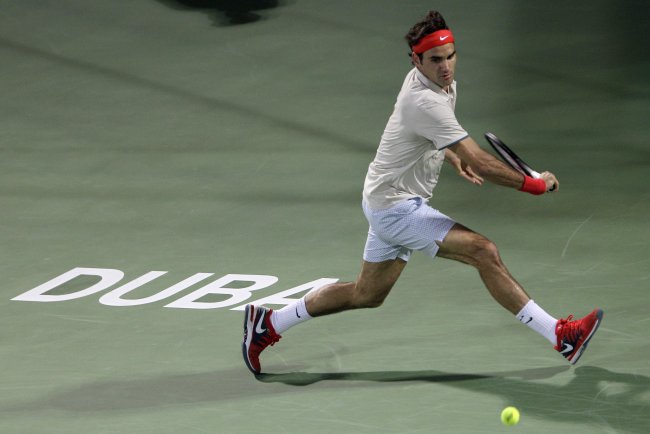 Kamran Jebreili/Associated Press
Against Benjamin Becker in his first match, the Swiss had little trouble dismissing his opponent 6-1, 6-4. The highlight of the first-round encounter came when Federer executed yet another jaw-dropping tweener in the second set.
Candidate for shot of the year? @RogerFederer's spectacular tweener lob vs. Benjamin Becker at @DDFTennis: http://t.co/zoL7TBkWpX

— TENNIS.com (@Tennis) February 24, 2014
Oddly, since the start of his "slump" last season, Federer has become an increasingly engaging presence on Twitter and in the pressroom. He was generally positive after his win over Radek Stepanek, saying, via ATP World Tour:
It was almost a bit too late for everything, but I kind of hung around and I took the positives out of the match. Radek did a good job of putting the pressure on me and mixing it up. From that standpoint, it was a really difficult match. I'm very pleased to come through.
All smiles. Press room. @RogerFederer. #Dubai Duty Free Tennis Championships | http://t.co/gisQLGBqoL. #DubaiTennis pic.twitter.com/yWgvQVyAUN

— Federer News (@FedererFan07) February 27, 2014
Stepanek, who held a break lead in the third set, pushed the former No. 1, forcing a deciding set after dropping the first 6-2, but ultimately could not close against the Swiss.
Played the best of all time @rogerfederer ,had my chances but that's unfortunately the beauty of our sport, everything can turn in a minute

— stepec78 (@stepec78) February 26, 2014
Finally, Tomas Berdych, who snuck his way into the semifinals at the Australian Open last month completely under the radar, has continued to build on his impressive season.
Tomas Berdych has won 13 of his last 14 matches and will play Jo-Wilfried Tsonga in the Dubai quarterfinals: http://t.co/vqxYKSkHjj

— TENNIS.com (@Tennis) February 26, 2014
Berdych easily made it through the first round and handled a tricky opponent in Sergiy Stakhovsky in the second, dropping just three games en route to the quarterfinals.
A little wave as Tomas #Berdych seals a straightforward win against Sergiy #Stakhovsky pic.twitter.com/fVGFlw1bXQ

— TennisTV (@TennisTV) February 26, 2014
Fresh off his title win at the ABN-AMRO Championship in Rotterdam last week, Berdych is one of the most in-form players on the tour right now, having lost just two matches this season.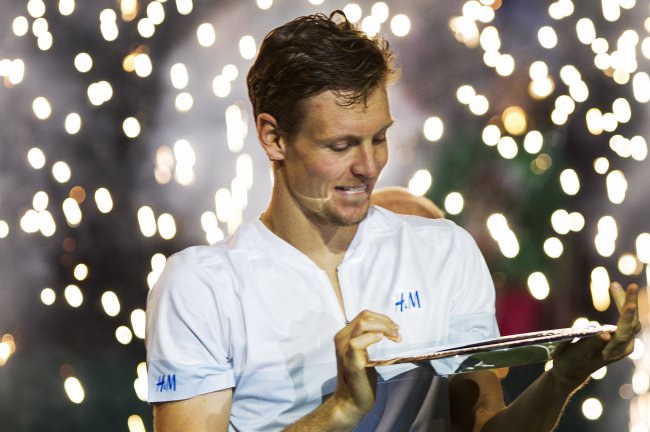 Patrick Post/Associated Press
And the Czech is feeling confident, saying after Wednesday's win, via ATP World Tour:
It was a solid win. Today, I was working a little more on my return stats than on my service stats. Sergiy is a very tough and tricky opponent. Every single point is different, slices, with spin, short balls, deep balls. Really, everything is so varied. It's nothing what I really like. Still, I was able to manage it very well [and] found a good rhythm from the baseline.