Phillies Spring Training 2014: Daily Updates, Scores, News and Analysis
Use your ← → (arrow) keys to browse more stories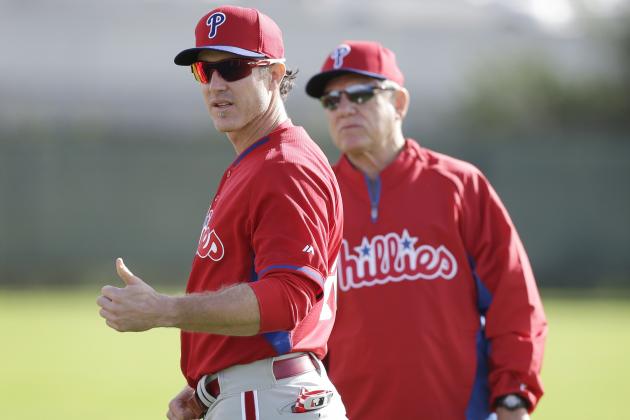 Charlie Neibergall/Associated Press

The Philadelphia Phillies certainly aren't getting any younger. In fact, this offseason they managed to get older, adding 36-year-old Marlon Byrd and 37-year-old A.J. Burnett in free agency, giving them nine players expected to make regular contributions that are 33 or older.
So how will one of baseball's oldest teams fare against the younger and more talented contenders in the NL East, the Washington Nationals and Atlanta Braves? Can the Phillies return to the postseason with the aging core that led them to a 2008 World Series title, or will they miss the playoffs for the third straight season?
Below, you'll find the team's schedule for all of spring training, a brief recap from each game and a full prediction for how Philly will fare in 2014.
Philadelphia Phillies Spring Training Schedule

| | | | |
| --- | --- | --- | --- |
| Date | Opponent | Time (ET) | Result |
| Wednesday, February 26 | Toronto | 1:05 p.m. | Blue Jays win, 4-3 |
| Thursday, February 27 | Toronto | 1:05 p.m. | Blue Jays win, 7-5 |
| Friday, February 28 | Detroit | 1:05 p.m. | Phillies win, 10-6 |
| Saturday, March 1 | NY Yankees | 1:05 p.m. | Yankees win, 4-0 |
| Sunday, March 2 | Pittsburgh | 1:05 p.m. | Pirates win, 4-1 |
| Monday, March 3 | Tampa Bay | 1:05 p.m. | Rays win, 6-1 |
| Tuesday, March 4 | Toronto | 6:35 p.m. | Blue Jays win, 5-3 |
| Wednesday, March 5 | Atlanta | 1:05 p.m. | Tie, 2-2 |
| Thursday, March 6 | Detroit | 1:05 p.m. | Cancelled |
| Thursday, March 6 | NY Yankees | 1:05 p.m. | Yankees win, 4-3 |
| Friday, March 7 | Baltimore | 1:05 p.m. | Orioles win, 15-4 |
| Saturday, March 8 | Houston | 1:05 p.m. | Phillies win, 11-3 |
| Sunday, March 9 | Minnesota | 1:05 p.m. | Tie, 1-1 |
| Monday, March 10 | Atlanta | 1:05 p.m. | Braves win, 8-1 |
| Tuesday, March 11 | Atlanta | 1:05 p.m. | Braves win, 9-1 |
| Wednesday, March 12 | Baltimore | 1:05 p.m. | Phillies win, 6-5 |
| Thursday, March 13 | NY Yankees | 1:05 p.m. | Phillies win, 6-2 |
| Friday, March 14 | Pittsburgh | 1:05 p.m. | Pirates win, 6-5 |
| Saturday, March 15 | Boston | 7:05 p.m. | |
| Sunday, March 16 | Pittsburgh | 1:05 p.m. | |
| Monday, March 17 | Baltimore | 1:05 p.m. | |
| Wednesday, March 19 | Toronto | 1:05 p.m. | |
| Thursday, March 20 | Houston | 1:05 p.m. | |
| Thursday, March 20 | Toronto | 1:05 p.m. | |
| Friday, March 21 | Boston | 1:05 p.m. | |
| Saturday, March 22 | Pittsburgh | 1:05 p.m. | |
| Sunday, March 23 | Minnesota | 1:05 p.m. | |
| Monday, March 24 | Toronto | 1:05 p.m. | |
| Tuesday, March 25 | NY Yankees | 7:05 p.m. | |
| Wednesday, March 26 | Detroit | 1:05 p.m. | |
| Thursday, March 27 | Toronto | 1:05 p.m. | |
| Friday, March 28 | Pittsburgh | 7:05 p.m. | |
March 14: Pirates beat Phillies, 6-5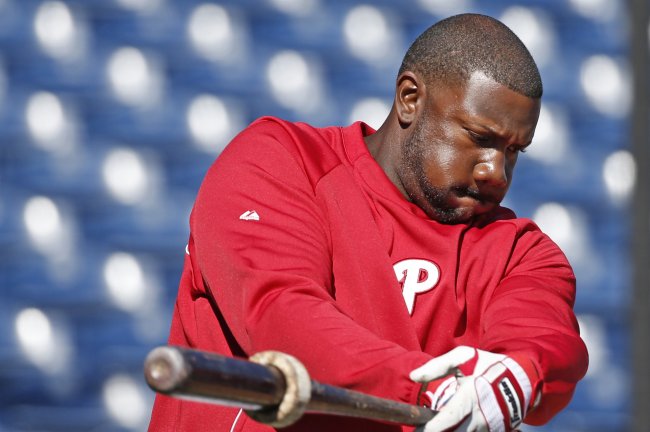 Kathy Willens/Associated Press
The Phillies brief two-game win streak this spring came to an end on Friday. The Pittsburgh Pirates rallied with four runs in the bottom of the eighth inning to erase a 4-2 deficit. The Phillies got a run in the ninth, but couldn't tie it and fell 6-5.
Jeff Manship got the start for Philadelphia. He pitched four innings allowing six hits, two runs and striking out three. One of the hits he allowed was a long home run to Pirates star Andrew McCutchen.
Even with that mediocre outing, the Phillies had the game under control until B.J. Rosenberg imploded in the eighth inning.
He allowed five hits and four runs in just an inning and a third of work. The disastrous outing raised his ERA to 6.14 this spring. There was a bright spot to the otherwise gloomy day for the Phillies.
Ryan Howard hit his first home run of the spring. He's now hitting .206 during the exhibition season. Unfortunately, Jimmy Rollins continues to struggle. John Clark of Comcast Sports talks about the days of both Phillies stars:
Ryan Howard hits first official home run of spring. JRoll 0-3 today. Now batting .111

— John Clark CSN (@JClarkCSN) March 14, 2014
How desperate are Phillies fans and media for some good news from Howard and the bunch? Chris Branch from Delaware Online missed the dinger, but he offers a suggestion in hopes of seeing Howard continue his success:
I get up to get a drink, and Ryan Howard homers. I'll stay away from the press box for his ABs, if y'all want.

— Chris Branch (@ChrisBranchTNJ) March 14, 2014
The loss dropped the Phillies to 4-11-2 for the spring. The team will face the Boston Red Sox on Saturday night.
March 13: Phillies beat Yankees, 6-2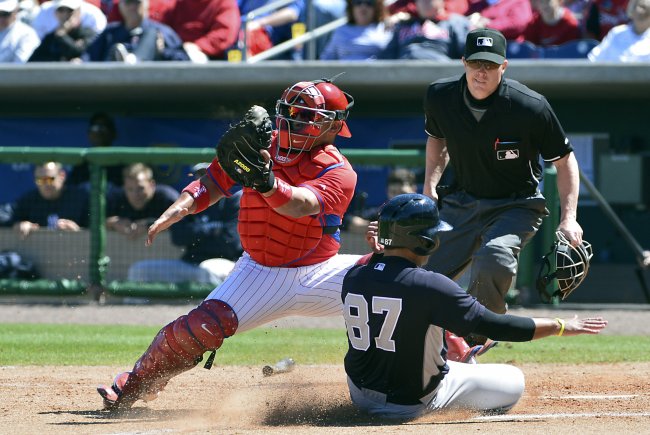 Tommy Gilligan-USA TODAY Sports
Now Philadelphia is getting somewhere in spring training.
On Thursday, the Phillies made it two in a row (now 4-10-2) behind the arm of starting pitcher Roberto Hernandez, who tossed five perfect innings en route to getting the victory. Hernandez's perfect game was ruined in the top of the sixth inning, but he still received a nice ovation from the crowd, according to Ryan Lawrence of the Philadelphia Daily News:
Roberto Hernandez's perfect game is over with a single to begin the sixth inning. He exits, gets a nice ovation from Bright House crowd.

— Ryan Lawrence (@ryanlawrence21) March 13, 2014
But let's take it back to the third inning, where the Phillies broke things open to take a 3-0 lead. Marlon Byrd drove Ben Revere in via a single, and Ryan Howard did the same for Chase Utley. Byrd was then able to cross the plate after a Carlos Ruiz groundout.
New York put two on the board in the seventh, but Philadelphia extended its lead in the bottom of the eighth with three more runs thanks to doubles from Reid Brignac and Tommy Joseph.
Jimmy Rollins was notably absent, so Freddy Galvis got the nod at short and went 0-for-3 with three strikeouts.
The offensive outburst on Thursday was surely a welcome sight for Philadelphia fans, but plenty of questions remain as the team prepares to take on Pittsburgh.
March 12: Phillies beat Orioles, 6-5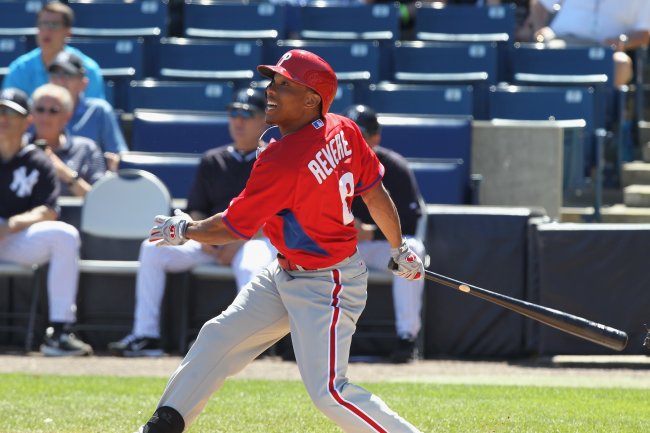 Scott Iskowitz/Getty Images
This Phillies found themselves well ahead in this game, outscoring the Orioles 6-1 through four innings. Although, a resurgent Baltimore offense, along with some shaky Phillies pitching, made this a close one in the end.
Domonic Brown got things started in style for the Phillies, crushing a triple to right and scoring three RBI's in the first. Freddy Galvis produced an RBI triple of his own in the second to increase Philadelphia's lead to 4-0.
#Phils jump out to a 3-0 lead in 1st on a 2-out bases-loaded triple by @dom9brown!

— Phillies (@Phillies) March 12, 2014
Atlanta scored its first run in the bottom of the second on a sacrifice fly from Ryan Flaherty. But the Phillies came right back in the fourth, as a single from Maikel Franco and sac fly form Ben Revere combined for two RBI's.
Franco and @BenRevere9 add RBIs in the 4th. 6-1 #Phillies bottom 4th.

— Phillies (@Phillies) March 12, 2014
In the bottom of the fifth, the Orioles pulled within three runs after a two-run jack from Nolan Reimold.
Then, after three innings of shutout pitching, the Orioles surged in the bottom of the ninth. Cesar Jimenez got the save, but only after giving up a two-run shot to Alex Gonzalez. Jimenez was able to recover and seal the one-run victory for Philadelphia.
The Phillies' rotation was nothing to write home about on Wednesday. A.J. Burnett got the win; however, he gave up four hits and three runs over four innings pitched for a 10.00 ERA. Shawn Camp had the best outing of the day, pitching one inning, giving up one hit, no runs and striking out one batter for a 0.00 ERA.
#Phils up 6-3 after 7. Phils w/ 11 hits. Burnett 4ip, 4h, 3er, 1bb, 2 k. Camp, Aumont & Munson w/ scoreless relief.

— Phillies (@Phillies) March 12, 2014
The hottest bat belonged to Ben Revere. He went two-for-two with a single and triple, also adding a sac fly and a walk. He scored two runs, accrued one RBI and finished with a batting average of .296. This was his best performance so far in spring training.
March 11: Braves beat Phillies, 9-1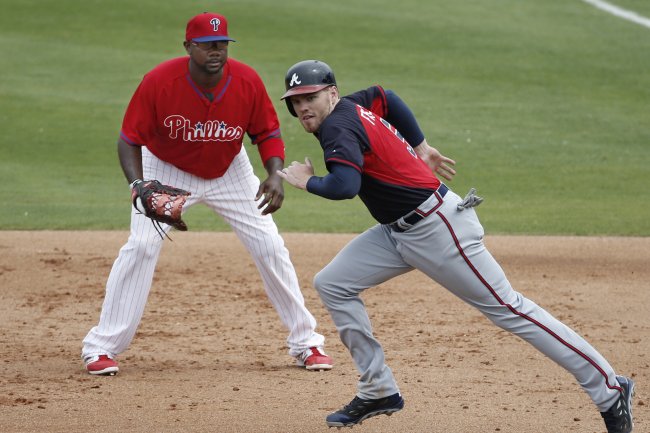 Kathy Willens/Associated Press
Yikes.
Let's just get this out of the way now, via Kevin McAlpin of 680 The Fan:
End of 8, #Braves up 9-1. Through 17 innings the last two days, they've outscored the #Phillies 17-2.

— Kevin McAlpin (@KevinMcAlpin) March 11, 2014
The Braves have absolutely owned the Phillies the last two days, and Ryne Sandberg's club has simply looked lost for most of spring training.
Dan Uggla torched the Phillies for the second day in a row, this time via a solo home run in the fifth inning, which the order followed up in the sixth by adding five more against Sean O'Sullivan to make it 6-0.
Overall, Philadelphia notched just two more hits and left seven on base.
March 10: Braves beat Phillies, 8-1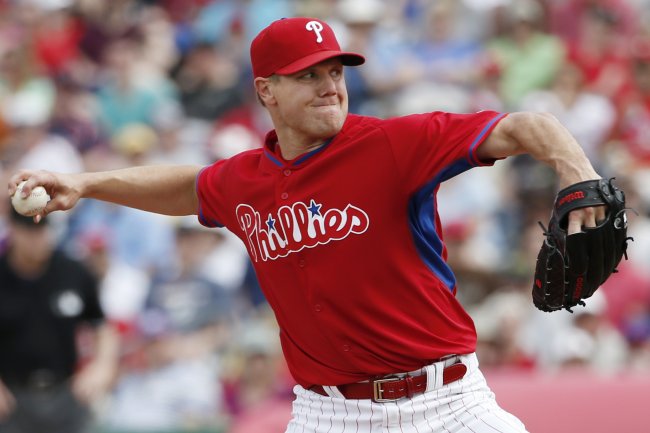 Kathy Willens/Associated Press
The woeful spring training for the Phillies continued on Monday as the Braves pushed eight runs across the plate to send Philadelphia home with a 2-9-2 record.
Cliff Lee was the lone bright spot for Philadelphia, but even his strong day had a major blemish—he allowed a leadoff homer to Jason Heyward. He struck out five in just under four innings of work, but the home run proved telling of how the day would go for the Phillies.
Reliever Mario Hollands allowed a 400-foot homer to Dan Uggla, before Jonathan Papelbon became unraveled in the seventh inning and allowed five unearned runs.
The same staggering trends continued for Philadelphia, with the most worrisome of all being the team's inability to get anything going at the plate against starting pitching. The Phillies get another shot at Atlanta on March 11, but are running out of time to turn things around.
March 9: Minnesota Twins tied Phillies, 1-1
The Minnesota Twins and Philadelphia Phillies went nine innings with each team scoring just once, and the game ended in a tie.
Sunday's spring training game was a pitcher's duel. The Twins managed to score a run in the bottom of the first inning when Joe Mauer singled in to left field to score Darin Mastroianni, but that was the extent of the scoring for the first eight innings.
Minnesota's Mike Pelfrey got the start and looked very strong through the first three innings before Samuel Deduno took over for the next three shutout innings. Former Twins pitcher and current Phillies starter Jeff Manship let in one run.
Philadelphia's Ronny Cedeno reached on a fielder's choice in the eighth inning and scored John Mayberry to tie the game at 1-1. That run ended up being the sole reason the team was able to finish this game without a loss.
March 8: Phillies beat Astros, 11-3
Well, now the Phillies have two victories this spring. Of course, they also have eight losses.
Behind three-run homers from Cody Asche and Carlos Ruiz, the Phillies exploded offensively on Saturday, crushing the Astros 11-3. Roberto Hernandez got the start and gave up just one run in 3.1 innings, allowing just two hits and striking out four. He did walk four batters, however.
The Phillies mixed things up in the lineup on Saturday, as Eric Karabell of ESPN noted:
Wow, @Phillies leading off Asche today. Interesting. And Galvis is in CF. On board with each. Why not try it?

— Eric Karabell (@karabellespn) March 8, 2014
Obviously, the experiment worked. Asche finished with two hits, two runs and three RBI, while Freddy Galvis didn't get a hit in the game but did earn one walk. Ryan Howard ripped a double and scored a run, though he also struck out three times.
As Phillies fans know, that's simply par for the course when it comes to the slugging first basemen.
Jesse Biddle was the winning pitcher for the Phillies, though he gave up two runs in his one inning of work and was sent to the team's minor-league camp after the game. From Ryan Lawrence of the Philadelphia Daily News:
Following today's game, the Phillies reassigned LHP Jesse Biddle to minor league camp.

— Ryan Lawrence (@ryanlawrence21) March 8, 2014
Left-hander Dallas Keuchel was the bright spot for Houston, pitching three scoreless innings and allowing just one runner to reach base on a walk. He also struck out two batters.
March 7: Orioles beat Phillies 15-4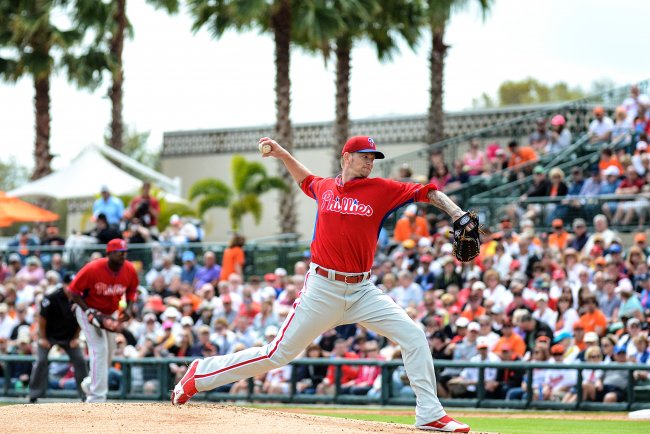 Jonathan Dyer-USA TODAY Sports
Another spring training game for the Phillies meant another loss. This one was a complete blowout. On Friday afternoon the Baltimore Orioles laid waste to the Phillies with an offensive explosion that saw them score 10 runs in the first four innings.
The Phillies committed two errors in the field and the pitching staff surrendered at least one run in every inning except the first.
Paul Markakis was 4-for-4 with two doubles and an RBI to lead the O's charge. Ubaldo Jimenez was sparkling in his two innings of work for Baltimore. He pitched two scoreless innings and fanned three batters.
A.J. Burnett was on the mound for the Phillies to start. He bombed from the outset. In three innings of work, he allowed six runs—all earned—on seven hits and a walk. The Orioles' Ryan Flaherty took him deep in the second inning. Burnett's ERA is now 12.60 for the spring.
Bernie Pleskoff of MLB Pipeline assessed Burnett's performance:
What I Didn't Like Today: #Phillies A J Burnett was up in the zone and got clobbered. #Orioles offense had great swings against him.

— Bernie Pleskoff (@BerniePleskoff) March 7, 2014
Miguel Alfredo Gonzalez was less than sharp in relief of Burnett. It was his second poor appearance of the spring. The Cuban right-hander came to Philadelphia with a touch of fanfare, but he hasn't yet lived up to the hype.
Philadelphia fell to 1-8-1 on the spring with the loss.
March 6: Yankees beat Phillies 4-3
Rarely will you see a spring training game get as much attention as this one. When the New York Yankees are in action, Derek Jeter is trying to snap an 0-for-9 slump and newly signed Masahiro Tanaka is on the mound, the coverage is probably going to be increased.
Tanaka wasn't as sharp in this one as he was in his first start, but he was still solid.
In three innings of work, Tanaka surrendered two hits—one was his first home run allowed—and struck out a batter in three innings of work.
Per the Associated Press, Tanaka said this after the game:
"I felt that I wasn't at the top of my game going onto the mound today," Tanaka said through a translator. "Including the results and everything, I feel like I did OK."
Freddy Galvis touched Tanaka up for a game-tying blast in the second inning. Philadelphia took a 3-1 lead in the fifth inning when Carlos Ruiz and john Mayberry Jr. hit back-to-back home runs.
But Philly couldn't hold the lead.
The Yankees scored a run in the seventh and two more in the eighth to take the lead and hold on for the victory. As Phillies Nation notes via Twitter, things have been rough so far this spring for the team:
The #Phillies are now 1-7 in Spring Training

— Phillies Nation (@PHLPhilsNation) March 6, 2014
Mayberry continued his hot hitting. In addition to his home run, he had another knock in three at bats. He's now hitting .455 in the spring.
On the mound, Jonathan Papelbon worked a scoreless inning, fanning two batters. Mario Hollands worked two scoreless frames with two strike outs as well.
March 5: Phillies and Braves tie, 2-2
David Manning-USA TODAY Sports
The Phillies held a 2-1 lead heading into the ninth inning but could not hold on, leading to a tie ballgame in this early spring-training battle.
Philadelphia got a solid start out of Sean O'Sullivan. The 26-year-old pitcher gave up three hits and a walk in three innings, but he worked around them to keep the Braves off the scoreboard. Of course, Brandon Beachy was just as good through his three innings to make sure the game stayed scoreless.
The regular offensive players were not as impressive for the Phillies as Jimmy Rollins, Chase Utley and Domonic Brown combined to go 0-for-7.
Kevin Frandsen was virtually the only person capable of providing offense in this one, as noted by Todd Zolecki of MLB.com:
Kevin Frandsen gets offense going with a single to center, scoring Bobby Abreu. It's 1-1.

— Todd Zolecki (@ToddZolecki) March 5, 2014
Frandsen then scored the second run of the game on a ground out by Tony Gwynn. The first baseman ended the day 2-for-3 with a run and an RBI.
However, Brad Lincoln could not hold onto the victory, giving up a run in the ninth inning to make it a 2-2 tie, which would end up being the final score.
March 4: Phillies lose to Blue Jays, 5-3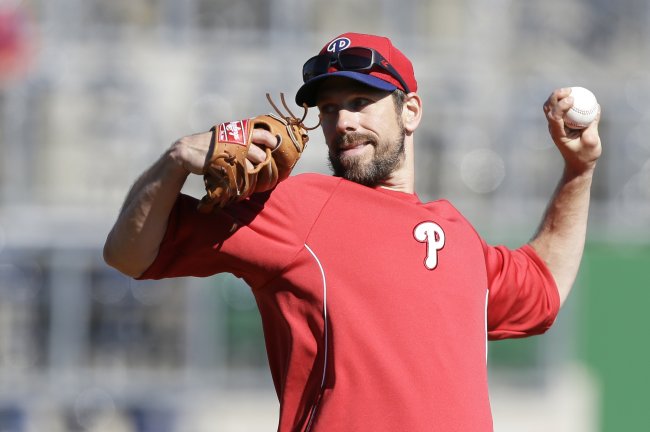 Charlie Neibergall/Associated Press
In a battle of former Cy Young winners, Cliff Lee outdueled R.A. Dickey, but the Toronto Blue Jays got the last laugh, leaving with a 5-3 victory.
Lee looked sharp in his Grapefruit League debut, striking out two in three innings of work while giving up three hits and one run. He faced 11 batters and didn't walk anyone, leaving with a 3-1 advantage thanks to a Marlon Byrd two-run shot in the third.
"It went good," he said after the game, via MLB.com's Todd Zolecki. "I'm pretty happy with it."
After B.J. Rosenberg worked two innings of one-run ball, however, 27-year-old Luis Garcia was blasted for two runs in the sixth inning. He gave up singles to Jose Reyes, Melky Cabrera and Moises Sierra and was saddled with the loss.
There wasn't much offense outside of Byrd, who had a single in addition to his homer, as veteran Bobby Abreu drew a bases loaded walk for Philly's other run.
March 3: Phillies lose to Rays, 6-1
When Michael Stutes entered the game in the seventh inning, he had a 1-0 lead. By the time he made it through the inning, he had sacrificed five runs and the Rays were on their way to earning a 6-1 victory.
Roberto Hernandez pitched well for the Phillies, opening the game with three scoreless innings on the mound. Jeff Manship and Phillippe Aumont then combined to throw another three scoreless frames.
But Stutes and Justin De Fratus (1.0 innings pitched, one hit, one run in the eighth) couldn't contain the Rays.
Maikel Franco led the Phillies with two hits, while Leandro Castro scored the team's lone run on Wil Nieves' RBI single in the fourth.
March 2: Phillies lose to Pirates, 4-1
A.J. Burnett made his debut with the Phillies against his old team and worked just two innings before leaving the mound after allowing a single hit and run. He told reporters after the fact, via Rob Biertempfel of TribLive.com, that it was a sentimental moment:
Nah, I didn't. It wasn't weird. It's just facing another team, and it just happened to be those guys today. It was definitely good to see them. I always have respect for everything and everyone in this game, no matter who you play against. Any team I've played on, you're respectful to them. It was a good time.
Burnett did little to help the Phillies turn things around. The club has now lost four of five to start spring training with no reversal of fortunes in sight.
Tony Gwynn was the lone offensive bright spot for the Phillies thanks to his two hits to lead the team, but even he fanned at plate once and was stranded on base multiple times.
As has been the case all spring, Philadelphia fell behind early and failed to climb out of a 3-0 hole that was created by the end of the fourth inning. The team mustered seven hits but went 1-for-9 with runners in scoring position.
March 1: Phillies lose to Yankees, 4-0
The Yankees put three members of their starting rotation on the mound in today's matchup in CC Sabathia, Hiroki Kuroda and Masahiro Tanaka, who made his hyped debut. The Phillies' offense was no match in a 4-0 loss.
Philadelphia mustered just five hits and one walk. All six runners were left stranded. On the bright side, David Buchanan pitched two scoreless innings with three strikeouts as the starter. Miguel Gonzalez took the loss after giving up one run on two hits and four walks in 1.2 innings.
Ichiro Suzuki, Francisco Cervelli and Adonis Garcia provided the offense for the Yankees with a trio of RBI singles. Garcia's plated two runs in the bottom of the seventh to cap the 4-0 win.
Feb. 28: Phillies beat the Tigers, 10-6
Led by an eight-run third inning highlighted by Jimmy Rollins' three-run homer, the Phillies defeated the Tigers, 10-6.
Marlon Byrd went 2-for-3 with two runs scored, while Darin Ruf contributed two RBI. Kyle Kendrick wasn't terribly sharp in the start, however, allowing two hits, three walks and three runs in his two innings of work.
Nick Castellanos led the way for Detroit, finishing 2-for-3 with four RBI.
Feb. 27: Phillies lose to Blue Jays, 7-5
The Phillies led 3-2 after three innings before five quick runs from the Blue Jays turned the game in their favor for the second straight day. They went on the win 7-5.
Jake Diekman gave up two runs on four hits before getting out of the fourth inning. That's better than what can be said about Ethan Martin, though. He allowed three runs on three hits and a walk without registering a single out before he was pulled in the fifth.
Darin Ruf and John Mayberry both hit their first home runs of the spring in a losing effort for Philadelphia. Cliff Lee gave up one run in two innings while striking out three.
Feb. 26: Phillies lose to Blue Jays, 4-3
Despite scoring two runs in the bottom of the first on RBI singles from Howard and Byrd, the Phillies fell to the Blue Jays in seven innnings (the game was called due to rain), 4-3.
Roberto Hernandez started and pitched two innings for the Phillies, giving up two runs and a Jose Bautista home run. Reliever Phillippe Aumont gave up two runs in the top of the third, before Jeff Manship, Antonio Bastardo and Kevin Munson combined to pitch four scoreless innings for Philadelphia.
Shortstop Ronny Cedeno added an RBI double in the fifth inning for the Phillies.
Pre-Spring Training Prediction for 2014 Season
Charlie Neibergall/Associated Press
At first glance, its hard to imagine this team competing with the Braves and Nationals in the NL East. They're simply too old.
Ryan Howard has played in a total of 151 games combined over the past two seasons. Chase Utley's 131 games played last year was his most since 2009, as were his 135 hits, 18 home runs and 69 RBI. Jimmy Rollins continues to play a solid shortstop, but his .252 average, six home runs, 39 RBI and 65 runs scored were wildly disappointing. Carlos Ruiz followed up an excellent 2012 with a really mediocre 2013.
But there are good things, too.
For starters, Howard is healthy and is feeling pretty good, as he told Ryan Lawrence of the Philadelphia Daily News:
I feel good. Last week was a hard week—definitely different than spring trainings of the past. But you can definitely see what they're trying to do. Now it gets to where the games kind of become the easy part. You do all the work, put in all the work and your offseason training, and now the games begin and you can have fun.
A Howard that is having fun and producing equals a Phillies team that can compete. It's really that simple for Philadelphia. But there are more positives than Howard's health this spring.
Domonic Brown (.272, 27 home runs, 83 RBI) had a breakout season. The one-two punch of Cliff Lee and Cole Hamels atop the rotation is one of the best in the National League. Highly-touted Cuban rookie Miguel Gonzalez could turn this from a solid rotation to an excellent one if he lives up to the hype. Jonathan Papelbon wasn't great last season, but he still has the goods to be a solid closer. Free-agent additions Burnett and Byrd are old, yes, but both are coming off excellent seasons. Ben Revere provides some speed on the basepaths and plays a tidy center field.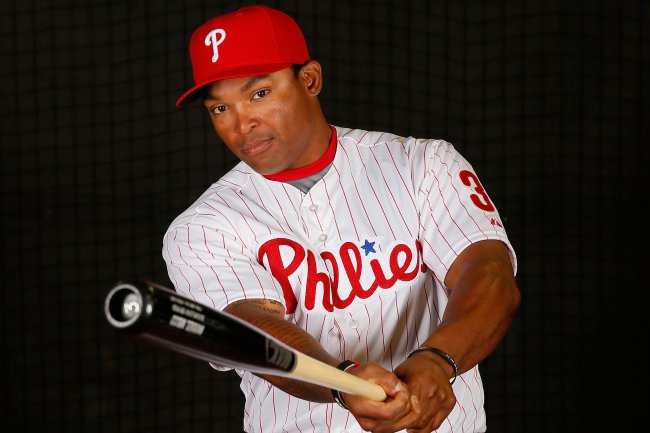 Kevin C. Cox/Getty Images
And there is the surprising development that Jeff Sullivan of FanGraphs actually projected the Phillies as the second-most-improved team heading into the season:
The Phillies, in a sense, are a positive regression case. They also added A.J. Burnett, Roberto Hernandez, Miguel Gonzalez, and Marlon Byrd, so while they also don't project very well, they should be in the hunt a little longer. It pains me to say that the Phillies should be better for no longer having Roy Halladay. It pains me less to say they should be better for no longer having Delmon Young.
Unfortunately, that analysis sounds like the Phillies should improve from last year's 73-89 mark to something along the lines of 2012's 81-81 campaign, not another trip to the postseason.
Keeping expectations in check when evaluating this Phillies team is important. If absolutely everything goes right, they might be able to sneak into the postseason.
More likely, however, they'll hover right around the .500 mark and finally put an end to an era of Phillies baseball that brought a World Series title, several postseason runs but, eventually, ended with a whimper, not a bang.
They'll finish third in the NL East and miss the playoffs once again.