The least Yuzuru Hanyu could've done is make it a little dramatic heading into the free program of men's figure skating at the 2014 Winter Olympics. Instead, he had to go and put on a spellbinding performance that essentially has turned the competition into a two-man battle.
The 19-year-old Japanese phenom dazzled the crowd in the Iceberg Skating Palace on Thursday when he posted a world-record score of 101.45 in the short program, per Christine Brennan of USA Today:
Hanyu breaks his own WR w/ 101.45 points. He will be almost impossible to beat for gold, barring, well, any of stuff that happened earlier.

— Christine Brennan (@cbrennansports) February 13, 2014
Hanyu's path to the top arguably got a little bit easier after Evgeni Plushenko was forced to withdraw after an injury, per The New York Times:
Evgeni Plushenko of Russia warms up, but decides he cannot skate and pulls out of men's event with injury.

— NYT Olympics (@SochiNYT) February 13, 2014
The legendary Russian was second in the men's short program portion of the team event and first in the free program. Plushenko was the sentimental favorite, and Brennan wondered if he was the recipient of some favorable judging as a result.
Now that he's out of the way, Hanyu only has Patrick Chan to beat.
That's easier said than done, as Chan is the reigning three-time world champion. Not to mention he earned a 97.52 in the short program, meaning he's not that far off Hanyu at the top:
Chan gets 97.52. Too high. Ah, these judges, they just can't stop loving this guy. Within 4 points of Hanyu, who was much better.

— Christine Brennan (@cbrennansports) February 13, 2014
Former American champion Michael Weiss believes that the Canadian star is in the driver's seat, rather than Hanyu, heading into the free program:
The almost skate by Chan. Still well within striking distance for long. Message sent = both skate clean & Chan wins. #Sochi2014

— Michael Weiss (@MichaelWeiss2) February 13, 2014
Let me clarify....if Hanyu & Chan both skate clean, judges component marks say they go w Chan.... #Sochi2014

— Michael Weiss (@MichaelWeiss2) February 13, 2014
Weiss makes a good case. Chan has the talent and performance record to make you believe that he's the sure bet to walk away with gold.
Plus, as Chan noted, the spotlight on Hanyu grows heading into Friday, and there's no telling how a 19-year-old will respond to the added pressure, per ESPN.com's Jim Caple:
"I like being in second. I like being in the chase," said Chan, who was a little wobbly on a triple axel. "It's exciting for me. Now I can go out and enjoy the program, whereas Yuzuru has a bit of a target on his back that he's not quite used to. At the Olympics the target is kind of doubled in size. We'll see how he handles it."
However, Hanyu has been in this position before, albeit on slightly smaller stage, at the 2013 Grand Prix Final. He took the lead after the short program by posting a 99.84, a little over 12 points better than Chan's 87.47. Needing to ward off the world champ, the teenager earned the highest score (193.41) in the free skate to take home gold.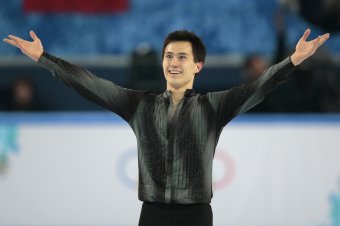 Ivan Sekretarev/Associated Press
The Japanese star came into Sochi, Russia, with massive expectations. Behind Chan and Javier Fernandez, he was among those knocking on the medal door. It's not like Hanyu is some neophyte who's never once skated in a stressful situation.
Not only did he deliver in the short program, but he also went above and beyond to an extent nobody could have foreseen. You won't see an individual performance that good for some time.
If anything, having such a strong start likely took the pressure off Hanyu. He's gotten to Sochi, hit the ice and performed brilliantly. What's there to fear in the next stage?
Although Chan came in as the world's best, the ball is firmly in his opponent's court at this point, and it's up to Hanyu to make the most of the four-point advantage he build on Thursday.