Tighe's 2014 World Cup Tactics Board: Analysing Jose Pekerman's Colombia
February 6, 2014
Lars Baron/Getty Images
Welcome to the latest in a new series where we will take a tactical dive and explore each and every one of the 32 qualified World Cup teams.
Next up is Colombia, who qualified in second place in the CONMEBOL standings with an impressive 30 points. The group is usually a two-horse race at the top between Argentina and Brazil, but Los Cafeteros took advantage of the Selecao's absence and came oh so close to topping the table.
Qualifying
Colombia won nine of their 16 games en route to finishing snugly between Argentina and Chile in the standings. At home in Barranquilla they were close to unstoppable, with a 2-1 loss to Argentina the only blemish on an impressive record.
Jose Pekerman's men were 3-0 down to Chile in the final home game at half-time, but managed to mount a comeback in the second period and draw 3-3, thus sealing qualification for the tournament proper.
They conceded a league-low 13 goals throughout the 16 games and kept six clean sheets in total. After beating Uruguay 4-0 on September 7, 2012, Los Cafeteros didn't concede a single home goal until they played Chile 13 months later.

Radamel Falcao was the the side's top scorer with nine goals in qualifying.
Formation & Style
Pekerman took a little time to work out what his best formation was, and his experiments using the 3-5-2 and 4-2-3-1 explains some questionable early form during the qualification period.
He finally settled on the 4-2-2-2, which represented the best way to get all of his key peripherals in their correct positions and unlock their attack verve.
Colombia will arrive at the World Cup as one of the most technically talented, physically overbearing and tactically flexible sides in the competition, and their ability to switch speeds at which they play is a killer.

B/R Tighe
The 4-2-2-2 employs two traditional-looking defensive midfielders on paper, but Pekerman doesn't restrict their duties to guarding holes left by the marauding full-backs and blocking zones in the midfield.
Their vertical passes out of the defensive third are vital to the quick springing of attacks, and that unlocks the true physical nature of Pekerman's stacked side. They also have the opportunity to move forward with the ball themselves, though that's more likely with Fredy Guarin in the side than anyone else.
Ahead of them, James Rodriguez will play as a No. 10 in a 4-2-3-1 or in a 4-2-2-2; if it's the latter it seems he will be paired with Macnelly Torres behind a striking pair.
STV
During qualifying Falcao stole the show as an aerial target man and linkup player, but his injury will see someone else step in. Teofilo Gutierrez's good running (and favoured position by the coach) makes him the favourite to partner up.
The full-backs add to the variety of Los Cafeteros' play and make them extremely difficult to predict. Good movement from the central players is usually enough to fashion a scoring chance—in particular the darting runs from Gutierrez—but both Pablo Armero and Juan Cuadrado play key roles in the final third.
Their ability to either hit the byline or cross from deep is important as it gives this side an extra edge. Pekerman will always favour a striker with a strong aerial presence as a result, so expect to see Jackson Martinez start the opening game of the World Cup.
Reasons for Hope
Los Cafeteros are an odd hybrid team that few can replicate. They have pace, power, technical skill, height and drive in abundance; rarely are such diverse qualities harnessed in a single XI.
That means they can use whichever method of playing they wish. They're at their best attacking directly, passing vertically and running with the ball, but are also adept in the slow possession game many will seek to utilise in Brazil this summer.
Depth is a key factor for Pekerman heading into the finals, and while Falcao is a big loss for the forward line, his presence and goals are actually very, very replaceable.

B/R Tighe
Jackson Martinez has been astonishingly good for FC Porto this season, and it's his performances that are making the Dragons look far better than they are. He's an aerial monster, great in holdup play and can fulfill his compatriots' role.
Beyond him Colombia have Luis Muriel, but he's a worse fit for the system given that he's all pace and no height.
Depth in defensive midfield is also very strong, but losing James Rodriguez would be an unmitigated disaster for this side. We talk about Colombia switching speeds and changing approaches, and he is key to all of the transitions.
Pekerman is a clever, logical coach who adapts his formation succinctly for each opponent. He can juggle the 4-2-3-1 and the 4-2-2-2 and has the peripherals to pull off each system, though 3-5-2 likely isn't an option for the finals.
Reasons for Concern
Colombia are yet to play a game since Falcao's injury, and although Martinez is an ideal replacement on paper, they need to clock some game-time with him leading the line. Fast.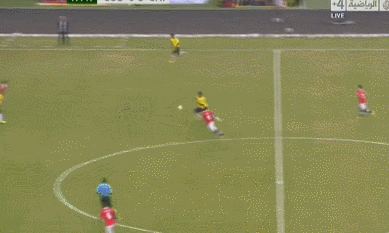 STV
Central defence is also something of a concern despite the team posting the best defensive record in the CONMELBOL qualifiers. Recent games have exposed Mario Yepes, Cristian Zapata and Luis Perea both in the air (defending balls into the box) and on the ground (pace, agility).
Young Colombian super defender Eder Alvarez Balanta will not be groomed well enough for this year's edition, and Pekerman will have to soldier on with a suspect group.
Carlos Sanchez stands an ideal, natural fit for deep in Los Cafeteros' midfield, but his recent form in a yellow shirt has been a little suspect. With Fredy Guarin not playing for Internazionale and failing to transfer away from the club this winter, selection questions reign supreme here too.
Conclusion
Colombia were tipped two years ago as dark horses to win the World Cup, but the buzz has worn off just a little as we enter the home straight.
They have immense strength in depth, quality in James Rodriguez and a clever, tactically astute coach in Jose Pekerman. They've not been without their minor struggles, but they are primed to navigate their group with ease.
All eyes will be on Los Cafeteros this summer, and they best impress.
Prediction: Quarterfinals (knocked out by eventual winners Brazil)