The early exits of Serena Williams and Maria Sharapova set the stage for some intriguing quarterfinals matches at the 2014 Australian Open, four of which are set to be contested on Day 9.
The top four still remain in play on the men's side, and there is only one player ranked outside the top eight—Bulgaria's Grigor Dimitrov, who is the world's No. 22-ranked player.
Things look a bit different on the women's side, however, thanks to Williams and Sharapova's upset losses. Three of the remaining eight contenders are ranked No. 20 or higher, which means we could see a surprise winner when it's all said and done.
Here's a look at the four quarterfinals matches set for Tuesday, Jan. 21, along with predictions:
| | |
| --- | --- |
| MATCH | PREDICTION |
| Li Na (No. 4) vs. Flavia Pennetta (No. 28) | Li Na in two sets. |
| Ana Ivanovic (No. 14) vs. Eugenie Bouchard (No. 30) | Bouchard in three sets. |
| Tomas Berdych (No. 7) vs. David Ferrer (No. 4) | Berdych in four sets. |
| Stanislas Wawrinka (No. 8) vs. Novak Djokovic (No. 2) | Djokovic in four sets. |
Li Na (No. 4) vs. Flavia Pennetta (No. 28)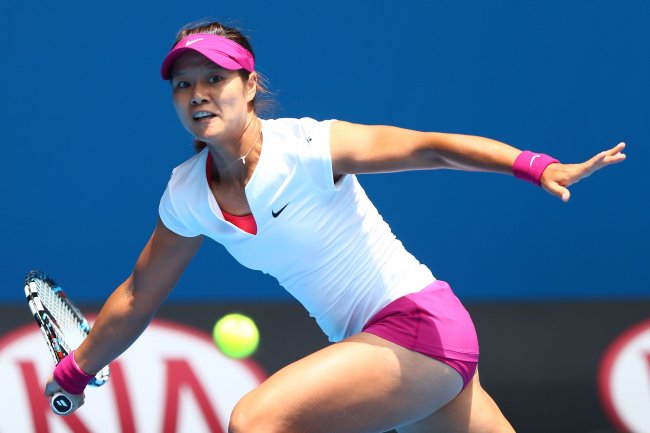 Ryan Pierse/Getty Images
Chinese star Li Na will take on Italy's Flavia Pennetta in the early match, and there's no doubt the top-seeded Li—a two-time runner-up in this major—is expected to advance.
But it won't be easy.
Pennetta upset Germany's Angelique Gerber (No. 9) in Round 4, winning 6-1, 4-6, 7-5 to advance into the quarters. This is the farthest she's ever advanced at the Australian Open, and it comes off the heels of a semifinals appearance at the 2013 U.S. Open.
Pennetta, 32 years old, relishes the chance to play someone who's actually older than her, as noted by the Associated Press, via ABCNews.com: "You know what at least she is one day older than me. So I will play older player. Not like couple rounds (before) always younger than me. For the moment, it's so good, so I hope to just keep going."
Unfortunately, her extraordinary run will come to an end against the steady Li Na, who will win in straight sets.
Ana Ivanovic (No. 14) vs. Eugenie Bouchard (No. 30)
This is, perhaps, the most intriguing match of Day 9.
Ana Ivanovic is fresh off her incredible upset victory over No. 1-ranked Serena Williams, while Eugenie Bouchard is the hottest teenager on the WTA Tour.
Interestingly enough, Bouchard hasn't yet faced a ranked opponent in this tournament, having skated by with the luck of the draw. It's also her first Australian Open, but Damien Cox believes she's got what it takes to test the veteran Ivanovic:
Bouchard shouldn't be overwhelmed by the moment. Her speed and athleticism will test Ivanovic, who really is a great comeback story.

— Damien Cox (@DamoSpin) January 20, 2014
How the young star handles the pressure of the moment will determine her fate. If she isn't fazed, then she'll win, which is what I'm banking on with this pick: Bouchard will take this match to advance into the semifinals in three sets.
Tomas Berdych (No. 7) vs. David Ferrer (No. 3)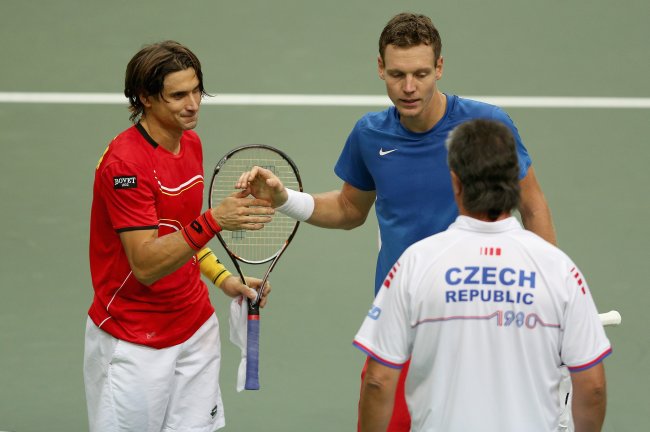 Clive Brunskill/Getty Images
This match could easily go either way, and nobody would bat an eyelash about either result.
Over the course of their successful careers, Tomas Berdych and David Ferrer have battled one another eight times, with Ferrer winning six of the matches. However, Berdych has won two of the three times they've played on a hard court, thanks to his big serve and strong volleys.
Ferrer has reached the semifinals two out of the last three years at Melbourne Park, while Berdych has been stymied at the quarterfinals for three years running.
Given the way the Czech star has powered through the first four rounds this year, however, he appears ready to finally break through with a semifinals appearance. Ferrer won't go down without a fight, but in the end, Berdych will triumph in four sets.
Stanislas Wawrinka (No. 8) vs. Novak Djokovic (No. 2)
Known as one of the fiercest competitors on the ATP Tour, Stanislas Wawrinka has been consistently confounded by Novak Djokovic throughout his career. They've faced one another 16 times in the past, and Djokovic has a 14-2 record in those matches.
Nobody should expect a different result this time around, either.
Djokovic has absolutely cruised through his first four opponents, and he looks primed for a fourth straight Australian Open title.
However, Wawrinka took Djokovic to the limit on a few of those occasions, and it shouldn't be a shock if the duo end up battling for four or five sets.
That said, Djokovic is a lock to advance.
Follow me on Twitter @JesseReed78