Rafael Nadal marched into the fourth round of the Australian Open after a three-set masterclass against No. 25 seed Gael Monfils.
The world No. 1 triumphed by a score of 6-1, 6-2, 6-3 and will go into the second week of the tournament in seemingly imperious form.
Game, set, match Rafael #Nadal 6-1 6-2 6-3 he'll play Kei #Nishikori next. #ausopen

— Australian Open (@AustralianOpen) January 18, 2014
The Spaniard has yet to be truly tested in the tournament to date after Bernard Tomic retired in their opening match and he swept aside Thanasi Kokkinakis in round two.
But the pre-game indications were that Monfils could run the top seed close. The two last met on January 4 2013 in the final of the Qatar Open, and whilst Nadal triumphed, the Frenchman took the second set of three and troubled Nadal for long spells.
Per Kevin Mitchell of The Guardian Monfils felt if he could take the match past four hours, he might just have a chance:
My body feels good, I feel strong physically but I know that, against Rafa, it will be necessary to be ready to fight for four hours. I feel I am going to be ready.

If it lasts an hour and a half, he will have crushed me. Tactically, I will have to be just right.
So bearing that in mind, a good start was imperative here for Monfils. But the 13-time major champion was noticeably intent on making a strong early impression; he broke the 25th seed in the very first game of the match.
Monfils looked to respond immediately, and he pushed Nadal to the brink in a mammoth second game. It included some enthralling rallies, massive forehands and wonderful drop shots from both players; one superb exchange contained a mammoth 25 strokes:
An impressive 25 shot round just happened on RLA with #Nadal and #Monfils. Watch it now http://t.co/u7N3Ytxd3Q #ausopen

— Australian Open (@AustralianOpen) January 18, 2014
Monfils earned himself three break points in the second game, but they were all squandered. You can't pass up those opportunities against this calibre of player, a fact which Nadal compounded by going 2-0 up with a booming, unreturnable first serve.
Losing that game seemed to knock the confidence out of the Frenchman, and Nadal took advantage. He rattled off another two consecutive games to go 4-0 up, before Monfils eventually got a point on the board to make it 4-1.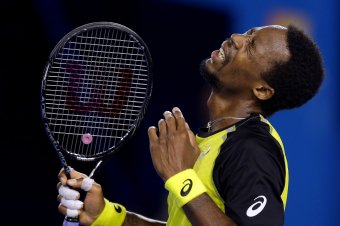 Aaron Favila/Associated Press
But that didn't deter the Spaniard, who won the sixth and seventh games to take the first 6-1 and a one-set lead.
Monfils started the second set in much more boisterous fashion. He sought to play with increased aggression and took many more risks in an attempt to unsettle the mercurial Nadal. There was a scare as Nadal limped off the court between games early in the second set, but he quickly shook off the knock and got on with business.
Tremendous concern as Nadal appears to do something to his right foot at end of that third game. Very quiet in RLA right now. #ESPNAO

— ESPNTennis (@ESPNTennis) January 18, 2014
The first four games went with serve and Monfils bellowed "Allez! Allez!" after holding off the Spaniard in a tense fourth game.
Nadal always seemed to have another gear, though. He held his serve to go 3-2 up before breaking Monfils in the sixth game. Once again, the Frenchman contributed to his own downfall, double-faulting on two crucial points and handing the impetus back to the Spaniard.
That release took the handbrake off Nadal, who held to love to make it 5-2. Monfils looked beaten before even starting the eighth game and it was no surprise when he double-faulted to hand Nadal another break and the second set.
The Spaniard made just a couple of unforced errors in the entirety of the second set and Brad Gilbert, who has coached Andre Agassi, Andy Roddick and Andy Murray, was seriously impressed with the Spaniard's performance:
I went court side for a few games Rafa was so impressive it was scary

— Brad Gilbert (@bgtennisnation) January 18, 2014
The languid, rangy style of Monfils seemed to have no answer for the Spaniard. Once again, he regrouped at the start of the third set, keeping the score on serve for the first six games.
Doing his utmost to claw back a two-set deficit, Monfils earned two break points in the seventh game. But a culmination of some sloppy play from the Frenchman and some steely Spanish nerve saw them slip by. Nadal marched into a 4-3 lead and Monfils was demoralised.
Nadal rattled off the next two games to win the third set 6-3 and book his place in the fourth round where he'll face Kei Nishikori.
Check out how happy this guy is! #Rafael - http://t.co/yzwN3cER3L #ausopen

— Australian Open (@AustralianOpen) January 18, 2014
Monfils will feel the scoreline was a little harsh on him after playing some unbelievable shots and contributing to some wonderful rallies. But this match was a huge indicator that not only is Nadal in superb form, but he is playing a ruthless brand of tennis. A set of attributes that will make him hugely difficult to beat at this tournament.