Rafael Nadal advanced to the second round of the 2014 Australian Open in unusual circumstances on Tuesday, Jan. 14, after Bernard Tomic retired.
The tournament's official Twitter account confirmed the results:
He struggled all match and eventually #Tomic retires after #Nadal takes the first set. http://t.co/vg2WWtO1Qf #ausopen

— Australian Open (@AustralianOpen) January 14, 2014
The Australian, ranked 52nd, joins countryman Lleyton Hewitt in departing the competition at the first hurdle after Hewitt earlier lost to Italian Andreas Seppi in five sets.
Is Rafa Nadal favourite to win the Australian Open?
Tomic, 21, pulled up with a groin injury following a serve in the first game of the match and only continued after off-court treatment. He lasted a set, won 6-4 by Nadal, before retiring.
The youngster gave a good account of himself against current world No. 1 Nadal, and the match looked to have the makings of a competitive encounter. Despite the injury, Tomic—a huge favourite with the home crowd—continued to entertain and push Nadal, despite being limited in his movement.
The Spaniard only broke Tomic in the ninth game, to edge 5-4 in front. Before that both men had held their serve.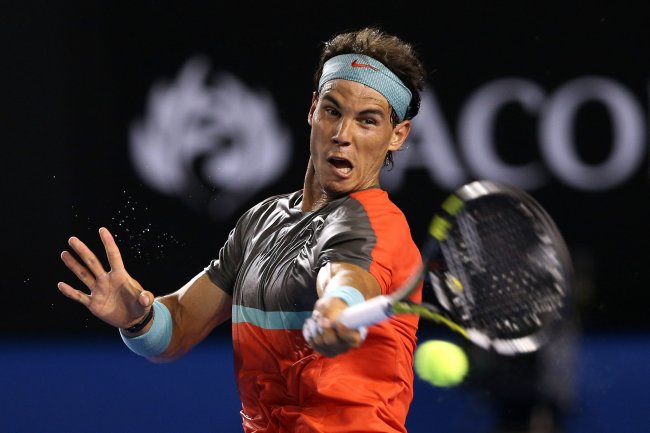 Clive Brunskill/Getty Images
Nadal, ever the professional, claimed a hard-fought victory in the first set against his dogged opponent, who then opted to retire rather than risk injury by continuing.
During their time on court, Nadal claimed an impressive 88 percent of his first-service points, with the speed of his first serve averaging 181 kilometres per hour, as reported by the official Australian Open website.
However, Tomic managed to match Nadal for large parts of the contest, achieving a better first-serve percentage (71 to 62 in Tomic's favour) and registering an equal number of winners (13 each). The Australian also recorded a faster average first and second serve.
Sarah Shephard of Sport magazine commented that Nadal may be relieved to see Tomic concede after being pushed so hard by the promising youngster:
Judging by the sweatiness of Rafa Nadal after that first set he'll be quite relieved to see Tomic retire. Must have lost a few pints already

— sarah shephard (@sarahsportmag) January 14, 2014
Speaking on court afterwards, Nadal paid credit to his opponent and wished him a quick recovery, per BBC Sport:
"I'm very sorry for Bernard, I hope he gets better soon. I know how tough this situation is. All the best for him for the rest of the year."
Nadal then confirmed that he came through the match without injury and spoke of his high hopes for 2014:
The first goal of last year was finish the year. I finished the year playing one of the best seasons of my career. Some pains but nothing really bad so I am able to start again this year and that's the best news possible.
ESPN Tennis tweeted the startling statistic that eight of the first-round matches, played so far, in this year's Australian Open, had concluded in a retirement:
8 of the 1st round matches in the men's draw has had a retirement. That stat is just ridiculous. #ESPNAO #ausopen

— ESPNTennis (@ESPNTennis) January 14, 2014
The extra rest afforded to Nadal, therefore, will stand him in good stead in comparison to his main rivals, who have all played at least three sets.
Nadal will now face another Australian in the second round, 17-year-old Thanasi Kokkinakis, who is ranked No. 570 and had never won a game before his first-round victory.