Where Are They Now? Tim Couch, Donovan McNabb And The 1999 NFL Draft Class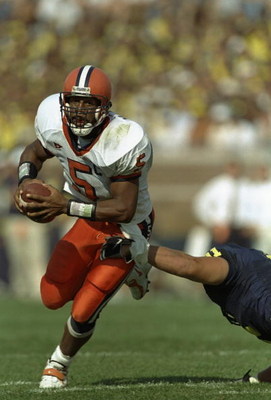 Five quarterbacks were taken, two high-profile running backs were also available, there was also a verbal assault for ESPN's Mel Kiper Jr., when he became critical of the Colts for not taking Ricky Williams, courtesy of Colts' GM Bill Polian.
Ten years later, the 1999 NFL Draft is full of Pro Bowlers, potential Hall of Famers, star-crossed talents and some notable draft busts.
Here's a look back at the '99 first round draft class:
Tim Couch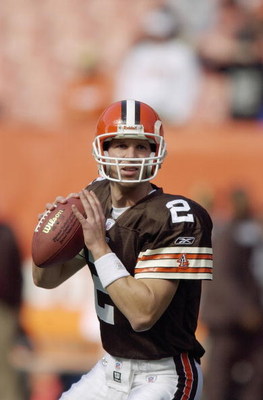 The first-ever pick for the new Cleveland franchise, Couch entered the draft after his junior year at Kentucky.
He was known for the Browns' playoff run in 2002 and some inconsistent play and boos from fans.
He broke down and cried during an interview when asked about the jeers from Browns fans. He wasn't granted a starting quarterback opportunity after the 2003 season.
He also tested positive for steroids in 2007 while trying to attempt an NFL comeback with the Jaguars.
Couch now works as an analyst for Kentucky Wildcats football.
Donovan McNabb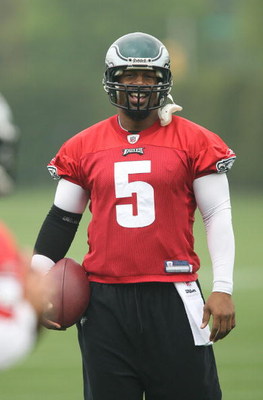 The former Big East Player of the Year and quite possibly, the last great player from Syracuse football, McNabb has seen his share of clouds and sun.
McNabb has five Pro Bowls, five appearances in the NFC Championship game, one NFC title, and numerous controversies.
Through it all, McNabb remains the face of the Eagles despite going through injuries, and criticism from the media, Terrell Owens and Rush Limbaugh.
Akili Smith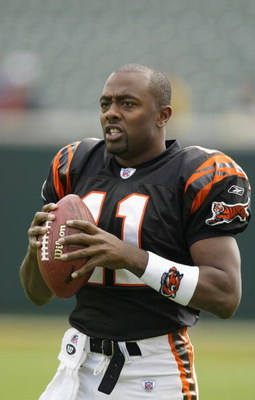 The Browns considered getting Smith first overall, who threw 32 touchdown passes in his senior year at Oregon despite starting just 11 games.
Smith ended up in Cincinnati and had contract disputes, plus an inability to grasp the Bengals playbook. The Bengals released him in 2002.
Smith would then play for Green Bay and Tampa Bay from 2003-2004, but he would be released by both teams.
Smith was last seen playing for the Calgary Stampeders in the CFL.
Edgerrin James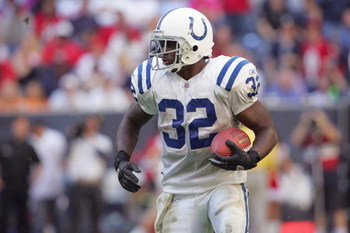 James was the reason why Mel Kiper Jr. blew up and criticized the Colts for not getting Ricky Williams.
But James showed why he was worth being the first running back taken, with an Offensive Rookie of the Year award in 1999 and out-performing Williams that year.
James spent 2006-2008 with Arizona and played in his first Super Bowl. He is now a street free agent after requesting to be released, amid disputes with his role in the offense.
Ricky Williams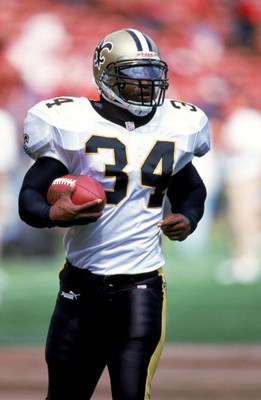 Philadelphia wanted him, people felt the Colts should have gotten him, but he ended up with Mike Ditka, who literally gave up the city of New Orleans to get Williams.
Williams only had one Pro Bowl season though, and that was with the Miami Dolphins in 2002.
After an early retirement because of marijuana use, plus a year in the CFL, Williams is currently with the Dolphins and is under contract through 2009.
Torry Holt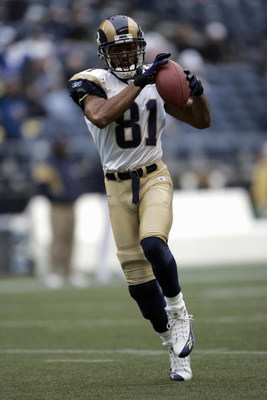 "Big Game" Holt was one of Kurt Warner's favorite targets during the Rams' Super Bowl run in the 1999 season.
Holt has played in seven Pro Bowls and made another appearance in the Super Bowl with the Rams in the 2001 season.
He signed a three-year deal with the Jaguars this off-season.
Champ Bailey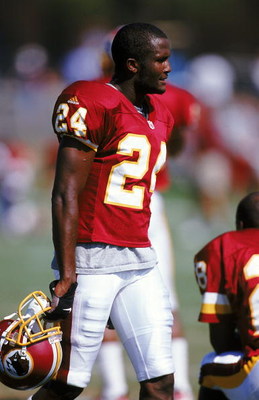 Considered one of college football's greatest multiple threats at receiver, cornerback, and return man, Bailey wowed the scouts by running a 4.28 40-yard dash time at the combine and went seventh overall to the Redskins.
Bailey played in four Pro Bowls with the Redskins. He has four more Pro Bowls with his current team, the Denver Broncos.
David Boston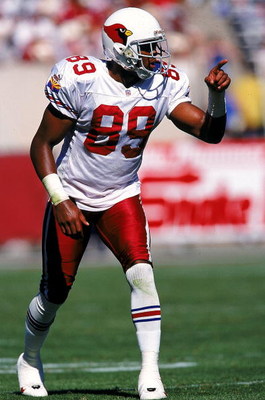 Boston was known for three things: His massive stature, injuries, and bad behavior.
The 6-2, nearly 230-pound Boston played in one Pro Bowl in 2001. He then got injured in 2002 and didn't live up to his monster '01 season.
He then signed a seven-year, $53 million contract with the Chargers in 2003, but was suspended one game for bad behavior and traded after one year.
Boston played for the Dolphins and Buccaneers after his San Diego debacle. He was arrested for DUI in 2007 and also tested positive for steroids that year.
The last story involving Boston was his tenure in the CFL with the Toronto Argonauts in 2008.
Chris Claiborne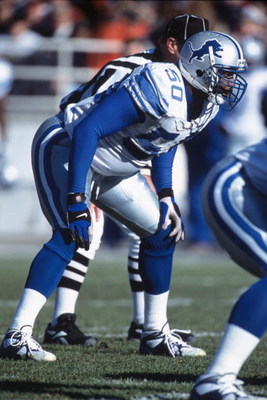 Claiborne spent most of his NFL career with the Lions, but never lived up to his first-round status.
After spending 2003-2004 with Minnesota, Claiborne had one-year stints with the Rams, Giants and Jaguars.
He is currently a free agent.
Chris McAlister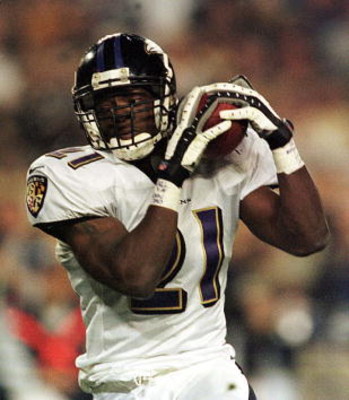 Despite having his contract terminated by the Ravens recently, McAlister was a key reason why the Ravens' D was one of the most fierce units in the league.
McAlister was the team's top shutdown corner and played in three Pro Bowls. He won a Super Bowl with Baltimore in 2001.
Injuries have taken a toll on McAlister, but he could be on someone's roster by training camp.
Daunte Culpepper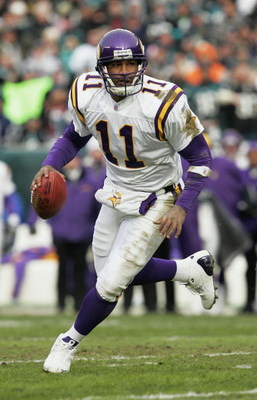 He got his "roll on" early with the Vikings by making the Pro Bowl in his second season, but after that has been a string of injuries.
Culpepper has gone from a number of knee injuries and stints with the Dolphins, Raiders, and now Lions.
He's expected to show Matthew Stafford the ropes for 2009 in Detroit.
Cade McNown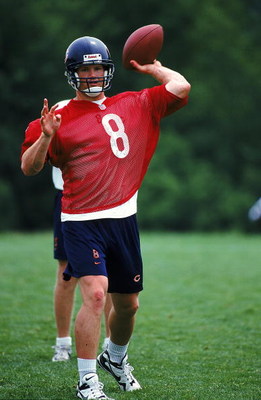 Probably known as "Cade McClown," the former UCLA standout has had inconsistent play, poor team interaction skills, and off-field troubles.
McNown's NFL career lasted from 1999-2002. His whereabouts are currently unknown.
Troy Edwards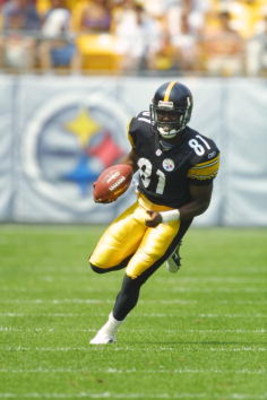 Edwards was the first player the Steelers took from Louisiana Tech since Terry Bradshaw, but the receiver made no impact with Pittsburgh.
Edwards spent three years in the Steel City, then bounced between the Rams, Jaguars, Titans, Lions, and another stint with the Jags.
He last played in the Arena League with the Grand Rapids Rampage, but was released in 2007.
John Tait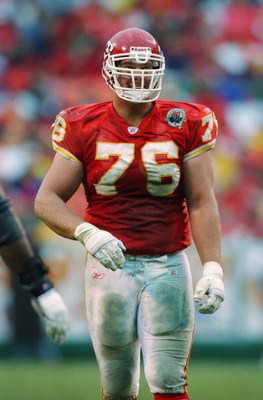 Tait played in two Pro Bowls: in 2001 with the Chiefs and in 2006 with the Bears.
Tait was an All-American for Brigham Young University at Tackle his senior year.
He announced his retirement in 2008 and is active with his Mormon faith. He has gone on Mormon missions in Tennessee.
Anthony McFarland
"Booger" played alongside Warren Sapp and helped anchor the Bucs' D from 1999-2006 after starring at LSU.
He helped the Bucs and Colts win the Super Bowl in 2003 and 2007.
He is currently a free agent.
Jevon Kearse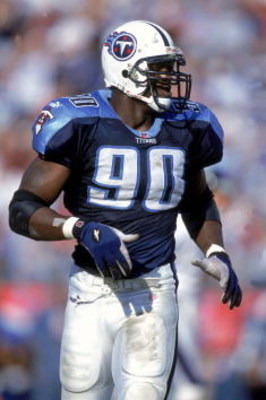 "The Freak" took the league by storm in 1999, with his speed and agility en route to 14.5 sacks and Defensive Rookie of the Year honors.
Scouts were most impressed with his speed, after running a 4.43 40-yard dash time at the University of Florida's pro day.
Kearse played in his first Pro Bowl that year and made trips to Hawaii in 2000 and 2001.
He played in two Super Bowls, one with the Titans in 2000 and the other with the Eagles in 2005.
Kearse has battled a string of injuries over the years but still remains on the Titans' roster for 2009.
Damien Woody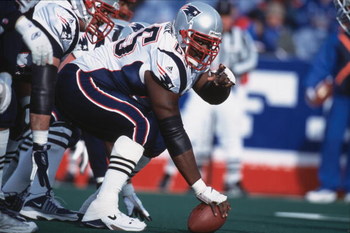 The versatile Woody has played every position on the line except left tackle. The Patriots drafted him as a center out of Boston College in 1999.
Woody has played in two Pro Bowls (2002, 2005) and has won two Super Bowls with the Patriots.
Woody signed a five-year deal with the Jets in 2008 and is expected to anchor the line for new coach Rex Ryan.
Matt Stinchcomb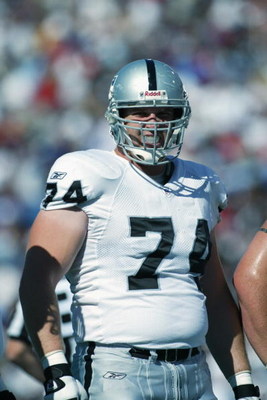 A two-time All-American at Georgia, Stinchcomb played four seasons with the Raiders, mostly for coach Jon Gruden.
He reunited with Gruden in Tampa Bay from 2004-2006.
Stinchcomb now serves as a college football expert on Comcast Sports Southeast as well as a co-host on "College Football Today" on 680 AM radio.
He and another former Bulldog, David Greene, are also principal partners in a risk management and financial services firm.
Luke Petitgout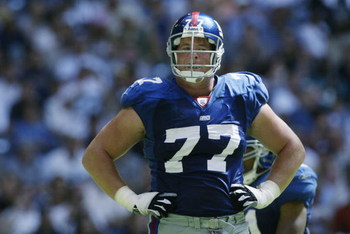 The 6'6", 310-pound tackle from Notre Dame was thrust into the starting lineup for the Giants early. His career, however, has been marred by injuries.
Petitgout was bothered by back problems in 2003-2004 and broke his leg in 2006. He was released by the Giants in 2007 and later signed with Tampa Bay.
Petitgout, however, would tear his ACL in 2007 and would later be released by the Bucs.
He violated the league's substance abuse policy in 2008. He is currently a free agent.
Ebenezer Ekuban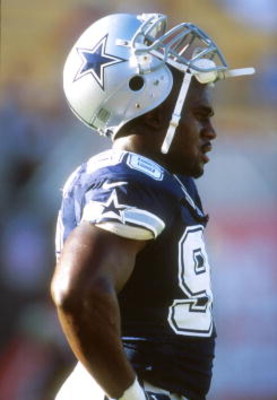 The native of Accra, Ghana, starred for the Tar Heels during his collegiate days. He has played for three different teams in his 10-year career.
Ekuban was drafted by Dallas, spent one year in Cleveland, and is now part of the defensive line rotation in Denver.
He has 224 tackles and 36.5 sacks in his career.
LJ Shelton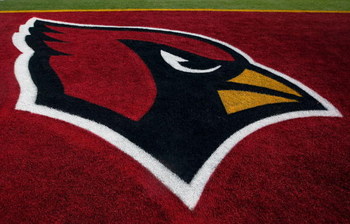 The son of former NBA player Lonnie Shelton, the massive 6-6, 345 pound Shelton was a Sporting News Second-team All-American selection at Eastern Michigan.
Shelton spent six years with Arizona. He had short stays with Cleveland and Miami and is currently under contract with the Chargers.
Lamar King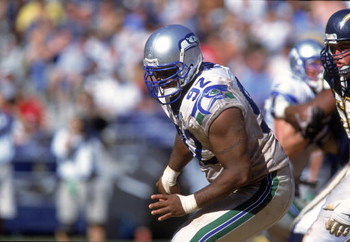 King was the first pick for new Seahawks coach Mike Holmgren in 1999, out of Saginaw Valley State.
King, however, had injury issues and sparingly played for the Seahawks. He signed with the Buccaneers as a free agent in 2003, but was placed on injured reserve that year.
King has been out of the league since 2004.
Antoine Winfield
After winning the Jim Thorpe Award for being the nation's top defensive back, the Ohio State prospect was drafted by the Bills.
He is known for being one of the most physical cornerbacks in the game and played in one Pro Bowl in 2008.
Winfield is currently starting for the Minnesota Vikings.
Reggie McGrew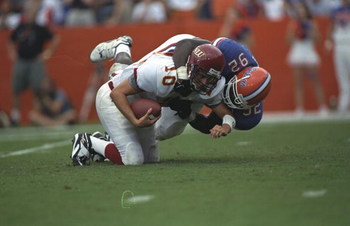 After declaring for the draft early from Florida, McGrew bombed in the Bay Area.
He made little impact on the 49ers defensive line and spent a total of just four years in the league.
He last played for the Falcons in 2002.
Antuan Edwards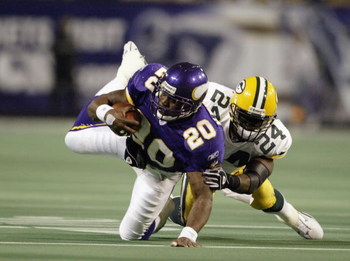 Edwards was one of three defensive backs taken by the Packers in this draft. The others were Fred Vinson and Mike McKenzie.
Edwards had forearm and knee injuries in the early part of his career and spent the rest of 2002 as a backup for Green Bay.
He had stints with the Dolphins, Rams, Falcons and Redskins from 2004-2006.
Edwards is now retired and finished his career with just seven interceptions.
Fernando Bryant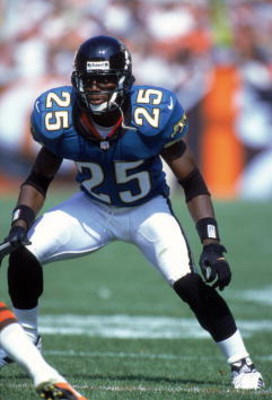 Nicknamed "Two-Five," Bryant was an All-SEC first team selection in 1998 from the University of Alabama.
He spent five years with the Jaguars and played in the AFC Championship game his rookie year.
He signed with the Lions in 2004 and played until 2008. He then signed a one-year deal with the Patriots but was cut in August of 2008.
Bryant signed with the Steelers that same year and won a Super Bowl with them.
Aaron Gibson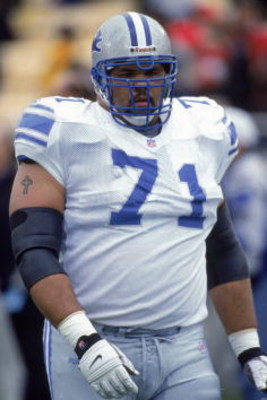 Gibson holds the record for heaviest player ever. The former Wisconsin Badger once weighed at 410 pounds while with the Dallas Cowboys.
Gibson never really used his size to his advantage, however. He spent just three seasons with the Lions then had stints with the Cowboys and Bears.
Gibson signed with the Bills in 2006, but was cut before even playing a down for Buffalo.
He was last seen with the Austin Wranglers of Arena Football 2.
Andy Katzenmoyer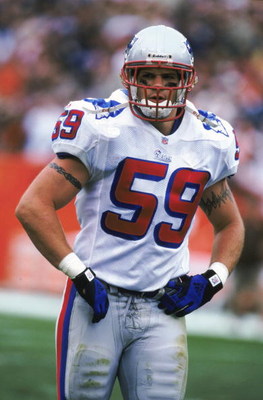 He was the first Butkus Award-winning middle linebacker at Ohio State. He even wore Archie Griffin's number while with the Buckeyes.
Katzenmoyer's NFL career though was cut short because of a neck injury he suffered in his rookie year with the Patriots. He missed half of the 2000 season because of the injury and has been out of football since 2002.
He is currently completing his bachelor's degree at Otterbein College and also owns a personal training studio in Westerville, Ohio.
Dimitrius Underwood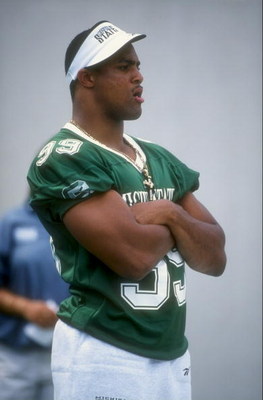 Underwood sat out his senior year with Michigan State for no legitimate reason, and had Spartan coaches warning NFL scouts about him not being mentally stable enough to play in the league.
The Vikings decided to draft him, but Underwood walked out on the first day of training camp because he couldn't resolve the conflict between "playing football and serving his Christian faith."
Since then, Underwood has twice tried to commit suicide by slashing his neck and running into traffic.
His last appearance in the NFL was 2002 with the Cowboys.
Patrick Kerney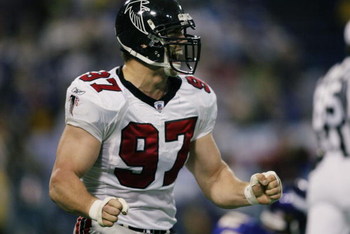 Kerney was an All-American selection in 1998 while playing for the University of Virginia.
He had double-digit sack seasons in 2001 and 2002 for the Falcons. His best season with Atlanta was 2004, when he recorded 13 sacks and made his first Pro Bowl.
Kerney then recorded a career-high 14.5 sacks in his first year with the Seahawks and was voted to his second Pro Bowl.
Kerney played just seven games last season and recorded just five sacks.
He is reuniting with his former Falcon coach Jim Mora Jr. in Seattle this season.
Al Wilson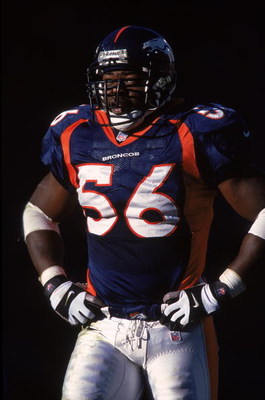 The first team All-SEC selection and national champion with Tennessee had a stellar but short career with the Broncos.
Wilson retired in 2008 because of neck and back injuries. He finished his eight-year career with five Pro Bowls and two All-Pro selections.
Keep Reading