The Wild Card Round set the bar high for the 2014 NFL playoffs.
The opening round was as crazy as it gets. Both No. 6 seeds (San Diego and New Orleans) advanced after upset wins in hostile environments. Fans should not be alarmed if this trend of underdogs doing the unthinkable continues.
Two other classic bouts took place, including one of the most memorable comebacks in recent history as the Indianapolis Colts knocked off the Kansas City Chiefs.
The divisional round is now underway, and the big boys are in the fray. From here on out, expect nothing but more of the same.
Complete 2014 NFL Playoff Schedule

| | | | | |
| --- | --- | --- | --- | --- |
| Round | Date (Time) | Visitor (Seed) | Home (Seed) | Broadcast/Stream Info |
| Divisional | Jan. 11 (8:15 p.m. EST) | Indianapolis Colts (4) | New England Patriots (2) | CBS |
| Divisional | Jan. 12 (1:05 p.m. EST) | San Francisco 49ers (5) | Carolina Panthers (2) | Fox |
| Divisional | Jan. 12 (4:40 p.m. EST) | San Diego Chargers (6) | Denver Broncos (1) | CBS |
| AFC Championship | Jan. 19 (TBA) | TBA | TBA | CBS |
| NFC Championship | Jan. 19 (TBA) | TBA | TBA | Fox |
| Super Bowl XLVIII | Feb. 2 (6:30 p.m. EST) | TBA | TBA | Fox |
NFL.com
NFC Underdog: Carolina Panthers
Get this—the Carolina Panthers went 12-4 in 2013, won the NFC South and allowed an average of just 15.1 points per game during the regular season.
Apparently, such impressive feats do not earn a team respect. The Panthers are underdogs at home against the San Francisco 49ers and have worse odds to win the Super Bowl, per Vegas Insider.
Fullback Mike Tolbert adequately explains the situation, via NFL.com's Around the League:
Panthers FB Tolbert: "It's absolutely ridiculous" that we're picked to lose at home http://t.co/gDQobaH446

— NFL: AroundTheLeague (@NFL_ATL) January 11, 2014
Jonathan Jones of the Charlotte Observer has the full quote:
I can't speak for everybody else, but personally, yes, I do (feel disrespected). To me, it's absolutely ridiculous why we're the underdogs at home when we're 7-1 at home, when we beat teams that are in the same caliber as San Francisco, if not better. Personally I got a bad taste in my mouth about it.
To simply dismiss the Panthers as a young team just happy to make the playoffs is a major error in judgement. The Panthers lost just one game at home in 2013, and Week 10 was a 10-9 victory over the 49ers.
In that contest, San Francisco quarterback Colin Kaepernick was horrific, as ESPN illustrates:
The last time 49ers/Panthers faced each other, Colin Kaepernick had one of the worst games of his career. pic.twitter.com/Cj32tUyzts

— NFL on ESPN (@ESPNNFL) January 8, 2014
San Francisco has won seven straight, but that Panthers defense is not going anywhere, and neither is the home-field advantage for a fanbase desperate for a playoff win, as NFL.com's Chris Wesseling points out:
If Panthers D and raucous crowd are at the same level as Week 16 vs. Saints, it's going to be hard for even NFL's hottest team to win.

— Chris Wesseling (@ChrisWesseling) January 8, 2014
Carolina has an elite defense. Quarterback Cam Newton and the offense can score when necessary. Perhaps most important of all, the team now has a chip on its shoulder.
AFC Underdog: San Diego Chargers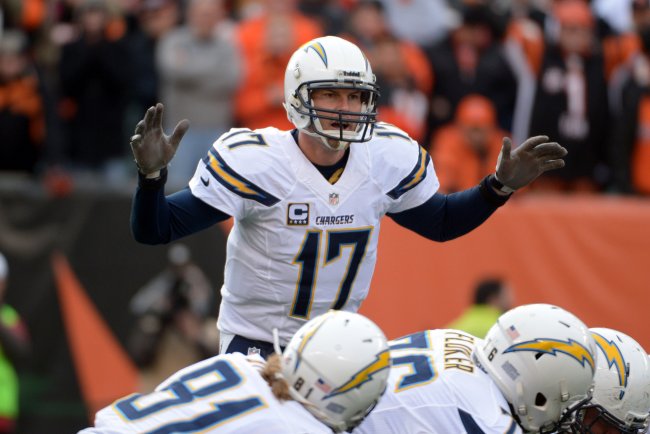 Kirby Lee-USA TODAY Sports
The San Diego Chargers are a much more realistic underdog, especially when they hit the road to take on the Denver Broncos in the divisional round.
But do not sleep on the Chargers. They have plenty of experience and success against the NFL's best this season:
The @chargers are 6-2 vs teams that finished with winning records this season, including 4-0 on the road.

— NFL on ESPN (@ESPNNFL) January 11, 2014
One of those wins came against the Broncos in a Week 15, 27-20 victory—on the road. The two sides split the season series as Denver escaped Qualcomm Stadium with a 28-20 victory in Week 10, which was one of Denver's closest wins of the year.
As NFL.com's Marc Sessler points out, the Chargers simply played the Broncos well this season:
The Chargers defense has held the Broncos to under 400 yards twice this season -- the only team to do so.

— Marc Sessler (@MarcSesslerNFL) January 8, 2014
Not only that, but the Chargers have Peyton Manning's number:
For @DovShev Since 2001, Manning is 5-6 vs Chargers including playoffs. 63.3 QBR in those games.

— ESPN Stats & Info (@ESPNStatsInfo) January 10, 2014
Underdog most likely to win it all?
It is not difficult to believe the Chargers, a team that went to Cincinnati in the Wild Card Round and handed the Bengals their first loss of 2013 at home, will once again defeat the Broncos.
Quarterback Philip Rivers leads a pass offense that ranks in the top five with an average of 270.5 yards per game. The defense has been revitalized with the recent return of linebackers Jarret Johnson and Melvin Ingram.
The Chargers are on a roll, and it is not too long ago that fans saw an underdog AFC team get hot and win it all.