Despite suffering his first loss at the Australian Open in four years this January, six-time Grand Slam champion Novak Djokovic remains one of the top players on the planet and a threat to rebound at the French Open this coming spring.
The 26-year-old superstar, who became the first man in the Open era to win three consecutive Aussie Open crowns in 2013, leaves Melbourne disappointed for the first time since 2010 after bowing out to Stanislas Wawrinka in the quarterfinals, per Australian Open on Twitter:
#Wawrinka through to the #ausopen semis 2-6 6-4 6-2 3-6 9-7 v #Djokovic pic.twitter.com/hkDboRxemr

— Australian Open (@AustralianOpen) January 21, 2014
Following his epic five-set victory, Wawrinka was quick to offer praise for his opponent:
#Wawrinka "He's an amazing champion, never gives up and I'm really, really, really, really happy." #Stanimal #ausopen

— Australian Open (@AustralianOpen) January 21, 2014
#Wawrinka "Last year was really close and I was playing my best game but when Novak plays his best he's better than me, for sure." #Stanimal

— Australian Open (@AustralianOpen) January 21, 2014
Although all of the credit must go to Wawrinka, who won three of the last four sets, there's no doubt that Djokovic had his chances, per CBS Sports' Kyle Porter:
Djokovic just missed two of the easiest volleys you'll see to lose to Wawrinka at the Australian Open. Wow.

— Kyle Porter (@KylePorterCBS) January 21, 2014
But while the result is certainly surprising given Djokovic's dominance at this tournament over the past few years, it hardly derails his chances of completing the career Grand Slam at Roland Garros in 2014.
After all, Djokovic's reign Down Under had to end at some point. On top of that, he's still forging a relationship with recently-hired coach Boris Becker. Djokovic is optimistic about what he and his team can accomplish with Becker, but keep in mind that they've had less than two months to work together, per USA Today: "He is a true legend, someone who has great tennis knowledge and his experience will help me win new trophies from the Grand Slams and other tournaments. Becker is a great person, too, and I am sure he will fit in our team in the best possible way."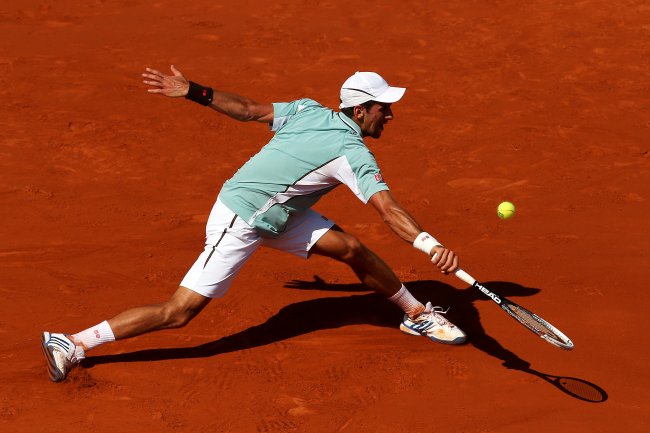 Matthew Stockman/Getty Images
Plus, the former No. 1 is still arguably the top all-around player in men's tennis and one of the few players to have overwhelmed eight-time French Open champion Rafael Nadal on his preferred clay surface. Nadal leads Djokovic 13-3 on clay all time, but has seen Djokovic win three of their last seven meetings on the red stuff.
Djokovic will have to exorcise some serious demons at Roland Garros in order to overcome his 0-5 head-to-head record against Nadal at the French Open. But considering he had the Spaniard on the ropes in 2013—up a break in the fifth set—and has reached the semifinals in Paris in each of the past three years, Djokovic will likely enter the season's second Slam with championship odds second only to Nadal.
Follow Bleacher Report Featured Columnist Patrick Clarke on Twitter.