Arsenal are at the halfway point of their quest for the Premier League title. They have ascended the sheer face of the table, climbing arduously for months, and can see the prize glittering on the horizon.
However, there is still a long way to go. Enemies and hazards line the path to silverware. If Arsenal are to stay the course, they'll need reinforcements. What's more, they'll need a plan.
The January transfer window may be open, but that provides few guarantees. The midseason period is an infamously difficult time to buy. It's a time when the biggest clubs are loathe to let go of players, and individuals themselves can be concerned about uprooting in the middle of the campaign. That anxiety is exacerbated by the fact that this is a World Cup year: make the wrong move, and your chances of being selected to participate in Brazil this summer could disappear.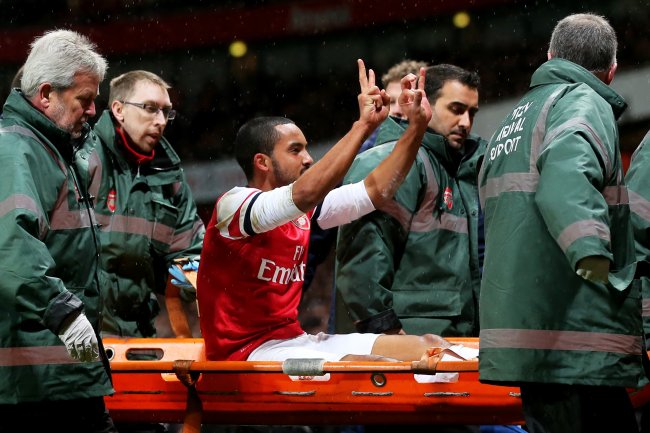 Clive Rose/Getty Images
The severity of Theo Walcott's knee injury increases Arsene Wenger's need for new recruits. With Olivier Giroud and Nicklas Bendtner currently on the sidelines, signing a goalscorer is particularly pressing. However, there are other areas of their squad that could also do with strengthening.
If Arsenal are to find the players required to strengthen their title challenge, they need to attack the transfer market with a degree of strategic thinking.
Replace Theo
The news that Theo Walcott will miss the rest of the season will have been a huge blow to Arsene Wenger and Arsenal.
Walcott has been Arsenal's outstanding player in the last month, scoring five Premier League goals in the process.
It's that goalscoring capacity that Arsenal will miss most. Replacing Walcott's contribution on the right flank should not prove too difficult. Arsenal are blessed with plenty of wingers, and in Alex Oxlade-Chamberlain and Serge Gnabry they have two players perfectly suited to imitate Walcott's pace and crossing.
What Arsenal will miss more than anything is Walcott's immense goal threat. Few others players in the team are quite so direct. Much of the time, Walcott plays as close to Giroud possible, almost forming a traditional front two.
The Englishman's efficient combination of intelligent off-the-ball movement and composed finishing means he can be relied upon to reach double figures for goals in any given season. In the current Arsenal squad, only Aaron Ramsey and Olivier Giroud have more goals in 2013/14.
With Giroud's goals threatening to dry up, Wenger needs someone who can add to Arsenal's goal tally.
Walcott's injury doesn't necessarily mean Arsenal need a winger. It merely increases their need for a striker.
Exploit Financial Difficulties Elsewhere
Arsene Wenger can be somewhat puritanical when it comes to the economics of football. It therefore shouldn't come as too much of a surprise that he is prepared to be ruthless when exploiting the plight of clubs who get themselves in financial peril.
Last season, Wenger made two raids on cash-strapped Malaga to sign Santi Cazorla and Nacho Monreal. Monreal arrived in January, and Wenger is insistent that such deals are one of the only ways to sign players of sufficient calibre in this window.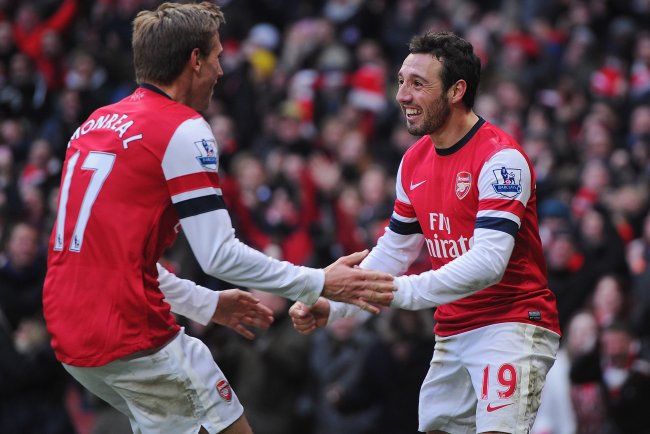 Michael Regan/Getty Images
Speaking to SkySports, the Arsenal boss said:
We are like everyone, we look out there and see what is happening. If an opportunity turns up, you know as well that all the big players are at big clubs at the moment and they go for important targets.

Unless you have a club in a desperate financial situation it will be difficult.
That piece of wisdom from Wenger significantly narrows down Arsenal's search.
Across the continent, there are several high-profile clubs experiencing financial difficulties.
Arsene Wenger has always had a fondness for raiding his native France for new signings. If he were to cast his eye over his homeland, Wenger would immediately spot the economic problems at Lyon.
In August of 2013, speaking to RMC (via Goal.com), Brazilian winger Michel Bastos confessed he had been forcibly ejected from Lyon "for financial reasons." Lyon's economic potential is being severely hampered by attempts to raise funds for a new stadium, and, according to Matt Scott of InsideWorldFootball, more than €50 million worth of debt.
This will be music to the ears of Arsene Wenger, as Lyon also happen to be in possession of one of Europe's hottest striking properties: Alexandre Lacazette. The 22 year-old already has nine goals in 17 Ligue 1 appearances. A ratio superior to a goal every other game indicates that this is a striker of enormous potential.
While Arsenal are yet to show any reported interest in the forward, it seems inevitable: he fits the typical profile of an Arsene Wenger signing. Lacazette is young, French, quick and technically gifted. He would be well-suited to Arsenal's fluid attacking style. Furthermore, he is versatile enough to provide cover for Walcott in wide areas.
However, if Lacazette is not to Wenger's taste, then Lyon also offer an alternative solution. Arsene Wenger has talked extensively about January being a time for short-term acquisitions, and he may yet find one in France.
Lyon's powerful target man Bafetimbi Gomis has just six months to go on his contract. Should Lyon wish to remove him from their wage bill, he could be available for a minimal fee.
Gomis spent much of last summer being linked with a move to Newcastle United, only for the deal to ultimately fall through. However, according to the Daily Mail, the player is now open to the prospect of a January move.
Gomis has already been extensively linked with Arsenal. In May of 2013, the Daily Mail described him as an "Arsenal target." One would imagine that, just seven months on, Arsene Wenger is still tracking him.
Gomis has a similar scoring ratio to his strike partner Lacazette, with seven goals from 13 Ligue 1 starts. What's more, his muscular style would make him more of an obvious understudy for Olivier Giroud.
Outside of France, there's the notable case of Atletico Madrid.
Atletico's financial worries are well-documented. Interest on previous loans and outstanding taxes hamper Atleitco's every move. La Liga president Javier Ribas recently told futbolfinanzas.com (Spanish):
Atletico Madrid must pay 17 million euros each year to a bank. This is nearly enough money to pay for Cristiano Ronaldo's new contract. We must look for a solution so that clubs have an alternative, do not have to pay this interest.

The money clubs pay to the taxman weakens them a lot. This money should be out on the pitch -- if that happened then I am sure that three or four of the players who left this year would not have gone. For example, 50 percent of the [reported 45 million euro] fee for 'Kun' Aguero [from Manchester City] went to the taxman.
Much like Arsenal in the recent past, Atletico seem to lose a major star every summer. Most recently, they sold Radamel Falcao to Monaco.
However, Atletico also seem to have a remarkable record of producing goalscorers. Every time one leaves, another emerges. The departure of Falcao was merely the signal for Brazilian Diego Costa to take over the goalscoring mantle.
Cost has been in explosive form during the 2013-14 season. He already has 19 La Liga goals to his name, as well as another four in the Champions League.
According to The Mirror, Arsene Wenger's scouts have been dispatched to watch Costa in action. Speaking to the same newspaper recently, Wenger was dismissive about the chances of luring the burly forward to England while Atletico are in with a chance of winning the title.
However, the player himself might be tempted. The Premier League is renowned for its global appeal. What's more, Arsenal have just as good a chance of winning the Premier League as Atletico do of lifting La Liga.
If Costa wanted to leave, Atletico could do little to stop him. The Spanish club's sporting director, Jose Luis Perez Caminero, recently confirmed to SkySports that the Brazilian-born forward has a release clause in his contract:
The player has a clause of 38 millions euros and the big clubs in England know this.

Diego Costa has matured and is smart when it comes to decision making.

Right now, Costa does not think of leaving, he is hooked on Atletico. He has re-signed a deal that is important, I am confident he will continue with us.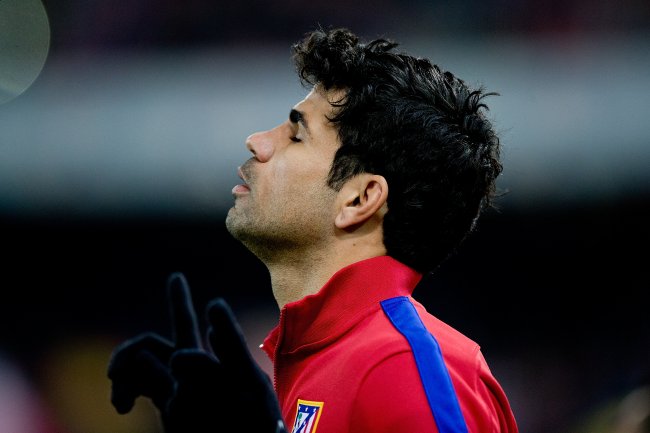 Gonzalo Arroyo Moreno/Getty Images
As any long-term follower of football knows, contracts mean next to nothing.
Arsenal would be well-advised to meet Costa's asking price, and see if they can tempt him to swap Madrid for London.
Cover All Bases
Although Arsenal's hunt for a striker is taking up the majority of the headlines, they might also need strengthening in a less glamorous area of the field.
For Arsenal's recent FA Cup tie with Tottenham, Arsene Wenger wanted to give Per Mertesacker a much-deserved rest, so he started Thomas Vermaelen alongside Laurent Koscielny at centre-half.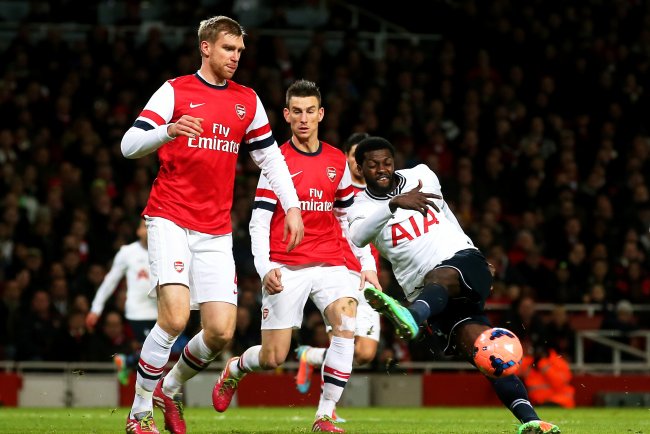 Clive Rose/Getty Images
However, Mertesacker's rest didn't last too long. After just 45 minutes, a cut knee for Vermaelen meant the German was back out on the pitch. Simply put: there was no one else.
It is rather astonishing that Arsenal only have three senior centre-halves. By comparison, Manchester United have five. Bacary Sagna is capable of filling in during an emergency, but he is generally needed at his station at right-back.
If Arsenal really want to build a squad capable of retaining top spot until May, they should add a central defender to their shopping list.
Given that Arsenal are looking for someone to provide cover and competition for their first-choice pairing of Koscielny and Mertesacker, Wenger should target a younger player with patience and potential.
St. Etienne's Kurt Zouma would seem an ideal acquisition. According to John Cross of The Mirror, Wenger's trusted lieutenant Gilles Grimandi has already provided the Arsenal manager with a series of glowing reports about the powerful centre-back.
Zouma is currently enduring a 10-match ban for a reckless tackle, but that indiscretion will only have lowered his asking price. His potential remains significant.
Finding strikers in midseason is always hard. However, Arsene Wenger must exploit the financial problems of a club such as Lyon or Atletico Madrid to ensure the Gunners have sufficient fire power for their title challenge. Adding a central defender would ensure Wenger's squad has strength in depth at both ends of the pitch.
With two additions in those key areas, the championship win that Arsenal fans crave would seem closer than ever.
James McNicholas is Bleacher Report's lead Arsenal correspondent and will be following the club from a London base throughout the 2013-14 season. Follow him on Twitter here.