Andy Murray has confirmed his intention to contest the Queen's Club title this year ahead of his defence of the Wimbledon men's title he captured last season, as reported by ESPN.co.uk.
Murray is a three-time winner at Queen's, and has commented how highly he regards the prestigious grass-court title.
The tournament is an essential dress rehearsal for the world's top players, before the SW19 Grand Slam Championship begins. With the grass-court season following on so quickly after the clay-court action of the French Open, players have minimal time to concentrate on the surface change.
Queen's offers individuals who have true aspirations of winning Wimbledon the biggest opportunity to hone their skills and adapt to challenges that the low bounce of a grass court brings.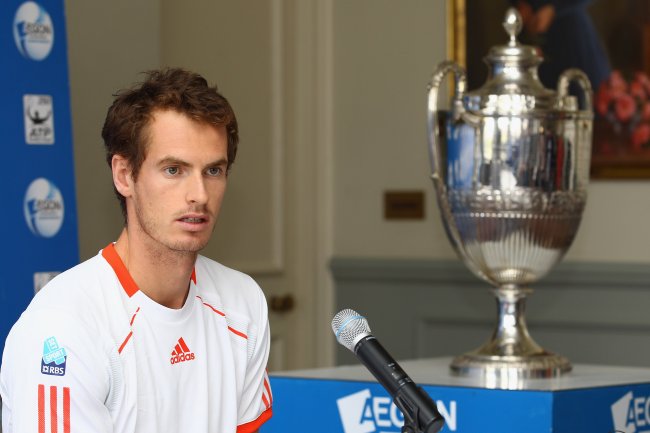 Julian Finney/Getty Images
Murray commented (per ESPN) about Queen's:
To win the title for the third time last year and then to go on to win Wimbledon was really special, and it highlights the importance of Queen's. The grass courts there are as good as any in the world and it's a great event.

It's also a tournament with a lot of history, both personally for me and for the game as a whole. It's where I won my first professional match and my first title in Britain and, when you look at the names on the trophy, including my coach Ivan Lendl, it shows how big a tournament it is to win. I'd love to do it again.
The Scotsman finally broke Great Britain's Wimbledon drought last year, becoming the country's first winner of the All England Lawn Tennis Club men's trophy since Fred Perry won the title in 1936.
Last year Murray struggled with injury despite his glory and required back surgery that forced him out of the ATP World Tour Finals in London.
Murray recently told Sky Sports:
I want to be 100 per cent fit and be able to play all of the shots I need to, to compete at the top of the game. It was getting to a stage where I was struggling to do that on a consistent basis because I was playing in pain for a while. I want to get healthy first then I will see where my game is at and make some goals. But right now the goal is to get healthy.
The Olympic gold medalist and "Sports Personality of the Year" faces a tough season ahead, after dropping to fourth in the ATP World Rankings. He also recently suffered a straight-sets defeat to Jo-Wilfried Tsonga in his comeback exhibition match in Abu Dhabi, per CNN.
As Neil Harman of The Times writes, it is now important for Murray to fully focus on the defence of his Wimbledon crown, as the upcoming Australian Open has come too soon for the recovering Scotsman:
Andy Murray says it is 'unrealistic' to expect to win @AustralianOpen He is dead right. The big picture matters more http://t.co/hcUU41ASFF

— Neil Harman (@NeilHarmanTimes) January 3, 2014
Murray will need to be at his very best this season to match the triumphs of the past two years. The rehabilitation of his fitness could be the biggest challenge he has faced in his illustrious career.