One Burning Question for Tennis' Top Stars in 2014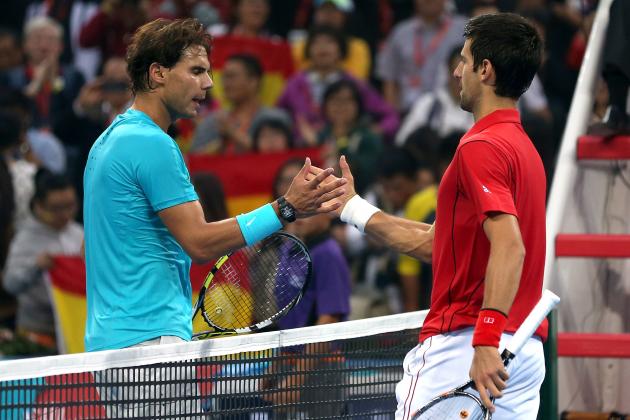 Matthew Stockman/Getty Images
Rafael Nadal (left) and Novak Djokovic
As the 2014 season and the Australian Open approach, at least one burning question is associated with each of tennis' top stars.
We picked 10 of the biggest names in the sport today, and asked the question that begs to be answered by each in the coming year.
The players selected are listed in inverse order of their ranking, with the top-ranked players presented last.
Begin Slideshow

»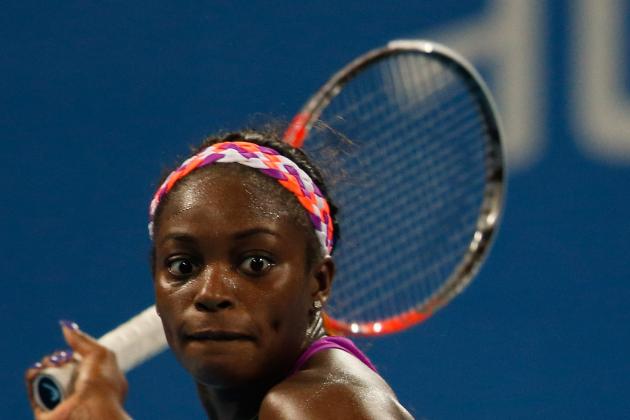 Lintao Zhang/Getty Images

Will Sloane Stephens crack the top 10 in 2014, or perhaps the top five?
Sloane Stephens was labeled the next great American player when, as a 19-year-old, she upset Serena Williams to reach the semifinals of the 2013 Australian Open.
Her ranking shot up to No. 16 within a month, and it was assumed it was just a matter of time before she broke into the top 10.
It hasn't happened yet.
Stephens continued to tease observers with strong performances in majors. She lost to No. 2 Maria Sharapova in the round of 16 at the French Open, got to the quarterfinals at Wimbledon before losing to eventual champion Marion Bartoli and lost to No. 1 Serena Williams in the round of 16 at the U.S. Open.
She proved she was capable of performing well under the pressure of big events, but she was less consistent in other tournaments. After her semifinal showing in the Australian Open, Sloane failed to get past the quarterfinals in any of her remaining 19 tournaments in 2013.
Following her strong showing at the U.S. Open, she had hoped to break into the top 10 by the end of 2013, according to a Sports Illustrated article.
Her ranking climbed to a career-high No. 11 in October, but she stayed there just two weeks before falling to her current No. 12 spot. She lost to players ranked outside the top 50 in her final two tournaments of 2013 in October.
Stephens will turn 21 in March, which means her potential should result in a breakthrough pretty soon. Will she make the quantum leap in 2014?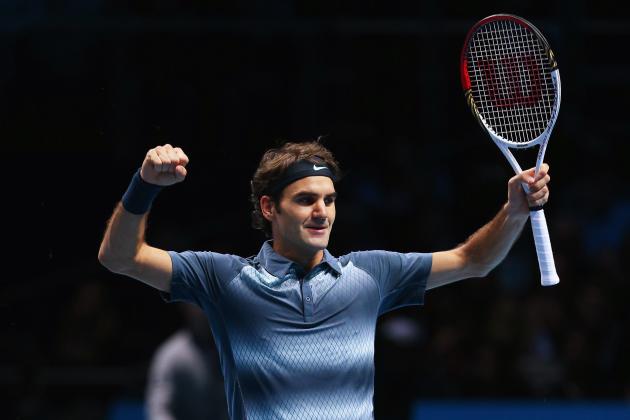 Clive Brunskill/Getty Images

When will Roger Federer retire from the tour?
Roger Federer has given no indication he intends to retire any time soon, and he could continue to be competitive for several more years. Besides, at this point, it is too late for him to leave the game while he's on top.
However, you wonder how much longer a player who holds the record for most men's Grand Slam singles titles (17) and was named the greatest player of all time by the Tennis Channel in 2012 will want to play as his status continues to decline.
The question of whether he will ever win another major title seems to be a dead issue, because it would require an extraordinary set of circumstances for Federer to win another Grand Slam event.
His plan to limit his schedule this past year so he could focus on the majors did not work out at all. In 2013, he failed to reach the quarterfinals at either Wimbledon or the U.S. Open, tournaments he once dominated. Federer was 0-7 in 2013 against Rafael Nadal, Novak Djokovic and Andy Murray, and he had five losses to players ranked outside the top 35, including two to players outside the top 100. He won just one tournament in 2013 and got to the finals of just two others.
Ranked No. 1 a little more than a year ago, Federer is now No. 6, with his semifinal showing in the 2013 Australian Open about to come off the board. He could find himself outside the top 10 by the time 2014 is over.
He will turn 33 next August, so you wonder how much longer a player of his stature, with his pride and respect for the game, will want to just hang on.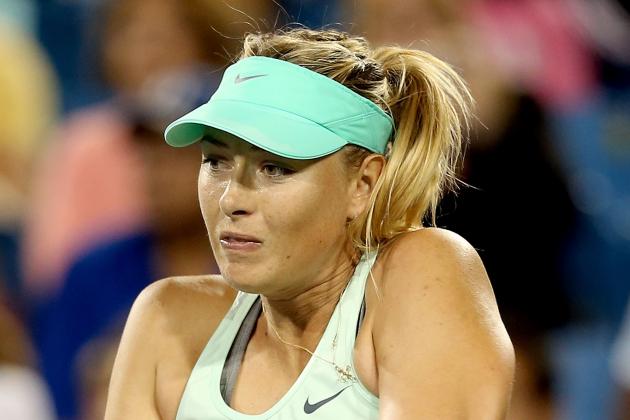 Matthew Stockman/Getty Images

Has Maria Sharapova's time passed?
When Maria Sharapova lost to Serena Williams in the 2013 French Open finals, she may have been playing the best tennis of her career. She was ranked No. 2 in the world, and her only losses on the court in her last seven tournaments at that point had been to Williams. Even the 6-4, 6-4 loss to Williams in the French Open finals was somewhat encouraging because it was Williams' 13th consecutive victory over Sharapova, who at least showed she could still be competitive with the world's No. 1 player.
Then things went downhill for Sharapova. She lost her second-round match at Wimbledon to Michelle Larcher de Brito, a qualifer ranked No. 131 in the word. She then lost to Sloane Stephens in her opening match in Cincinnati in August.
Following that loss, Sharapova was sidelined for four months because of a shoulder injury before playing in this week's tournament in Brisbane, Australia. Between her semifinal victory over Victoria Azarenka in the French Open on June 6 and her victory over 74th-ranked Caroline Garcia in Brisbane on Dec. 30, Sharapova won just one tournament match. Her ranking slipped to No. 4.
Sharapova is still just 26 years old, and she has come back from struggles before. She dropped out of the top 20 near the end of 2010, only to rebound dramatically in 2011.
But shoulder problems and the layoff raise questions about her future. Can she regain the No. 1 ranking she first held as an 18-year-old in 2005? Can she be a factor in Grand Slam events again? Her performance in the Australian Open will provide hints.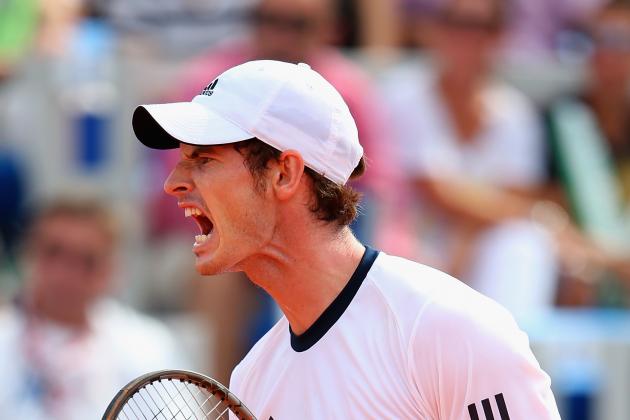 Julian Finney/Getty Images

Did Andy Murray's victory at Wimbledon rob him of his motivational edge?
When Andy Murray became the first British male in 77 years to win Wimbledon in July 2013, he was the toast of Great Britain.
At that point, Murray seemed to be on a path to No. 1. He was ranked No. 2, well ahead of the No. 3 player at the time, and he had reached the finals of each of the past four Grand Slam events he had entered, winning two of them.
Brad Gilbert, in a Daily Mail article, suggested Murray would flourish with the pressure of winning Wimbledon having been relieved. Many agreed.
It didn't happen. Murray failed to reach the semifinals of another tournament in 2013, including a straight-sets loss to Stanislas Wawrinka in the U.S. Open quarterfinals.
Back problems further hampered his season, and he missed three months of competition following an October surgery. Murray lost to Jo-Wilfried Tsonga in an exhibition tournament in Abu Dhabi on Dec. 27 in his first competition since the surgery. He is playing his first tour event since his layoff this week at the Qatar Open.
Obviously, the injury has played a role in his ranking falling to No. 4. But did he lose his emotional edge after finally winning Wimbledon? Although the pressure from the British public may have been aggravating, it may also have pushed him, producing a thirst for success.
Murray does not have the weapons to overpower opponents. Instead, he relies on variety, with his unflinching focus and wise shot selection enabling him to win the pivotal points in big matches. Mental toughness is a large part of Murray's success.
After he won Wimbledon, he was treated like a king in Great Britain for weeks afterward. It would be difficult for anyone to retain the hunger for success after that kind of achievement and prolonged adulation.
Can Murray regain the physical health and mental edge he needs to win a Grand Slam title in 2014?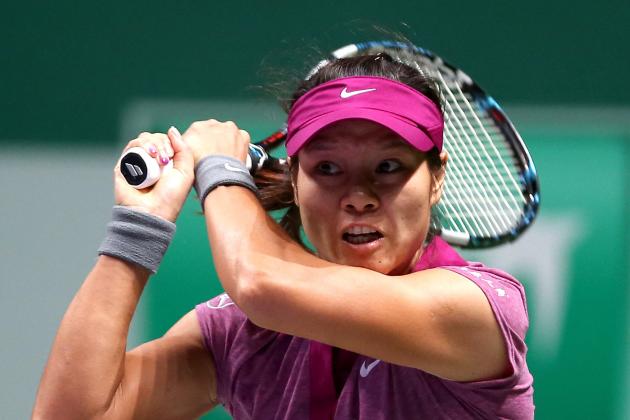 Matthew Stockman/Getty Images

How much longer can Li Na remain among the elite players?
When Li Na lost to Bethanie Mattek-Sands in the second round of the 2013 French Open, it seemed Li's days as a major factor on the tour had passed.
It was her second loss in three tournaments to a player ranked outside the top 60, and she had failed to win more than one match in any of those three events. Her ranking had slipped to No. 6, and, at age 31, there was little reason to believe she could turn things around.
But she did.
Li got to the quarterfinals at Wimbledon and reached the semifinals of four of her last six tournaments of the year. That included a semifinal loss to Serena Williams at the U.S. Open and a berth in the finals of her last event of the year at the WTA Championships in October.
Li took a set from Williams before losing in the WTA Championship finals and dominated No. 2-ranked Victoria Azarenka 6-2, 6-1 earlier in that event.
She won her opening match at this week's tournament in Shenzhen, China, which will not finish until Jan. 4, making it a 2014 event. In any case, she finished 2013 with the highest year-end ranking of her career at No. 3.
Did Li merely benefit from Maria Sharapova's injury, Victoria Azarenka's slump and a relatively weak current top-10 field to rise in the rankings? Or will she stay in the top three for a while? She is two years younger than Williams after all.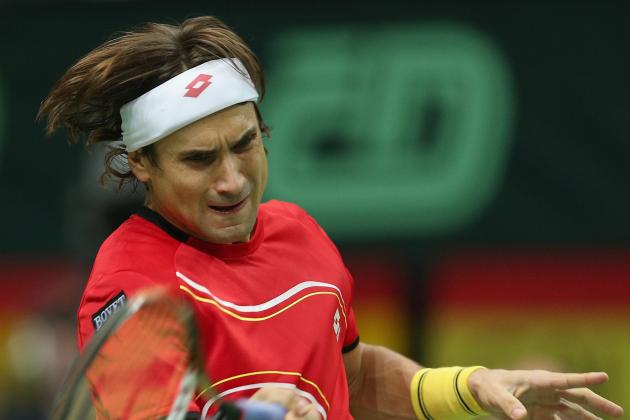 Clive Brunskill/Getty Images

Will David Ferrer ever be considered a tennis star?
Ask a casual tennis fan to name the elite tennis players, and David Ferrer's name probably will not come up.
The ATP ranking computer says it should. He is ranked No. 3 in the world, behind only Rafael Nadal and Novak Djokovic and ahead of acknowledged stars Andy Murray and Roger Federer. Ferrer has not been out of the top five in more than two years. He will turn 32 in April, but he is playing the best tennis of his life and has the highest ranking of his career.
Perhaps he is on the verge of a breakthrough that will bring him legitimate tennis stardom.
Perhaps not.
Ferrer's problem is that he has never won a Grand Slam title, which is where greatness and public acceptance are established.
He has reached the finals of only one major. That was the 2013 French Open, where the draw opened up nicely for him before he was crushed in straight sets by Rafael Nadal in the finals. That lopsided loss confirmed, in a way, that he was not star-quality material.
Ferrer plays a lot of tournaments, and sheer grittiness enables him to win nearly every match he is favored to win. That consistency and toughness keep his ranking high. However, he does not have the weapons to beat the very top players at a major event.
If Ferrer wins a Grand Slam event, he will ascend to stardom. But at his advanced tennis age, the 2014 Australian Open and French Open may be among his final opportunities.
Koji Watanabe/Getty Images

Does Victoria Azarenka's recent slump mean she is no longer a threat to Serena Williams?
Victoria Azarenka is the epitome of the second fiddle at the moment, and the way she ended 2013 does not provide optimism things will improve in 2014.
She is well ahead of No. 3 Li Na in the rankings, but miles behind No. 1 Serena Williams. It would take months of success on Azarenka's part accompanied by a slump by Williams for Azarenka to regain the No. 1 ranking she held until last February.
Williams does not seem headed for a slump, and Azarenka has to be concerned about her recent play.
Azarenka beat Williams twice in 2013, and she added an exhibition victory over Williams in Thailand on Dec. 28. However, exhibition matches mean little to elite players. More significant is the fact that Azarenka went 1-5 in her final six tournament matches of 2013. It started with her loss to Williams in the U.S. Open finals and ended with her disappointing showing at the WTA Championship in Turkey.
Even Azarenka's one win during her slump was in doubt until Sara Errani injured her calf in a first-set tiebreaker at the WTA Championships.
Until this week's tournament in Brisbane, Australia, Azarenka had not played a tournament match since losing to Li Na 6-2, 6-1 in October in Turkey. She lost to No. 43 Andrea Petkovic and Venus Williams in the first round of her two tournaments before that.
Azarenka has won the Australian Open the past two years, and if she is to make a run at Williams in 2014, she must perform well in Melbourne. Azarenka is just 24 years old, young enough to pull herself out of a slump. Will she?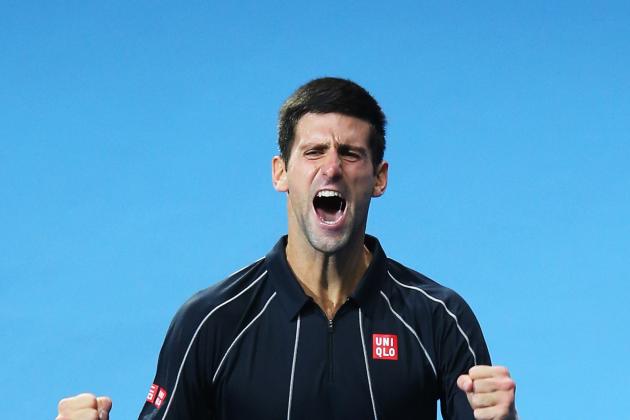 Julian Finney/Getty Images

Will Novak Djokovic regain his dominance over men's tennis?
In 2011, at the age of 24, Novak Djokovic looked like he had a chance to become the best player in tennis history.
He had a match record of 70-6 that year. Two of those losses resulted when he retired from matches with injuries, and two others came in his final tournament of the year in November. Djokovic won three of the four Grand Slam events that year, and got to the semifinals of the fourth. He won his first 37 matches of 2011 and had a 43-match winning streak stopped by Roger Federer at the French Open.
Djokovic was 6-0 against Rafael Nadal that year, with two of the wins coming on clay.
Younger than Nadal and Roger Federer, Djokovic was still improving and seemed ready to dominate the game for years to come.
However, that level of dominance did not continue. He has won just two of the eight Grand Slam events since 2011, still a noteworthy accomplishment but not the formula for being acknowledged as the best in history.
He failed to win any of the final three Grand Slam events of 2013 and slipped behind Nadal in the rankings in October after holding the No. 1 spot for nearly a year.
His dominance over Nadal disappeared. After beating Nadal in the epic 2012 Australian Open final that gave Djokovic his fourth Grand Slam title in his last five major events, Djokovic lost six of his next seven matches against Nadal, including the 2013 U.S. Open final.
However, things may be turning again. Since that U.S. Open loss, Djokovic has won 24 straight matches, including four in Davis Cup play. He has beaten Nadal twice in that span, both by decisive, straight-set scores.
Djokovic is still just 26 years old. He is on the upswing again as he prepares for the Australian Open, site of four of his six Grand Slam titles.
Is he ready to dominate again?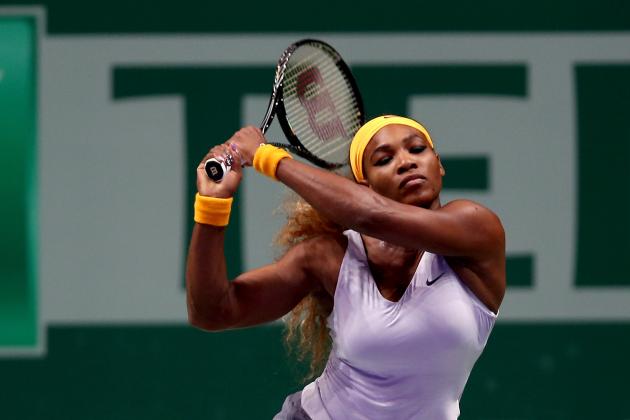 Matthew Stockman/Getty Images

Can Serena Williams become the oldest player to complete a single-year Grand Slam?
Five players have won all four majors in the same year. Don Budge was 23 when he did it in 1938, Maureen Connolly was 18 in 1953, Margaret Court was 28 in 1970, and Steffi Graf was 19 in 1988. Rod Laver, the only player to complete two Grand Slams, was 24 when he accomplished it in 1962, and became the oldest player to win all four majors in the same year when he did again in 1969 at age 31.
Williams will turn 33 a few weeks after the 2014 U.S. Open finals, and she has a chance to win all four majors in the coming year. She nearly did it in 2002, when she withdrew from the Australian Open because of an ankle injury, then won the next three majors that year.
Williams is playing just as well now as she did then. She holds the No. 1 ranking by a large margin over Victoria Azarenka and won two of the four majors in 2013.
Including Tuesday's victory over Andrea Petkovic in Brisbane, Australia, Williams comes into 2014 on a 19-match winning streak. Her only defeat in 29 matches since her shocking loss to Sabine Lisicki at Wimbledon came against Azarenka in a third-set tiebreaker in Cincinnati.
Williams won the 2013 French Open, which was the one Grand Slam event that was difficult for her.
She was pushed to three sets in both the semifinals and finals of her most recent tournament, the WTA Championships in Turkey in October, but she prevailed, indicating she has not lost her toughness.
Williams was upset by Sloane Stephens in the quarterfinals of the 2013 Australian Open, and how she performs in that event beginning January 13 will indicate whether she is capable of completing a Grand Slam in 2014.
Jan Kruger/Getty Images

Can Rafael Nadal break the record for most men's Grand Slam singles titles?
With his victories in the French Open and the U.S. Open in 2013, Nadal has now won 13 Grand Slam titles. That leaves him one shy of Pete Sampras' total and four short of the men's record of 17 held by Roger Federer.
Nadal has little chance of catching Margaret Court, who won 24 major singles titles, but, at age 27, Nadal is well within reach of Federer's mark.
If Nadal completes a Grand Slam in 2014, he would tie Federer for the record. Nadal has won titles at all four Grand Slam events, so he is capable of winning any or all of them in 2014. He won two of the three Grand Slam events he entered in 2013, and was virtually unbeatable through the summer.
Nadal holds the No. 1 ranking, but his aura of invincibility disappeared over the final three months of 2013. He failed to win any of his four tournaments since the U.S. Open. He lost to Novak Djokovic twice and David Ferrer and Juan Martin del Potro once each in that stretch, all on hard courts, the same surface featured at the Australian Open.
Both of Djokovic's recent victories over Nadal were rather decisive, indicating Djokovic will be a major obstacle to Nadal's run at the record.
A bigger barrier may be his knees. Nadal admitted in an Agence France-Presse article that he is employing a new treatment on his knees, hoping to keep them strong and healthy through the year.
In this week's tournament in Doha, Nadal won his opening match against Lukas Rosol, the player who knocked Nadal out of Wimbledon in 2012. But the question is whether Nadal's knees can carry him to five more Grand Slam titles?