The Houston Rockets aren't in desperate need to make a deal before the NBA trading deadline. With a solid starting five and quality depth, there aren't any overwhelming needs that would justify shaking up a potential title contender.
As of Dec. 26, the Rockets have jumped out to a 20-11 record. They are second in the Southwest Division behind the San Antonio Spurs (whom they've bludgeoned twice already this season) and currently sit fifth in the Western Conference standings.
After months of tinkering, the team has finally found a starting rotation that works. Second-year man Terrence Jones has filled Houston's hole at power forward, while Jeremy Lin is having a big year both as a starter and a spark off the bench.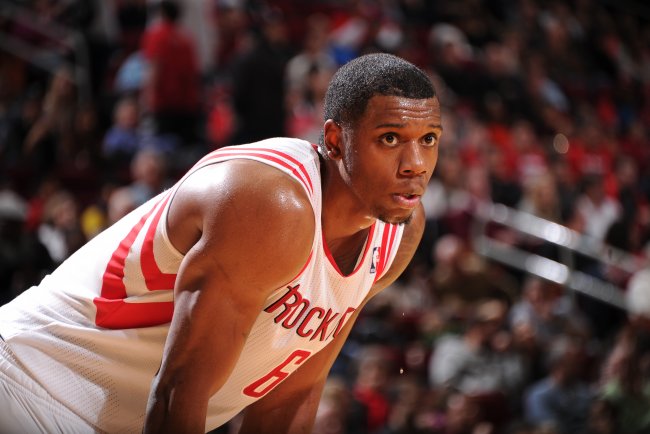 Bill Baptist/Getty Images
The big three of Dwight Howard, James Harden and Chandler Parsons have had their bumps throughout the year, but have inevitably produced like star-caliber players. Harden is fifth in the NBA in scoring with an average of 24.2 points per game.
Howard's 13.3 rebounds per contest is tied for second-best with Los Angeles Clippers' center DeAndre Jordan. His 411 total boards are just one behind Jordan for the league lead. D12 is also seventh in the NBA in blocked shots per game with a nightly clip of 1.8 swats.
As for Parsons, he's currently producing career highs in points per game (17.3), field-goal percentage (52) and three-point percentage (39.5) despite being hampered by back spasms most of the year.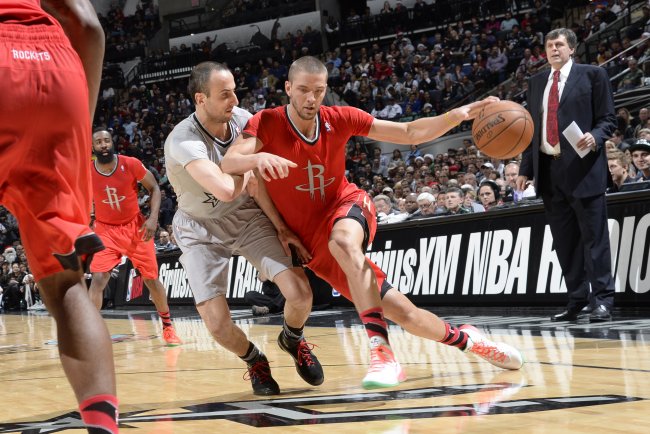 D. Clarke Evans/Getty Images
Once Patrick Beverley returns from a broken hand, either he or Lin will help strengthen a second unit that already includes the likes of Francisco Garcia and Omri Casspi. In the meantime, Aaron Brooks has filled in admirably as the team's emergency backup point guard.
The only potential obstacle facing this Rockets roster is the well-documented unhappiness of former starter Omer Asik. Asik has wanted out since Howard's arrival in July and the drama surrounding his situation has been one of the biggest storylines of this season.
By now, you know the gist of the debacle. The Rockets set a deadline of Dec. 19 (which was later extended to Dec. 20) to deal their disgruntled center. When the right trade couldn't be found, the team pulled back to reassess the situation.
Houston has ended talks on an Omer Asik trade and plan to keep him for now, league source tells Yahoo Sports.

— Adrian Wojnarowski (@WojYahooNBA) December 19, 2013
At this point, an Asik trade isn't worthwhile. With the team dangling the Turkish 7-footer for weeks, the best they could do was a collection of spare parts from Boston that included Brandon Bass, Courtney Lee and a protected first-round pick.
It's a decent haul, but not one Houston needed to rush to accept. Bass may be a slight upgrade over Jones, but not one that would push this Rockets team over the top. As for Lee, he would struggle to find quality minutes on a roster loaded with wing players. Just ask Ronnie Brewer.
According to Yahoo! Sports' Mark J. Spears, the Celtics are still interested in acquiring Asik, but the Rockets shouldn't expect a proposal that's exponentially better than the one they received a week ago.
As for other potential suitors, many are scared off by Asik's 2014-15 salary, which will pay him close to $15 million with a cap hit of only $8.3 million, per Spotrac. That's a huge price tag for an offensively limited center, albeit one that's solid defensively and on the glass.
Houston has found too many teams leery of Asik's contract next season, and hasn't found a deal it wants.

— Adrian Wojnarowski (@WojYahooNBA) December 19, 2013
According to ESPN New York's Ohm Youngmisuk, the Brooklyn Nets asked about Asik and Jeremy Lin but were turned away by Houston asking for Deron Williams in return.
According to a league source, the Rockets had preliminary talks with the Nets last week about Omer Asik and Jeremy Lin. Talks never gained any steam, but the source said the Rockets were doing their due diligence and Williams' name came up.
It's a potential deal Houston should be glad it didn't make. They don't need another superstar mouth to feed in that starting rotation.
Now, another wrench has been thrown into any plan to move Asik. After dealing initially with a thigh injury, the 27-year-old is currently suffering from swelling in his knee that continues to flare up every time he gets close to returning.
The Houston Chronicle's Jonathan Feigen reports that the Rockets "will not have him for the immediate future."
http://t.co/Xgr5T836iQ: Rockets Baffled by Omer Asik's Knee Injury http://t.co/XMyryYMxSZ #SLAMnewswire

— SLAM Magazine (@SLAMonline) December 26, 2013
Hypothetically, let's say Asik is 100 percent by mid-January. The team will need to assimilate him back into the rotation to both prove he's ready to play and build up his trade value for potential suitors.
If the Rockets were to strike a deal by later that month or early February, they'd spend the better part of the second half getting the new additions acclimated. Is that really worthwhile to a team that seems to be doing just fine without their second-best center?
Houston already has an alternative to back up Howard but, for some reason, has been surprisingly reluctant to give Donatas Motiejunas consistent playing time this season. Prior to logging 23 minutes in a win over Memphis on Dec. 26, D-Mo has played a total of 45 minutes this month.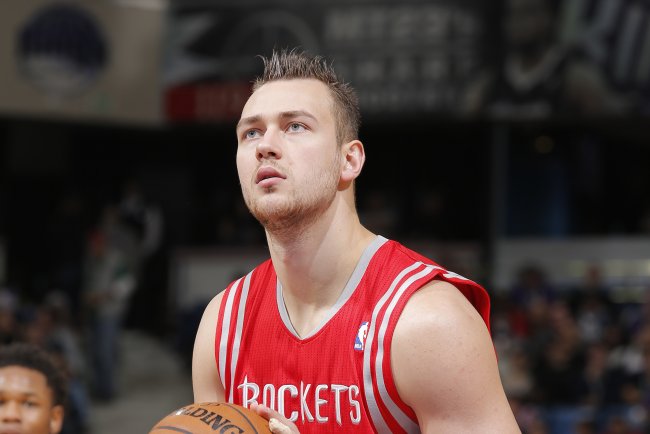 Rocky Widner/Getty Images
With the opportunity to play more, the Lithuanian big man could develop into a solid backup. He's got good size, runs the floor well and can step out to hit the occasional outside jumper. Offensively, his upside is higher than Asik's, and he comes with a much smaller price tag ($1.4 million this year and next; $2.3 million team option for 2015-16).
In the end, Houston's best move is to stay put. Once Asik is healthy, they can spend the rest of the year building up his value for a possible trade in the offseason. In the meantime, Houston will have two of the best defensive centers in the league at their disposal.
What the Rockets need most can't be attained in a blockbuster trade. Houston needs a break from the injury bug. Everyone from Jeremy Lin to James Harden to Chandler Parsons to now Omer Asik have fell victim to health woes this season.
Should The Rockets Make a Move At The Trade Deadline?
With a healthy roster, this team can do some damage in the playoffs. They have already proven it can stand toe-to-toe with the Spurs, and they've managed a few other big wins (Portland once, Golden State twice).
As tempting as it may be to make a move, the right decision is to wait. No potential return is worth damaging all of the chemistry the team has built up all year. They should give it one last college try with this current group and see what happens.
If it doesn't work out, there's always next summer to go back to the drawing board.