January's midseason transfer window will be here in a flash. And while Premier League leaders Arsenal have made the most of their attacking talent through the first half of the 2013-14 campaign, adding another goal scorer this winter will be critical for the Gunners' chances the rest of the way.
Recent comments made by gifted Swansea city striker Michu are encouraging for head coach Arsene Wenger and his club and make the 27-year-old Spaniard an ideal target for the Gunners next month.
According to the Metro's Jamie Sanderson, Michu didn't hesitate when asked about the possibility of taking his talents to a topflight club in the near future:
Every player dreams about playing in big teams, clubs who play in the Champions League and fight for titles. I am no different.

I'm very happy at Swansea but it is obvious that every player wants to grow up and see how far you can go.
Arsenal have been rumored to have interest in Michu since last October. The Swansea star, who has scored six goals in 19 appearances in all competitions this season, gained tons of attention last year while lighting up the Premier League with 18 goals in his first season of English football.
Assuming the Gunners can overcome the cost challenges, adding Michu, whose price tag is estimated to be somewhere around £30 million, would be a no-brainer.
Michu's willingness to part ways with the Swans and forge a legacy somewhere new makes him a worthwhile target for Wenger and a contending club like Arsenal.
While Arsenal currently lead fellow contenders Liverpool, Chelsea and Manchester City in the league table, the Citizens and Reds each boast dynamic attacks and unrivaled individual talents in Sergio Aguero and Luis Suarez, respectively. The two superstars have combined to score 30 Premier League goals this season.
Meanwhile, Arsenal's leading scorer, Aaron Ramsey, has netted just eight goals in league play this season and hasn't scored since November.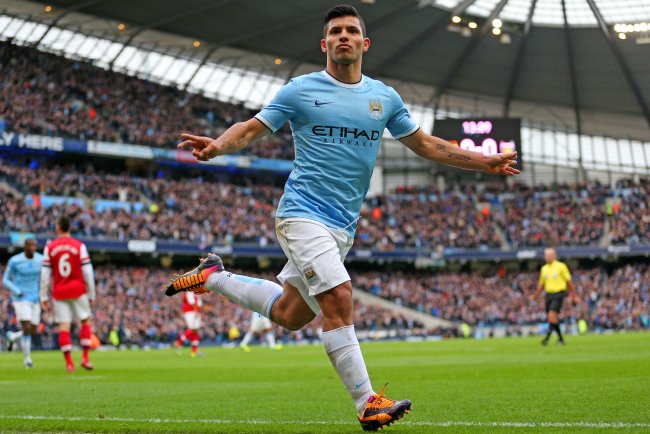 Clive Brunskill/Getty Images
Michu's current form isn't anywhere close to that of Aguero or Suarez, but the potential is certainly there as he proved in 2012-13.
In addition to adding an impact striker, Arsenal would also be ensuring that another Premier League power doesn't acquire Michu. After all, odds are that if the Gunners swing and miss, another big-name club will be there to seal the deal on the emerging Spaniard.
Would Michu be worth the cost for Arsenal?
Landing a forward of Michu's caliber would not only make a difference in the Premier League, but bolster Arsenal's front line heading into a tricky UEFA Champions League Round of 16 matchup against defending champions Bayern Munich.
While Olivier Giroud, Mesut Ozil and Ramsey are all dangerous and capable goal scorers, Michu would add a much-needed dimension to the Gunners' attack and make them a fearsome offensive squad capable of winning shootouts against the likes of Bayern and City down the stretch.
It remains to be seen how aggressively Wenger and Arsenal will pursue Michu next month if at all, but given the star striker's recent comments, the Gunners would be wise to make him their No. 1 target this winter.
Follow Bleacher Report Featured Columnist Patrick Clarke on Twitter.