Problem solved.
In a surprisingly lopsided performance, Marcos Rene Maidana (35-3, 31 KO) dominated Adrien "The Problem" Broner (27-1, 22 KO) at the Alamodome in San Antonio, Texas, winning by unanimous decision. The judges scored the bout 115-110, 116-109 and 117-109—all in Maidana's favor—to crown the Argentine as the new WBA welterweight champion.
USA Today's Bob Velin provides insight into how Maidana got it done:
In some past fights, Maidana punched himself out in the later rounds. But this time he never seemed to tire and kept up the punishment, throwing combinations, hard jabs and powerful body shots throughout the fight. He threw nearly a thousand punches overall (964 to be exact) and landed 231 power shots to 122 for Broner.
Velin also provided this quote from Maidana:
"The truth is, I've never fought anyone like (Broner), and it was a great fight," said Maidana, 30, wearing a crown on his head and holding his new title belt. This was the second weight class in which Maidana has held a title. He was a junior welterweight (140 pounds) titlist as well.

"The plan was to fight any way I could do it, and I won because of that," Maidana said.
From the outset, Maidana showed poise while applying constant pressure. A big right hand dropped Broner in the second round and a huge left hook put him down in the eighth. He was wobbled multiple times in other rounds.
What best describes your opinion of Broner as a fighter now?
Perhaps Paulie Malignaggi—who called the fight ringside for Showtime—deserves an assist of sorts for Maidana's win. The former champion's ability to land against Broner in their June bout exposed some of The Problem's weaknesses.
Malignaggi didn't have the power to complete the job and lost by a controversial split-decision. Maidana, however, had the pop to dethrone the formerly unbeaten 24-year-old.
Early in the fight, Broner seemed to be taking his opponent too lightly, at one point taunting Maidana with a sexual gyration. The 30-year-old Maidana kept his composure, though, and continued to push forward. In the 11th, feeling confident and in control, Maidana returned the favor with a similar taunt to the delight of the fans in attendance.
In the eighth round, Broner over-dramatized the effect of a Maidana headbutt, falling to the mat and rolling over in agony following the illegal blow. Though referee Laurence Cole took a point from Maidana, the fact that he had dropped Broner earlier in the round made it 9-8 instead of 10-8.
Cole warned Broner several times for pushing, but never took a point away after threatening to early in the fight.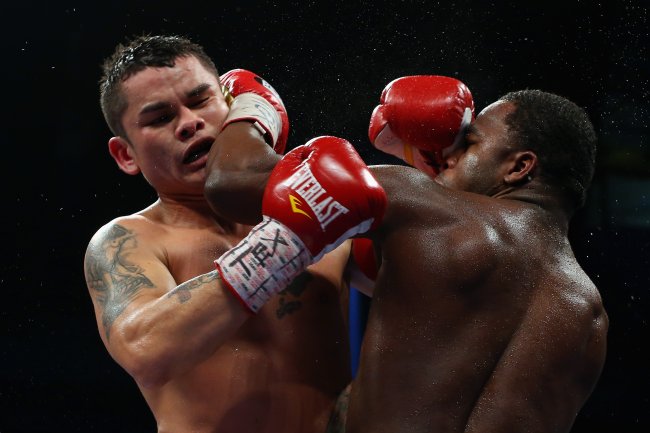 Ronald Martinez/Getty Images
Support for Broner is already coming in from some of boxing's major players. Floyd Mayweather Jr. tweeted this after the decision was read:
.@AdrienBroner hold your head up champ. I love you. A true champion can take a loss and bounce back, my lil brother pic.twitter.com/jecoR7u7Ia

— Floyd Mayweather (@FloydMayweather) December 15, 2013
In any case, the right man won the fight and now Broner has to pick up the pieces after suffering the first defeat of his career. Maidana has put himself in position to earn a huge payday in his next fight, and on a short list of fighters who could challenge Mayweather sometime in the future.
Follow me for news and musings on The Sweet Science.