Rafael Nadal Wins at Poker Too; Takes First Live Event at EPT Charity Challenge
December 13, 2013

Susan Mullane-USA TODAY Sports
All of you rounders spending hours at the table, tossing in chips and grinding out a wealth of experience, look away. You might find news that Rafael Nadal won his first poker tournament a tad bit frustrating. 
Pokerstars Blog's Howard Swains (h/t Sports Illustrated) reports Nadal was at the EPT Charity Challenge in Prague, Czech Republic, amid a great deal of fanfare. 
According to Swains, 82 cameras were set around the table to capture Nadal's first foray into a live poker tournament, one that he ultimately won. 
Yes, it seems beginner's luck happens to giants of the sporting world as well. 
Here is his happy tweet afterward: 
Nadal was tasked with taking down a table that consisted of other sports stars like former footballers Ronaldo and Andriy Shevchenko. 
Swains describes the event, "Those five would help 'ease' Nadal into poker competition via a six-player sit and go. The €100,000 prize pool would be split among charities of the players' choice."
So it wasn't the World Series of Poker, but Nadal is still fresh at the game. Sports Illustrated reports the tennis star who won the U.S. Open and French Open in 2013 was introduced to poker about a year ago. 
After signing with PokerStars in June 2012, Nadal set off to learn through various promotions. The EPT Charity Challenge was the first time he got to mix it up with unfamiliar opponents, proving he is a relatively quick study. 
Swains' report features quotes from the 27-year-old: 
It's my first live poker tournament and that's made me feel a little bit nervous. The pressure, in my case, is completely different between when I'm playing in a professional tennis tournament and what I'm playing today. For me, it's a big honor to be playing with all these stars around me.
Of course, Nadal is still dedicated to the sport that made him a star, "My life is still with tennis, but I am playing poker to have some fun."
Although, he does have a newly found respect for poker, "And the people who don't understand about this game only think that it's about luck. I thought that a few years ago, but now I know it's more about knowing how to play. At the end, the best players are the winners almost every time."
So consider Nadal the best, because he worked the table and took a €50,000 pot for charity. 
While there is no video, you can enjoy the heads-up battle through PokerStars' play-by-play blog. We assume Nadal's reaction to taking out Fatima Moreira de Melo went something like this: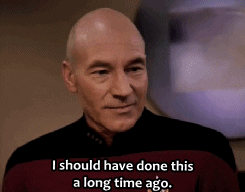 (GIF credit: GIPHY)
Poker pro Daniel Negreanu assessed Nadal's table game, "He (Nadal) came in really solid and he didn't make any mistakes. And then he knew when to make the adjustment, to play more aggressively, and he did."
If you think Nadal took the tournament lightly, take a gander at this smile via Negreanu's Instagram: 
Remembering how well decorated Nadal is in the tennis world, we know better. However, it certainly looks like this is the happiest day of his life. 
That man could win a trophy on smile alone. 
Perhaps he knows that when his tennis legs leave him, he can grab a seat at the poker table and do quite well. 
Hit me up on Twitter: