How High Will the New York Yankees' Payroll Rise This Winter?
Use your ← → (arrow) keys to browse more stories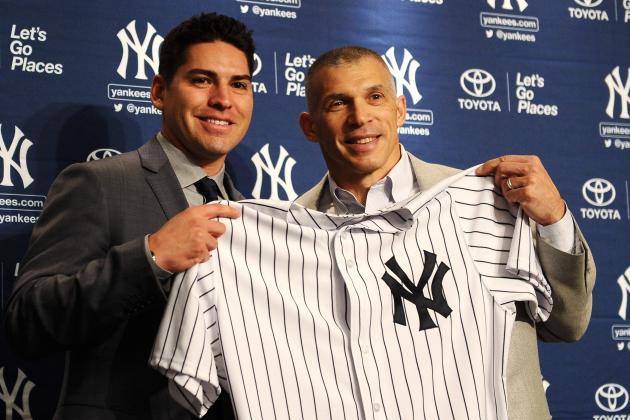 Maddie Meyer/Getty Images

For a team looking to reduce payroll commitments in 2014, the New York Yankees are not spending the offseason in the bargain-hunting section of the free-agent market.
At this rate, it's hard to imagine the 2014 Yankees taking the field with a total payroll of less than $200 million.
With the formal introduction of Jacoby Ellsbury at Yankee Stadium on Friday morning, the team, entering the offseason with a self-imposed mandate to fall under the $189 million luxury-tax threshold, has committed more than $300 million to free agents in the span of one month.
The five newest Yankees (Brian McCann, Ellsbury, Carlos Beltran, Hiroki Kuroda and Kelly Johnson) will account for a major portion of the 2014 payroll. If they help the team qualify for the postseason, they'll have justified the expenditures. If not, there will be questions about a strategy that had been taking shape for years.
During recent winters, the Yankees made a point to save dollars for the 2014 payroll.
Nick Swisher, a versatile performer on an excellent Yankee offense, left for Cleveland. The team lost Russell Martin, one of the most valuable catchers in baseball, when the Pittsburgh Pirates outbid them for his services. Vernon Wells, acquired in a deal last spring, came aboard only when Los Angeles agreed to pay every dollar of his 2014 salary.
These moves, although head-scratching and a major reason why the team missed the postseason in 2013, were justified through the prism of resetting the luxury tax after 2014. The benefits of one year under $189 million would be felt for years. By lowering their tax bracket, the Yankees can spend freely—without hesitation of paying dollar-for-dollar taxes—on the best players on the open market. That strategy, despite Robinson Cano fleeing to Seattle for $240 million, is dissipating by the week.
A change in direction is fine, but don't expect the Yankees to come out and say it now. By keeping their short- and long-term payroll cap to themselves, the team can use it as leverage in contract negotiations with free agents.
When Girardi was asked about the 2014 Yankees and their possible payroll, he said, "I think $189 million is still an awful lofty number."

— Jack Curry (@JackCurryYES) October 9, 2013
According to Joel Sherman of the New York Post, that could have been part of the strategy with Cano. By floating the necessity of $189 million as a team cap, New York could have hoped to keep Cano's asking price in a reasonable range. When that failed, costing the team their best and most durable player, the strategy may have changed.
With the offseason progressing, it's important to note the change in Yankee owner Hal Steinbrenner's tune when he was asked about the $189 million mandate last month, per CBS New York. Instead of harping on the importance, Steinbrenner talked about championship baseball superseding the payroll limit.
"That is the goal, but in no way, shape or form will we sacrifice our commitment to field a championship-caliber team," Steinbrenner told Sherman. "That's not going to happen."
For Yankees fans, that's good. For the free agents who can fill New York's remaining needs, it's great. Despite loading up on a star-studded group of contributors, the Yankees still need to fill major holes in order to compete for a championship in 2014.
How high will the 2014 Yankees payroll rise?
The Yankees are probably better now than they were in 2013, but the net gain isn't what you might imagine.
By signing Ellsbury, McCann and Beltran, New York added a cumulative 10.4 WAR, per Baseball-Reference's 2013 figures. Allowing Cano to walk, though, will cost the Yankees a player that averaged a 7.5 WAR per year over the last four seasons.
According to Brian Costa of The Wall Street Journal, the total offseason layout in New York could come close to $400 million if holes are properly filled at second base and third base, in the starting rotation and in the bullpen.
Omar Infante, the most accomplished second baseman on the open market not named Cano, had a three-year, $24 million deal on the table from the Yankees before signing with the Kansas City Royals, so they aren't afraid to spend in order to fill the hole up the middle. If Japanese pitching star Masahiro Tanaka is posted, expect the Yankees to make a major effort to sign him to a lucrative, long-term contract.
Yankees Payroll Tracker: $172,322,143 million

| | |
| --- | --- |
| Player | 2014 Salary |
| Alex Rodriguez | $27.5 million |
| CC Sabathia | $24.4 million |
| Mark Teixeira | $22.5 million |
| Jacoby Ellsbury | $21.8 million |
| Brian McCann | $17 million |
| Hiroki Kuroda | $16.085 million |
| Carlos Beltran | $15 million |
| Derek Jeter | $12.81 million |
| Ichiro Suzuki | $6.5 million |
| Alfonso Soriano | $4 million |
| Kelly Johnson | $3 million |
| Brendan Ryan | $1.67 million |
| Vernon Wells | $0 |
New York Post
As shown above, the Yankees payroll currently sits at slightly more than $172 million. That number, however, comes with a major caveat: Alex Rodriguez's $27.5 million salary for 2014.
Until arbitrator Fred Horowitz rules on Rodriguez's 211-game suspension appeal, his salary remains on the books. Over the next few weeks, the final ruling on A-Rod will become the tipping point for the Yankees' 2014 payroll.
If he doesn't get suspended, Alex Rodriguez will make more from the Yankees next year than Cano will from the Mariners.

— Spike Eskin (@SpikeEskin) December 6, 2013
Considering all the money spent so far, the work that still has to be done in order to field a 90-plus-win team and the roughly $16 million each team allocates toward insurance, pension and in-season minor league call-ups, it's hard to imagine the Yankees coming in at less than $189 million even if Rodriguez's 2014 is wiped from the books.
If it's not, Rodriguez won't just be the Yankees' opening-day third baseman; he'll also be one member of a payroll receiving more than $200 million.
For a franchise with the revenue and resources of the New York Yankees, the specter of a payroll less than $189 million seemed bizarre from the start. In a perfect world, any business would love to succeed while cutting costs; unfortunately for the Yankees, the cost of winning on a yearly basis is very, very expensive.
Do you believe the Yankees will stay at less than a $189 million payroll?
Comment, follow me on Twitter or "like" my Facebook page to talk all things baseball.