When the 2014 World Cup Draw went live on Friday, fans of the United States men's national team waited with bated breath that the Americans might draw a favorable group.
They didn't.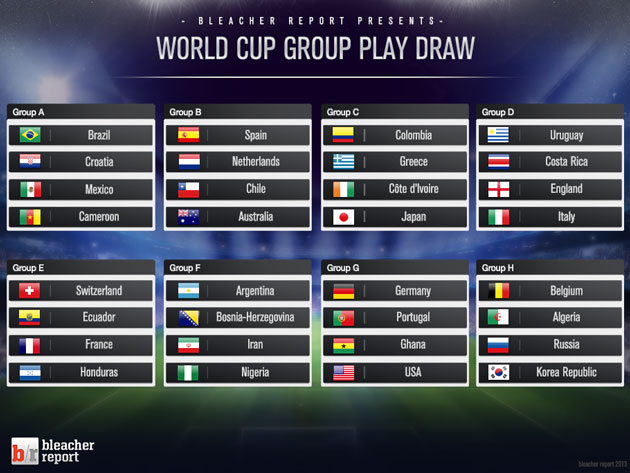 Photo via Bleacher Report
Instead, optimism for a memorable run on the world's largest stage wavered as the Americans drew a dreaded "group of death" that includes Germany, Ghana and Portugal. According to MLSSoccer.com's Ben Jata, the group boasts the highest average FIFA ranking:
Average FIFA World Rankings Group A: 24.3 Group B: 21.0 Group C: 20.3 Group D: 14.3 Group E: 22.8 Group F: 26.3 Group G: 11.3 Group H: 28.3

— Ben Jata (@Ben_Jata) December 6, 2013
However, that doesn't mean that the U.S. are eliminated just yet. As Paul Carr of ESPN notes, the USMNT still holds the third best odds in the group according to Soccer Power Index numbers:
SPI odds to advance, Group G: Germany 91.8%, Portugal 40.2%, #USMNT 39.3%, Ghana 28.8%.

— Paul Carr (@PCarrESPN) December 6, 2013
Here's a look at each of the opponents that the U.S. will see in the group stage as they fight to survive a difficult draw.
Germany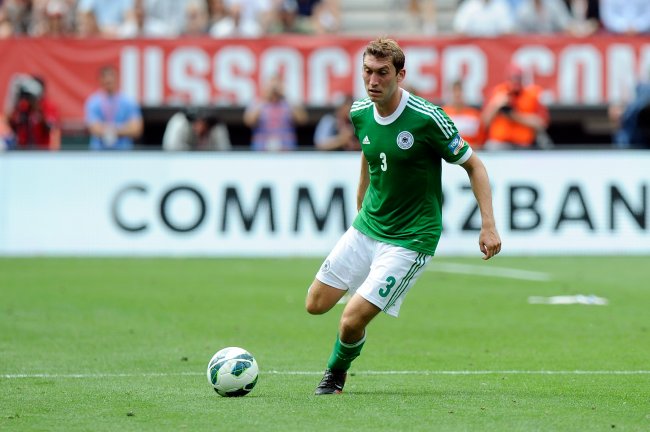 Greg Fiume/Getty Images
FIFA Rank: 2
World Cup Appearances: 17
Best Results: three championships (1954, '74, '90)
Of all the nations that the United States could have been placed into a group with, Germany may have been the worst-case scenario. The Germans are ranked No. 2 in the FIFA world rankings and placed third in the 2012 Euro championships behind a perfect showing in group play.
The Germans have also racked up a perfect record in World Cup qualifying in 2013, including a 2-1 win over France and 1-0 win over England.
With one of the most dominant squads in international competition, it's easy to see why the SPI in Carr's tweet gives Germany about a 90 percent chance to advance. But as Ian Darke points out, Germany's dominance could have its benefits for the U.S.
Germany might win all 3 in USA group. That means may be 4 pts gets 2nd place. Beat Ghans. Draw Portugal. If only that easy.

— Ian Darke (@IanDarke) December 7, 2013
Portugal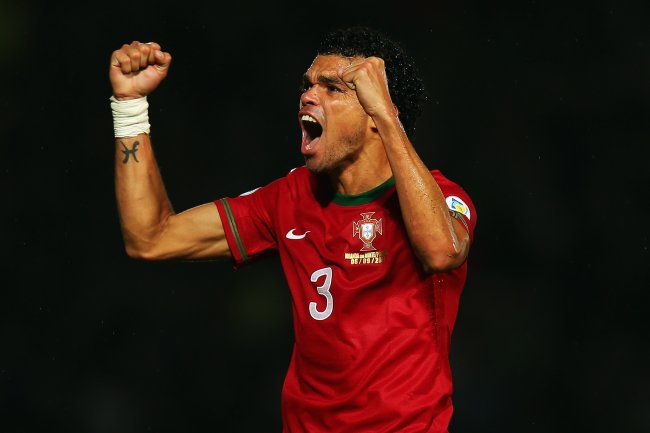 Bryn Lennon/Getty Images
FIFA Rank: 5
World Cup Appearances: 6
Best Results: Third-place (1966)
Portugal not only feature one of the top two players in the world in Cristiano Ronaldo, but they are considered one of the top five teams in the world by FIFA's ranking.
Of course, those rankings aren't gospel. There are flaws in the rating system, and Portugal are beatable. In fact, according to ESPN Stats & Info, the USMNT has already upset A Selecao once in World Cup play:
The U.S. lost to Germany in 1998, upset Portugal in 2002 and lost to Ghana in 2006

— ESPN Stats & Info (@ESPNStatsInfo) December 6, 2013
Portugal earned their way onto the World Cup stage by way of beating Sweden 4-2 on aggregate in a UEFA playoff. As the smaller of the two giants in the USMNT's pool, finding a way to at least play Portugal to a draw will be vital to advancing to the knockout round.
Ghana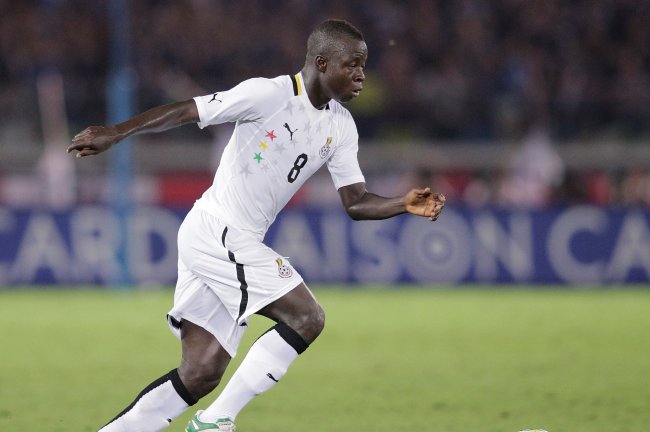 Adam Pretty/Getty Images
FIFA Rank: 24
World Cup Appearances: 3
Best Results: Quarterfinals (2010)
Oh, Ghana...
Despite a general lower ranking and the lack of an illustrious career in World Cup play, Ghana have been a death knell for the U.S. As SportsCenter reminds us, the USMNT has a history with Ghana at the World Cup, and it isn't pretty:
The United States will be in Group G with Germany and Ghana. US has lost to Ghana in last two World Cups.

— SportsCenter (@SportsCenter) December 6, 2013
Personal history aside, this is the most winnable matchup that the Americans will see in group play. Ghana struggled in the Africa Cup of Nations with a third-place finish after losing 3-1 to Mali and had a relatively easy road in World Cup qualification.
If the Americans can't open up World Cup play with a win over Ghana, their run in the tournament will be over before it starts.