For the second straight year, Radek Stepanek played the role of hero for the Czech Republic, beating Serbia's Dusan Lajovic in Sunday's decisive rubber in Belgrade to power his country to its second consecutive Davis Cup title and third overall.
Czech Republic wins the 2013 Davis Cup title! Stepanek defeats Lajovic 63 61 61.

— Davis Cup (@DavisCup) November 17, 2013
Stepanek won in straight sets to lock up a 3-2 win for the Czechs, who became the first team since Spain in 2008 to win the Davis Cup away from home.
Novak Djokovic did his best to lead Serbia to its second Davis Cup crown in three years—beating Tomas Berdych convincingly in Day 3's first rubber—but his two victories weren't enough. The Czechs were ultimately able to capitalize on his absence from Saturday's doubles match.
With all five rubbers in the books, let's get you up to speed on how it all unfolded.
Day 3 Scores

| | |
| --- | --- |
| Rubber No. 4 | Score |
| (SRB) Novak Djokovic def. (CZE) Tomas Berdych | 6-4, 7-6 (7-5), 6-2 |
| Rubber No. 5 | Score |
| (CZE) Radek Stepanek def. (SRB) Dusan Lajovic | 6-3, 6-1, 6-1 |
DavisCup.com
Radek Stepanek Delivers Another Clutch Performance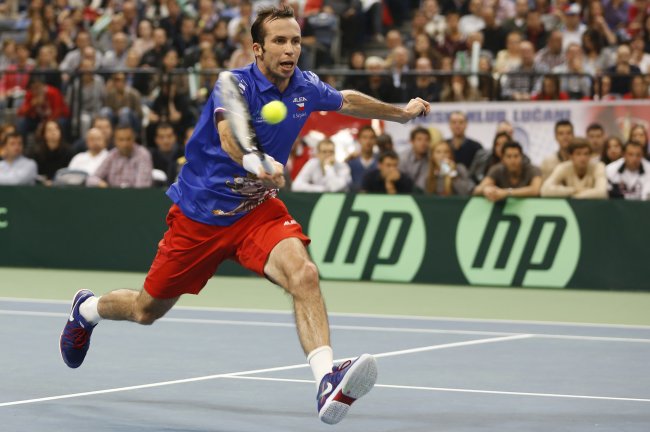 Srdjan Stevanovic/Getty Images
One year after beating Spain's Nicolas Almagro in four sets in the decisive rubber at the 2012 Davis Cup final in Prague, veteran Radek Stepanek lifted his country to the top of the tennis world once again.
Who's your MVP of the 2013 Davis Cup final?
The 34-year-old was absolutely dominant on Sunday, making it clear from the outset that he wouldn't be denied. After taking a one-set-to-love lead, Stepanek appeared to break Lajovic's will in the second frame, running away with it 6-1.
The final set would feature more of the same as Stepanek maintained his poise and took advantage of countless errors from Lajovic.
While the victory adds to Stepanek's growing legacy as one of the all-time clutch Davis Cup performers, the straight-sets loss means that Lajovic failed to win a single set in this year's final. The 23-year-old will certainly be disappointed with his overall performance, but there's no doubt he'll benefit from the experience gained from taking part in such a massive occasion.
Novak Djokovic Keeps Serbia Alive with Straight-Sets Win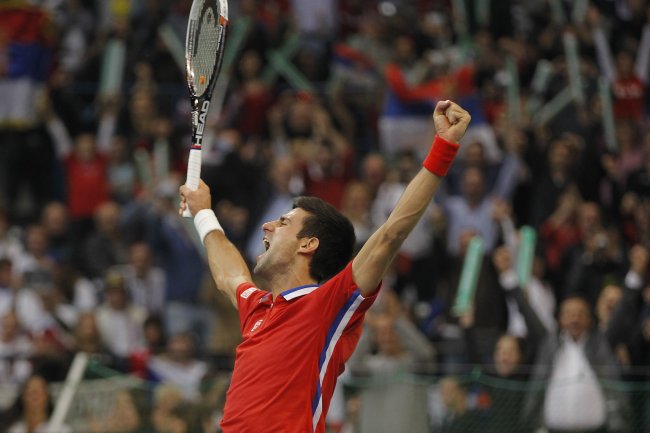 Srdjan Stevanovic/Getty Images
World No. 2 Novak Djokovic did his best Superman impression for Serbia on Day 3, routing Tomas Berdych in straight sets in the day's opening rubber to extend his winning streak to 24 matches and preserve his side's chances.
Novak Djokovic beats Tomas Berdych 64 76 62. Serbia and Czech Republic level at 2-2. The 2013 Davis Cup Final goes to a deciding rubber.

— Davis Cup (@DavisCup) November 17, 2013
Aside from a dramatic second-set tiebreak, the match was routine for Djokovic, who broke Berdych on his fourth set point in the opening set and cruised in the final set after picking up an early break.
The crowd was a significant factor as Nole gave them plenty to cheer about throughout.
To be fair, Berdych was playing for the third straight day, having participated in the Czech Republic's pivotal doubles victory on Saturday. Still, there's no faulting Djokovic for Serbia's unsatisfying performance in Belgrade.
Djokovic after beating Berdych "this win will mean nothing at all to me unless we win the trophy"

— Nick Lester (@nicklester) November 17, 2013
Despite having to settle for second place, Djokovic and Serbia are sure to be in contention for the Davis Cup once again in 2014.
Follow Bleacher Report Featured Columnist Patrick Clarke on Twitter.