Adam Scott is tied for the lead after two rounds at the Australian Masters and is poised to take home yet another trophy.
In what has been a pretty competitive two rounds, there are six golfers within five shots of the leaders. Scott hasn't wrapped things up just yet, and the next two rounds should be fantastic.
Below are the Top 10, followed by an analysis of the favorites to win after two rounds.
Australian Masters Open Top 10

| | | | | |
| --- | --- | --- | --- | --- |
| Position | Name | To Par | Thru | Today |
| T1. | Adam Scott | -9 | 18 | 66 |
| T1. | Nathan Holman | -9 | 18 | 65 |
| T3. | Matthew Griffin | -8 | 18 | 65 |
| T3. | Nick Cullen | -8 | 18 | 69 |
| 5 | Matt Kuchar | -5 | 18 | 66 |
| T6. | Jason Norris | -4 | 18 | 69 |
| T6. | Brody Ninyette | -4 | 18 | 70 |
| T6. | Brendon de Jonge | -4 | 18 | 70 |
| T9. | Maximilian Kieffer | -3 | 18 | 72 |
| T9. | Peter O'Malley | -3 | 18 | 71 |
http://www.pga.org.au/scores
Adam Scott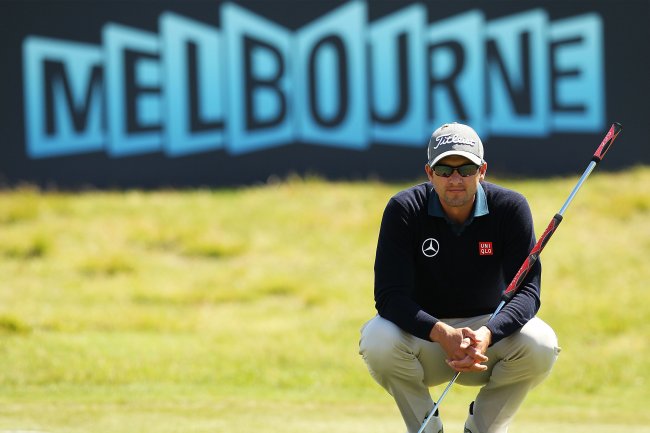 Graham Denholm/Getty Images
This is Adam Scott's tournament to lose. After shooting a first round 68, he followed that up with a 65 in the second round.
Scott was happy with his performance once he figured out the course:
"I just tried to grind down the golf course... And got a few at the end," says Adam Scott who finished as co-leader #AusMasters

— PGA of Australia (@PGAofAustralia) November 15, 2013
If he wins, it would be his second victory at this event, according to Kelly Tilghman of the Golf Channel:
Adam Scott co-leads Aussie Masters, looking to add 2nd gold jacket to closet that also has a green one. Let the green/gold battle begin

— Kelly Tilghman (@KellyTilghmanGC) November 15, 2013
Who Will Win the Australian Masters?
Scott is having a fantastic year. He won the Masters in April, and followed that up with a victory at the Barclays. The Australian is coming off a victory last week at the Australian PGA Tour. That's not to mention his third-place finish at the British Open and the fifth-place finish at the PGA Championship.
It's been a banner year for Scott. Even though Nathan Holman is breathing down his neck, I think it would be a shock if Scott loses.
Look for him to pull away and win this one by a few strokes.
Nathan Holman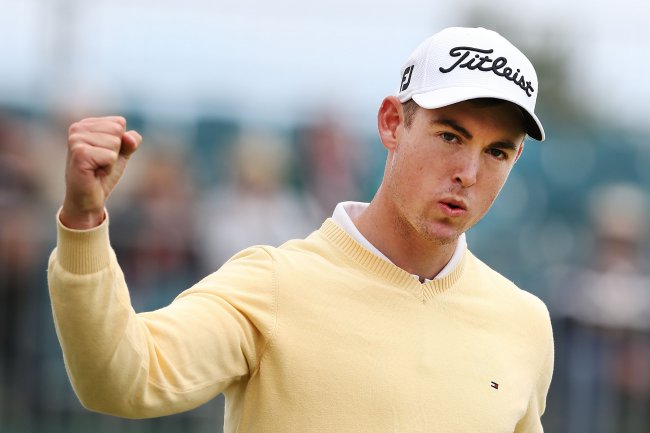 Michael Dodge/Getty Images
If someone is to challenge Scott, than Nathan Holman has put himself in the best position.
The Australian is tied with Scott for the lead, after shooting a second-round 65.
This is Holman's first chance at stardom, as the amateur golfer is only 23. He does have two amateur wins under his belt, though.
But even though the two are tied, Scott has outplayed Holman. Scott has dominated the greens in relation to Holman, according to Mark Hayes of the Herald Sun in Australia:
One last stat from #RoyalMelbourne -- @nholman37 had 23 putts today in his 65. Adam Scott had 32 in his 66. #mindbending

— Mark Hayes (@HayesyHeraldSun) November 15, 2013
Holman may be in over his head here. He has a promising future, but Scott is just too talented. It's an impressive few rounds by the youngster, but I think he's going to slide out of the lead.
Matt Kuchar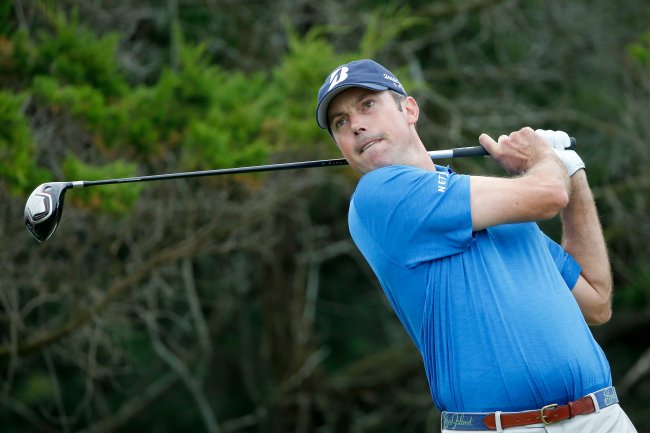 Sam Greenwood/Getty Images
If you're looking for someone to creep up on Scott and take the lead, it's Matt Kuchar.
After struggling a bit in the first round, shooting a 71, Kuchar rebounded in a big way with a second-round 66.
The American is probably the biggest name, besides Scott, at the top of the leaderboard, and he definitely has the most experience.
Kuchar has won twice in 2013, at the WGC-Accenture Match Play Championship and the Memorial Tournament. He also finished tied for eighth at the Masters in 2013.
He's a veteran golfer who knows how to win at big events. Unlike Holman, who is in the first major event of his life, Kuchar won't succumb to the pressure.
I think that it's going to come down to Kuchar and Scott, with Scott pulling away towards the end. Kuchar will make it interesting, but not enough to pull off the upset.