Day 2 of the DP World Tour Championship was the story of Henrik Stenson. The talented Swede roared from behind to take the lead away from Alejandro Canizares, who now sits in second place.
A tier has been established, with Canizares a stroke behind Stenson and everyone else three or more strokes back. Barring something unforeseen, it seems like the final two rounds will come down to which golfer—Canizares or Stenson—makes the most shots.
Below is the leaderboard for the DP World Tour, followed by an analysis of the second round.
DP World Tour Championship Top 10

| | | | | |
| --- | --- | --- | --- | --- |
| Position | Name | To Par | Thru | Today |
| 1. | Henrik Stenson | -12 | 18 | -8 |
| 2. | Alejandro Canizares | -11 | 18 | -5 |
| T3. | Victor Dubuisson | -8 | 18 | -6 |
| T3. | Marcus Fraser | -8 | 18 | -3 |
| T5. | Jonas Blixt | -7 | 18 | -7 |
| T5. | Justin Rose | -7 | 18 | -5 |
| T5. | Ian Poulter | -7 | 18 | -4 |
| T5. | Kiradech Aphibarnrat | -7 | 18 | -2 |
| T9 | Miguel Angel Jimenez | -6 | 18 | -6 |
| T9. | Pablo Larrazabal | -6 | 18 | -6 |
EuropeanTour.com
Henrik Stenson is one of the world's best golfers, and it showed on Friday. He shot an impressive 64, which was tied for the best round on the day. (Ross Fisher shot a 64 as well, and he sits seven strokes back.)
Great round from Race to Dubai leader @henrikstenson, now also #DPWTC leader after a 64 for -12. Keeping his challengers at bay so far.

— The European Tour (@European_Tour) November 15, 2013
Who Will Win the DP World Tour Championship?
It's been a banner year for Stenson. He won the Tour Championship and the FedEx Cup and finished third at the PGA Championship and second at the British Open. It's not a stretch to say he's been the best golfer of the year. He has the chance, as Kelly Tilghman of the Golf Channel notes, to be the first golfer to win both the FedEx Cup and the Race to Dubai:
Henrik Stenson leads DP World Champ. Looking to become 1st to win FedEx Cup & Race to Dubai. #ChaChing

— Kelly Tilghman (@KellyTilghmanGC) November 15, 2013
Look, it's going to be difficult for Alejandro Canizares to win. He was great in the first round, shooting a 66, and followed that up with an impressive 67 in the second round.
Lovely putt on the last for Alejandro Canizares for a par and round of 67 to finish -11 and one behind @henrikstenson #DPWTC

— The European Tour (@European_Tour) November 15, 2013
But the best golfer in the game is in the lead, and now that he has a feel for the course, it's hard to imagine him giving it up. It really is.
Behind Canizares, the golfer with probably the best shot of making things interesting is Ian Poulter. Poulter, who sits five strokes back of Stenson, shot a 68 in the second round. He admitted, though, that he is chasing the Swedish star:
Pressing hard to catch the big swede @henrikstenson he has played great today. All still to play for. Hunt the swede. Hahaha loving it.

— Ian Poulter (@IanJamesPoulter) November 15, 2013
But Poulter is a really good golfer who finished tied for third at the British Open. He improved upon his first round, and with a few missed putts here and there by Stenson, there could be room for Poulter to move up.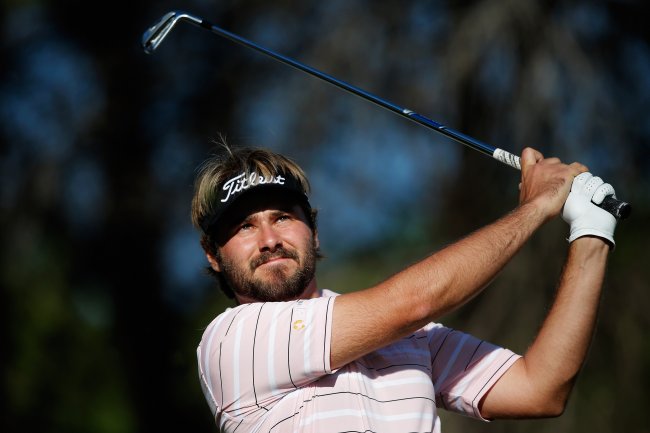 Dean Mouhtaropoulos/Getty Images
Beyond Poulter, another golfer to watch is Victor Dubuisson, who sits four strokes back of Stenson. Dubuisson is coming off a dominating victory at the Turkish Airlines Open, and he shot a 66 in the second round of this tournament.
Is Dubuisson the next great golfer? He finished third at the Omega Masters in August. In fact, he may be the hottest golfer on the European Tour right now.
All that said, I fully expect Stenson to hold on and win. As Jamie Kennedy of Golfalot noted:
Thru 36 holes, Henrik Stenson has missed 2 greens and 4 fairways. Leads by one at the DP World Tour Champ. #OnFire

— Jamie Kennedy (@jamieonsport) November 15, 2013
That's domination. Unless another golfer simply outplays Stenson, it looks like the Swede is going to continue his magical year and win the DP World Tour Championship.