Harris English fired a six-under 65 on Sunday in the final round of the OHL Classic at Mayakoba to earn a comfortable four-stroke win over Brian Stuard.
Congratulations to 24-year-old @Harris_English on his second career #PGATOUR victory, a 4-shot win @MayakobaGolf! >> pic.twitter.com/o9fmYBdNOJ

— PGA TOUR (@PGATOUR) November 17, 2013
This tournament got off to a soggy and stuttered start on Thursday in the PGA's only Mexican stop, but with conditions cooperating on Sunday, the tournament finished up on time.
Check out the leaders below, or view PGA.com for a full leaderboard.
OHL Classic Leaderboard

| | | | | | | |
| --- | --- | --- | --- | --- | --- | --- |
| Pos. | Golfer | To Par | Round 1 | Round 2 | Round 3 | Round 4 |
| 1 | Harris English | -21 | 68 | 62 | 68 | 65 |
| 2 | Brian Stuard | -17 | 65 | 70 | 65 | 67 |
| T3 | Jason Bohn | -16 | 67 | 68 | 65 | 68 |
| T3 | Chris Stroud | -16 | 66 | 68 | 66 | 68 |
| T3 | Rory Sabbatini | -16 | 68 | 65 | 65 | 70 |
| T6 | Justin Leonard | -15 | 70 | 67 | 65 | 67 |
| T6 | Justin Hicks | -15 | 69 | 67 | 66 | 67 |
| T6 | Charles Howell III | -15 | 67 | 67 | 66 | 69 |
| T6 | Robert Karlsson | -15 | 63 | 67 | 67 | 72 |
| T10 | Bob Estes | -13 | 68 | 69 | 65 | 69 |
| T10 | Tim Wilkinson | -13 | 70 | 63 | 71 | 67 |
PGATour.com
Round 3 and 4 Update (Sunday)
Harris began Sunday tied for the lead with Robert Karlsson at 15-under. Both golfers faced the task of playing 29 holes on Sunday to finish their tournament.
The 24-year-old English finished off his third round with a 68 while Karlsson gained a stroke with a 67 to finish as the third-round leader.
Karlsson began his final 18 in great fashion. He played a bogey-free front side while adding a birdie and eagle.
However, English was able to match Karlsson's 33 on the front to stay just a stroke back, and soon was applying more pressure than Karlsson could handle.
English went three-under on the first four holes of the back and steadily parred the rest of his holes.
Meanwhile, after pars on the first two holes of the back, Karlsson embarked on a fatal three-hole stretch. The Swede played those three holes at four-over to end his title bid.
This was an impressive win for the up-and-coming golfer. Along with his victory in the FedEx St. Jude Classic in June, he now has two PGA victories in his young career.
Round 3 Update (Saturday)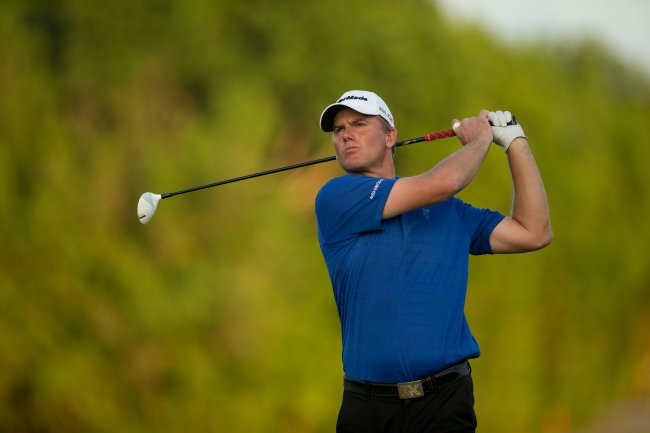 Darren Carroll/Getty Images
Robert Karlsson and Harris English both got through just seven holes on the day, but they both knocked in three birdies to push their scores to 15-under, where they are currently tied for the lead.
But after rain forced the second round to carry into Saturday, Round 3 play started late and was eventually halted by darkness, per the PGA TOUR's Twitter feed:
American Kevin Stadler, who entered the round tied with them, didn't fare quite as well. After a bogey-free Round 2, the 33-year-old started Saturday with a brutal double bogey to drop him out of the lead. He managed to climb back to par with birdies on Nos. 4 and 5, but he remains three strokes behind the lead through six.
That's also where Rory Sabbatini is after knocking in three birdies through his first eight holes.
Alvaro Quiros, Jason Bohn and Chris Stroud are all in contention, tied for fifth at 11-under.
The Spaniard Quiros, in particular, had a wonderful Saturday. He went five-under on the front nine, and currently sits at six-under through 14 holes, giving him—so far—the best score of the round.
Play has been halted at the @MayakobaGolf with Robert Karlsson and Harris English tied for the lead at 15 under.

— PGA TOUR (@PGATOUR) November 16, 2013
Spencer Levin, who got in 15 holes, also shot six-under on Saturday, moving him into a tie for eighth place at 10-under for the tourney.
---Original text---
With thunder, lighting and lots of rain covering the Yucatan Peninsula, play was interrupted several times on the day and only a handful of players were able to get in 18. Even more never even made it to the tee box.
After his round was cut short on Thursday, Robert Karlsson blazed a trail to the top of the leaderboard by posting an opening-round score of 63 early Friday. That's good for eight-under par.
Brian Stuard got most of his round out of the way on Thursday, and it made him the clubhouse leader after one day of play. He went five under on the day, through 15 holes.
Thanks to a top-10 at McGladrey, Robert Karlsson got into this week's event at Mayakoba. Good thing: He shot an opening 63 to take the lead.

— PGA TOUR (@PGATOUR) November 15, 2013
Stuard finished the first round two strokes back at 65, along with fellow American Kevin Kisner. The wait won't be long, as golfers will look to catch up as much as possible on the second round Friday.
Obviously, there is a lot of golf to be played, but journeyman Stuard has a realistic hope of staying near the top of the leaderboard.
He picked up just one bogey in his 15 holes and had a stretch on the front side, where he carded four birdies in five holes.
What really speaks of his potential, despite posting a resume light on success, is this:
ESPN Golf - Brian Stuard (5 under) leads rain-delayed OHL Classic with three holes left in 1st round

— Ceese Carcieri (@CESPN1) November 14, 2013
That is the only top-three finish in his PGA career, and he also has posted just five top 10s. His last event, he missed the cut at The McGladrey Classic, but in his start before that he was 15th at Shriners Hospitals.
Last season, Stuard finished 134th on tour in driving distance at 281.8 yards per drive. However, as the PGA Tour tweeted, distance is not a prerequisite at this course:
Overnight @MayakobaGolf leader Brian Stuard (-5 thru 15) was T-2 at this event in 2010, his best finish in 56 career @PGATOUR starts.

— Sean Martin (@PGATOURSMartin) November 14, 2013
As light as Stuard's resume is, it has more weight than the two men directly behind him.
"Long hitters don't win at Mayakoba. Great putters dominate." Our #PGATOUR Insider explains why: http://t.co/CVJM8RrQfy

— PGA TOUR (@PGATOUR) November 13, 2013
Quiros has two top 10s in 37 career starts. That's actually not a terrible ratio, but it remains to be seen if he can handle sitting near the top of the leaderboard. Meanwhile, Compton has just one top 10 in 83-career PGA Tour starts.
Compton began the day on the back nine and had an up-and-down side with three birdies and two bogeys. He then caught fire on the front nine. Starting on No. 4, he birdied three of the next four holes and then parred No. 8 before being forced to abort his round.
Quiros also began the day on the back and picked up two birdies and a bogey. He then birdied the fourth hole and picked up an eagle on No. 5. He parred No. 6 before his day came to an end.
Which of these guys will finish highest on the leaderboard?
Despite plenty of golfers bringing out their best for the PGA Tour's only stop in Mexico, Karlsson looks set on staying atop the leaderboard. He birdied six of his first seven holes to open the tournament.
Needless to say, I expect lots of changes on the leaderboard as this tournament progresses. Let's just hope Mother Nature decides to cooperate a bit.
Round 2 Update (Friday)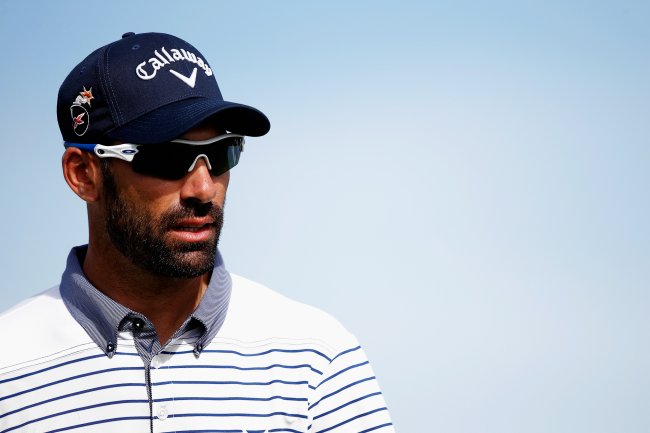 Dean Mouhtaropoulos/Getty Images
The leaderboard certainly fluctuated after Friday, but play was suspended again at Mayakoba.
This time darkness halted play before completing the second round, but not before Kevin Stadler and Karlsson climbed to the top of the pack.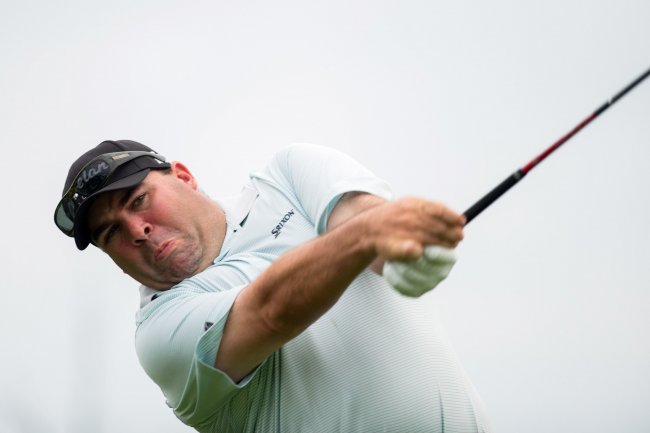 Darren Carroll/Getty Images
Stadler scored a 63 during the second round, earning birdies on five of his last seven holes to soar into a two-way tie for first. Karlsson, the top spot's co-owner, played 36 holes on Friday to make up for Thursday's rain delay.
The 44-year-old shot eight strokes under par in the first before scoring a four-under during the second round. That's a strong outing from a golfer who dropped out of the British Open in 2012 because he was playing so poorly.
He spoke briefly with Fred Albers of Sirius XM PGA Tour Radio about his impressive day.
Kevin Stadler + Robert Karlsson share lead as darkness halts 2nd round at PGA Tour's OHL Classic: http://t.co/IG4sBBcNpY #pga #golf

— PGA.COM (@PGA_com) November 15, 2013
Stuard was unable to back up his sensational outing on Friday, as his tee time came after play was concluded for the day. Golf's Driving Force's Adam Schupak correctly predicted the problem with the late scheduling.
Robert Karlsson talks about slowly getting back to old form after an extended absence due to injury https://t.co/A89krZuWqb

— SXM PGA TOUR Radio (@SiriusXMPGATOUR) November 15, 2013
A large chunk of the field, including Rory Sabbatini, Chris Stroud and Pat Perez, also did not receive the chance to tee off before the sun went down in Mexico.