With the Buffalo Sabres' front office moves on Wednesday, we now know with certainty what they are not. We're still a long way from knowing what they are.
Terry Pegula: "Last night I relieved Darcy Regier of his duties as Buffalo Sabres General Manager and Ron Rolston as our head coach" #Sabres

— Buffalo Sabres (@BuffaloSabres) November 13, 2013
In firing Darcy Regier, the Sabres axed the longest-serving general manager in team history. He was 40 years old and a bright, up-and-coming executive when hired; he's two weeks shy of 57 today, and Buffalo's failings as a team are mostly synonymous with his mistakes as a manager.
One of those mistakes—perhaps even the one that finally did him in—goes out the door with him.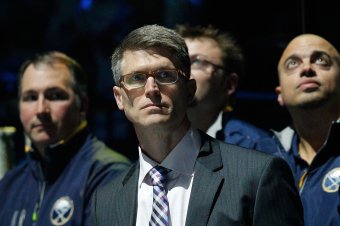 Bill Wippert/Getty Images
It's arguable that Ron Rolston should never have been given the head coaching job in Buffalo. Rolston was a longtime assistant coach in college hockey, and his only professional experience was a couple of middling seasons as the bench boss of the AHL's Rochester Americans.
But Rolston was hired as the interim coach last season, the Sabres' performance briefly spiked, and that was enough for Regier to hire him full-time. Regier stuck with his choice, too, even as the Sabres lost four times as many games as they won.
That's all in the past now; whatever path the Sabres end up taking going forward, the men plotting it will not be Regier and Rolston. What is still at issue is who the replacements for both will be, and that question was not answered with the names the Sabres hired Wednesday.
Pegula: Pat LaFontaine will be President of Hockey Operations. Ted Nolan will be #Sabres interim head coach, effective today.

— Buffalo Sabres (@BuffaloSabres) November 13, 2013
Pat LaFontaine, the new President of Hockey Operations, will be hiring someone to replace Regier; he will not be stepping into the management role himself. Ted Nolan, the new interim head coach, gets that interim tag in no small part because the manager-to-be-named-later will doubtless want some say in who is running his bench.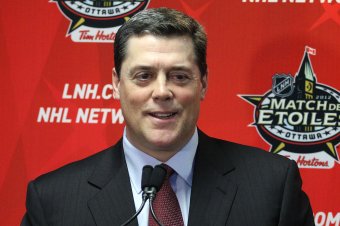 Andre Ringuette/Getty Images
That's why the biggest move is still to come. What the Sabres have right now is a transitional regime, people who will lay the groundwork for what is to follow but won't necessarily be the primary architects of it.
LaFontaine himself was honest about his limited experience in the press conference announcing the moves, which was streamed live on the Sabres' official website. He was very briefly part of the New York Islanders management team, coming and going during Neil Smith's six glorious weeks as the team's general manager. He's been around the game in various roles since, but has very little familiarity with the day-to-day management of an NHL team.
Likely, much of the latter will fall to assistant general manager Kevin Devine, a former World Hockey Association player who was promoted last year after several seasons as the Sabres' director of amateur scouting.
This is a caretaker administration, and the job in front of them seems clear. The Sabres' season is already all but over, and their role is to clear the decks, maximizing the return on various departing veterans (almost certainly including pending unrestricted free agents like Ryan Miller).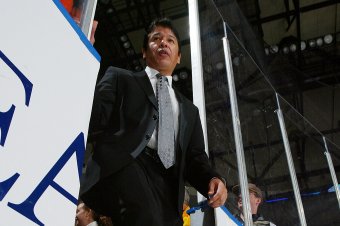 Jim McIsaac/Getty Images
Ted Nolan should be able to help. The NHL's Coach of the Year in 1996-97 has only had two seasons behind a major league bench since then, both with the New York Islanders, a team that promptly collapsed after Nolan was fired. He's a good bet to get the most out of the Sabres' vets the rest of the way.
But without question, the biggest decision wasn't made Wednesday. The interim work being done by LaFontaine and company matters, but what will determine whether or not the Sabres' rebuild succeeds is the quality of the man hired as the team's general manager.
Whoever it is has a big job ahead of him.