The Indiana Pacers are the most suffocating defensive squad in the NBA, but that still doesn't excuse the complete lack of execution that the Brooklyn Nets displayed down the stretch. In a 96-91 loss that pushed the Pacers to a perfect 7-0, Brooklyn looked confused, discombobulated and staggeringly inept.
It's a strange spot for a team with this much talent to find itself in, and Lenn Robbins of BrooklynNets.com writes, "Six games into the season is no time to panic. It is enough time to be concerned."
Brook Lopez is arguably the best offensive center in basketball, and he's a master of those mid-range shots only a seven-footer can hit while also making his impact felt on the interior. Joe Johnson has thrived in clutch moments for years, boasting a stellar isolation game and a nice shot from the outside. Deron Williams is a dynamic point guard capable of both scoring and facilitating at a high level.
And that was the collection of talent in the Barclays Center before the addition of Paul Pierce and Kevin Garnett, each of whom has an elite skill on the more glamorous end of the court.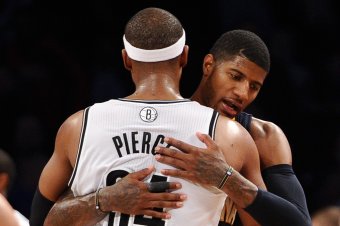 Maddie Meyer/Getty Images
Pierce's isolation game is impressive, and his jumper is threatening enough while ice water flows through his veins that defenders can't leave him alone down the stretch. As for KG's mid-range looks, "silky" is the only word that can be used to describe them.
However, the Nets clearly don't believe in Gestalt psychology, where the whole is greater than the sum of its parts. If anything, they're supporters of Tlatseg psychology, because they're showing that the exact opposite is true.
During their final possessions against Indiana, it was abundantly clear. As head coach Jason Kidd told Robbins, "We put ourselves in position to win." And yet, win they did not.
First, D-Will coughed the ball up to David West, setting the stage for the Pacers to push the lead to double digits, although they'd ultimately fail to do so. As Kidd said, via NBA.com's notebook on the game, "We took care of the ball pretty well until the fourth quarter."
For that matter, they also shot the ball pretty well until the waning portion of the fourth quarter.
On the next possession, KG was set up for an easy shot in the restricted area, but he made it look way too hard.
KG just air mailed a layup because he expected Hibbert to be there

— NBA Capology (@nbacapology) November 10, 2013
Maybe that's why KG doesn't shoot in the restricted area much.

— John Schuhmann (@johnschuhmann) November 10, 2013
Although it went down in the play-by-play as a missed six-foot hook shot, that's giving it far too much credit. It almost looked as though Garnett wasn't expecting to receive an offensive touch in such a crucial situation, and once he got it, he looked terrified of the Indiana defense crashing in around him.
Alright, so that's two opportunities and two results that can only be described as "epic fails."
So what do you do when you boast a multitude of offensive options? In the words of a certain Brooklyn-based rapper, "It's on to the next one."
Jay Z would be so proud of this team, minus the whole falling to 2-4 thing.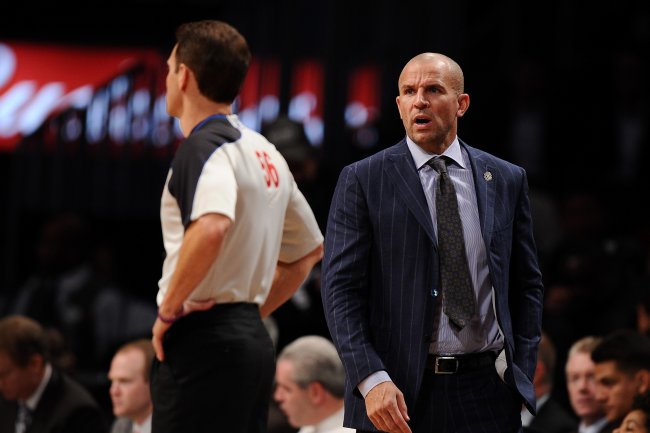 Maddie Meyer/Getty Images
On Brooklyn's penultimate possession, it was trailing by three points. That's where Kidd made the savvy coaching decision to sub out Lopez for Jason Terry, giving the Nets another three-point option without losing much on the offensive glass. Next, Kidd drew up a brilliant play, one that resulted in a clean three-point try for Johnson.
Can't get a better look than that.

— Tim Bontemps (@TimBontemps) November 10, 2013
That was as good a look as the Nets could have gotten there against the league's best defense. Great set. Sucks it didn't fall.

— devin kharpertian (@uuords) November 10, 2013
Joe had a shot and missed it. Again, mistakes down the stretch cost this team another game. #nets

— Mike Mazzeo (@MazzESPN) November 10, 2013
After inbounding the ball to KG, Williams used a brush screen and then pumped a three-point attempt. That was enough to draw in the Brooklyn defense, and it allowed Johnson to curl around a pick on the screen, freeing himself from Lance Stephenson for a clean look.
After years of watching Joe play for the Atlanta Hawks, I can tell you without a shadow of a doubt that the look he took was his shot. But Johnson drew back iron, becoming the third option on the Nets roster to fail down the stretch.
We never found out who would be the fourth, because Garnett threw the ball away on the ensuing possession while the rest of the offense just looked massively confused.
So, what happened to all of those elite offensive options?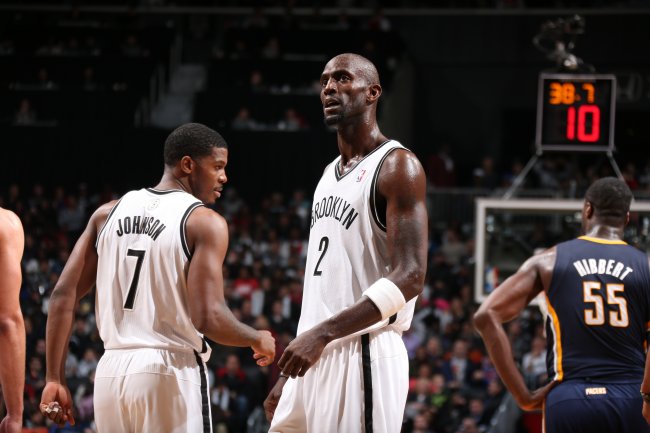 Nathaniel S. Butler/Getty Images
They disappeared down the stretch. Again. Remember, this is the same team that let the Washington Wizards catch up late in the fourth quarter before falling in overtime during the last game.
Even though the early returns point toward the failure in crunch time being a recurring problem, it would be foolish to assume that these talented offensive players will come up short in each and every outing. More often than not, the Nets will be able to identify which player is heating up and continue to feed him the ball down the stretch.
Considering Pierce, Lopez, Williams and Johnson all finished with between 15 and 17 points in this outing, it shouldn't be too surprising that no one had differentiated himself as the night's go-to guy in crunch situations.
On top of that, the Nets drew up two plays that should have worked despite the fact they came against the league's best defense. Garnett should have knocked down his shot from the restricted area, or at the very least hit something so that Brooklyn could have a chance at an offensive rebound. Johnson should have hit his three-point attempt, rather than missing by just about an inch.
Are you worried about the Nets' failure in the clutch?
Sometimes that inch can make all the difference. It might have done exactly that in the loss to the Pacers, but that won't necessarily be the start of a trend.
After all, the Nets are still learning how to play together, something that Williams brought up after the game to the Associated Press, via ESPN: "We're just learning to play together. We didn't have everybody healthy for training camp and we're all coming together and trying to win a championship and it doesn't happen overnight."
Generally a team with this much talent comes up with a victory in clutch situations, and that maxim should become increasingly true as the season progresses, even if it's rung false during the start of the season.
Don't sound the alarm bells yet, Brooklyn fans.