Patrick Ewing spent the better part of his 17-year playing career giving everything he had physically to help the New York Knicks win basketball games.
Tonight, Ewing will rely on his coaching mind to keep his former team from doing just that:
Bobcats just announced that Patrick Ewing will stand in as coach for Steve Clifford tonight vs. Knicks after Clifford has stent procedure

— Marc Stein (@ESPNSteinLine) November 8, 2013
As the Charlotte Bobcats' top assistant, Ewing will take over for head coach Steve Clifford, who underwent a heart procedure earlier this morning:
After two stents were placed into his heart, there's strong belief Clifford can return as soon as Monday against Hawks, source tells Yahoo.

— Adrian Wojnarowski (@WojYahooNBA) November 8, 2013
Ewing told Newsday's Al Iannazzone that Clifford couldn't have picked a worse time to go under the knife:
I'm going to have to curse Cliff out for especially it being this game against [the Knicks]. I mean it is strange. The only head coaching that I've done is during the summer league. Like I said, against [the Knicks]. I see all of you guys here, I can see the writing on the wall right now.
What makes this so strange?
The fact that Ewing carved out his Hall of Fame career in New York's blue-and-orange threads. He spent the first 15 seasons of his playing career in the Big Apple, averaging 22.8 points, 10.4 rebounds and 2.7 blocks as a member of the Knicks.
As if coaching against his former team isn't awkward enough, this also happens to be Ewing's NBA head coaching debut. Butterflies are understandably swarming in his stomach, per Iannazzone:
Ewing said he is "nervous"

— Al Iannazzone (@Al_Iannazzone) November 8, 2013
Plus, Michael Jordan isn't going to be helping ease the pressure on the new clipboard holder, per Bobcats TV host and reporter Stephanie Ready:
Patrick Ewing said that Michael Jordan joked with him: if he doesn't win, he's fired.

— Stephanie Ready (@StephanieReady) November 8, 2013
Are we sure that Jordan was kidding?
Ewing had the misfortune of peaking during the MJ era. Ewing's Knicks were good, but never quite good enough to handle Jordan's Chicago Bulls. When Jordan took his baseball sabbatical before the start of the 1993-94 season, the title window seemed to open for Ewing and the Knicks.
New York seized the moment, tying the Atlanta Hawks for the best record in the Eastern Conference (57-25). The Knicks dispatched the then-New Jersey Nets in four games in the opening round, then eked out seven-game series wins over the Jordan-less Bulls and Reggie Miller's Indiana Pacers.
The Knicks made the franchise's first NBA Finals trip that season since winning the title in 1973 and faced Hakeem Olajuwon's Houston Rockets. After jumping out to a 3-2 series lead, the Knicks dropped back-to-back games in Houston and their championship dream was shattered.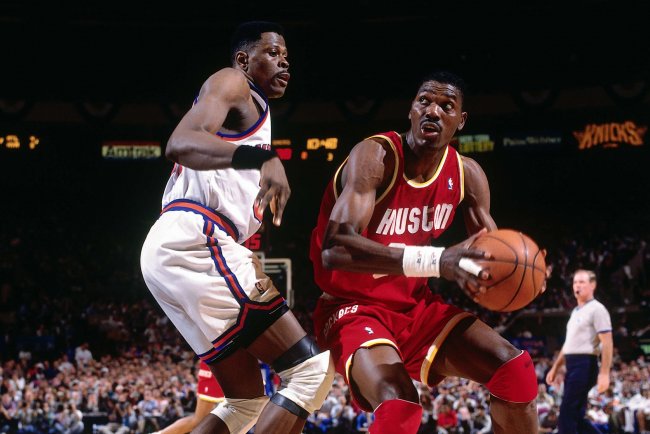 Andrew D. Bernstein/Getty Images
The Knicks made a return trip to the Finals in the strike-shortened 1998-98 season. But Ewing was already on the wrong side of 35 and his body was battered. He could only watch from the sideline as the San Antonio Spurs took the series 4-1.
Ewing's name is all over the Knicks' record books. Among his more notable entries, Ewing is the franchise's all-time leader in games (1,039), points (23,665), rebounds (10,759) and blocks (2,758).
Since joining the coaching ranks, Ewing hasn't hidden his desire to return to his basketball home, via ESPN New York's Ian O'Connor:
I'd be interested in any job, but this is home, naturally. I still have my place here (in New Jersey), and I'd love to interview for any job, here or anywhere. I played here. I know the ins and outs of New York, the media, the fans.
After overlooking Ewing in previous coaching searches, the Knicks came calling with a job offer last September. Only the position wasn't with the Knicks; it was with their D-League affiliate, the Erie BayHawks.
Ewing, reportedly, was not impressed. "Patrick has paid his dues," a source told ESPN New York's Ian Begley. "He was a little insulted."
Tonight, he can show the Knicks brass exactly what they're missing.
Emotions are sure to run high, but Ewing also had a golden opportunity to claim a win. His Bobcats scored a five-point win on the Knicks' home floor on Tuesday night.