Big Show Should Have Challenged Triple H Instead of Randy Orton
November 5, 2013

Big Show has to be thrilled about going from being banned from WWE for life to challenging Randy Orton for the company's top prize in less than a week, but Triple H would have been the better choice as his opponent.
That isn't to say that Orton won't deliver a great match, but this is a rivalry more personal than championships; a feud that demands a physical confrontation with the tormentor and the tormented. Orton shouldn't be Big Show's focus; instead, that honor should go to the man who has done his best to ruin his life in the past few months.
Monday's Raw centered around the giant's lawsuit against the WWE.
WWE showed clips of the abuse Big Show has suffered recently, from getting slapped in the face to Triple H taking his house from him. The company's board of directors forced Triple H and Stephanie McMahon to negotiate with "The World's Largest Athlete," a moment that became the main event segment of the show.
Big Show wanting a title shot makes a ton of sense, but a hunger for revenge should be clouding his judgment.
It was Triple H who suspended Big Show without pay, who mocked his size and gigantism, who now owns his house and who banned him from WWE for life. With the company in a legal stranglehold, Big Show should have forced Triple H to face him.
Being WWE champ should be a desire of every Superstar, but going up against Triple H to avenge his suffering should be first on his agenda.
Or course, WWE is likely just delaying that collision.
Chris Cash, via WrestleZone.com, reported that "The expected Triple H vs Big Show match might be saved for the TLC pay per view in December." Should that scenario play out, a number of issues arise.
There's a danger of the Survivor Series main event being predictable and feeling like an insignificant transitional match that won't attract viewers.
As much as WWE has been building toward Triple H and Big Show clashing, it's no surprise that the response to this narrative redirection hasn't been overwhelmingly positive. Much of the conversation has sounded like this.
If fans know a Triple H-Big Show match is imminent, it's hard to imagine a scenario where Big Show wins against Orton. Most folks will assume that Triple H somehow cheats Big Show out of his title shot, setting up Triple H vs. Big Show at TLC 2013 or later.
Why not just skip right to the more intriguing showdown then?
There is so much less animosity between Orton and Big Show that the match will struggle to match the electricity that Triple H vs. Big Show would have. It will suffer the same fate as CM Punk battling Ryback and Curtis Axel, when really his issues were with Paul Heyman.
Those matches failed to deliver because those men were proxies for Heyman, and Punk's hatred was sent through a filter rather than shot at the man who inspired it.
WWE was forced to go that route because Heyman is not a wrestler. This time around, that is not an issue. Triple H is more than capable of handling himself in the ring.
Orton now feels like he's playing Triple H's henchman and, despite being the WWE titleholder, he's in danger of being Big Show's stepping stone.
Over the past few months, Daniel Bryan's ultimate goal was the WWE Championship with Triple H serving as a major obstacle. Bryan faced Orton because he was chasing the belt that "The Viper" wore.
This time around, revenge against Triple H is Big Show's biggest desire, or at least it should be. This is the man who made him cry several times on national TV.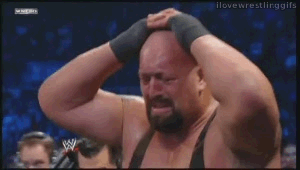 Going after the WWE title feels almost like a side mission rather than the main quest.
WWE.com recently chronicled Triple H and Big Show's long history because that's the heart of this story. That's where the spark lies. Heading elsewhere at one of the year's biggest events is the wrong move. 
Orton vs. Big Show is having Captain Ahab battle a whale other than Moby Dick in the final chapters, saving the showdown readers have anticipated for the entire novel for the next book.