After 24 hours of anticipation, Day 2 at the 2013 ATP World Tour Finals has finally arrived.
Tuesday's action inside the O2 Arena in London will feature three of the biggest names in tennis. World No. 1 Rafael Nadal began his bid to win his first-ever year-end title with a dominant win over countryman David Ferrer in the day's first singles match, per BBC Sport on Twitter:
Rafael Nadal has defeated David Ferrer 6-3 6-2 at the ATP World Tour Finals http://t.co/22my87xvh6 #finalshowdown pic.twitter.com/UyD9qPkgpF

— BBC Sport (@BBCSport) November 5, 2013
Day 2's prime-time singles clash will pit defending tournament champion Novak Djokovic against six-time year-end champion Roger Federer.
With the stage set for a splendid day of tennis, let's get you up to speed on the latest results from London.
Day 2 Scores

| | |
| --- | --- |
| Singles | |
| Group A - (1) Rafael Nadal def. (3) David Ferrer | 6-3, 6-2 |
| Group B - (2) Novak Djokovic vs. (6) Roger Federer | 6-4, 6-7 (2-7), 6-2 |
| Doubles | |
| Group B - (7) Leander Paes/Radek Stepanek def. (2) Alexander Peya/Bruno Soares | 6-3, 5-7, 10-8 |
| Group A - (3) Ivan Dodig/Marcelo Melo def. (1) Bob Bryan/Mike Bryan | 3-6, 6-3, 10-8 |
BarclaysATPWorldTourFinals.com
Rafael Nadal Knocks off David Ferrer in Straight Sets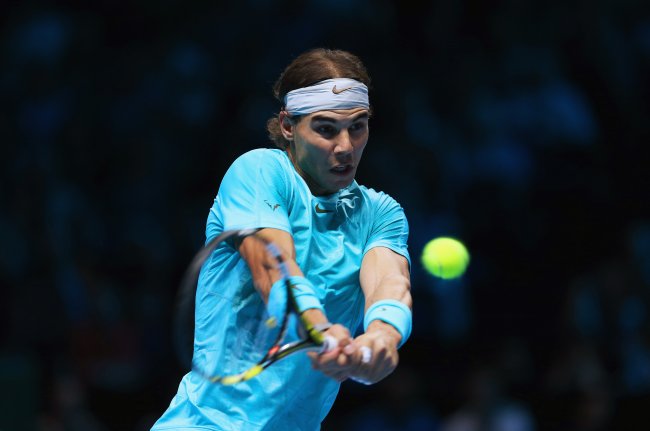 Clive Brunskill/Getty Images
Determined to avenge his semifinal loss to fellow Spaniard David Ferrer in Paris last weekend, Rafael Nadal set the tone early in his opening Group A matchup with the world No. 3.
Rafa took advantage of some sloppy play from Ferrer in the opening set and capitalized on each of his three opportunities to break. After just over 30 minutes, Nadal had built a one set to love advantage thanks to a ridiculous 19 unforced errors from Ferrer, per tennis writer James Peeling:
A terribly ropey set of tennis which Nadal wins 6-3. Ferrer has made a shocking amount of errors so far #finalshowdown

— James Peeling (@MooTennisBlog) November 5, 2013
But Nadal would prefer to point out that he went 3-of-3 on break-point chances in the first set, per TennisTV on Twitter:
Big fist pump from Nadal at the end of that first set #FinalShowdown pic.twitter.com/2qoEajVeL4

— TennisTV (@TennisTV) November 5, 2013
Ferrer's lackluster play would carry over into the second set, where he quickly found himself trailing. After breaking Ferrer in the second game to go up 2-0, Nadal was officially in cruise control.
The top seed appeared to be as locked-in as ever at 5-0 in the second set, but watched helplessly as Ferrer briefly seized momentum to pull within three games. The back-to-back games were all the No. 3 seed could muster, though, as Nadal broke serve for a sixth time in the match to prevail.
The two players combined for 53 unforced errors in the match and neither was particularly impressive on serve, as Tennis View Magazine sarcastically points out:
Nadal wins 6-3 6-2 with 9 winners and 20 unforced errors, Ferrer with 16W and 33UE. Not the greatest match in the world. #finalshowdown

— Tennis View Magazine (@TennisViewMag) November 5, 2013
The biggest difference in the match was how each player fared on his first serve. Nadal won 21 of 26 first-serve points (80 percent) for the match while Ferrer was able to win just 14 of 36 first-serve points (38 percent).
Novak Djokovic Outlasts Roger Federer for Three-Set Victory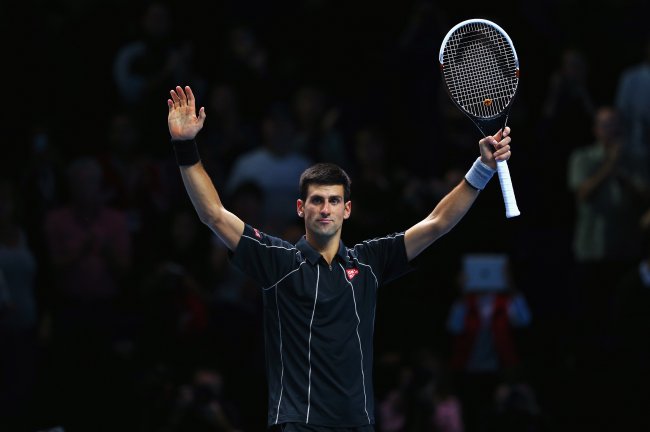 Clive Brunskill/Getty Images
For the second week in a row, Roger Federer provided a tough test for Novak Djokovic before falling short in the third set.
The first set was incredibly close between these two elite players, but Federer simply made too many mistakes early on. Tennis TV provides the stats from the first set:
First set stats: Novak Djokovic v Roger Federer. Key number? Unforced Errors #FinalShowdown #tennis pic.twitter.com/ssIhwEyA1q

— TennisTV (@TennisTV) November 5, 2013
As the tweet notes, unforced errors were a problem as the Swiss star gave away 15 points. He also had two double faults, and Djokovic got the one break needed to win the set.
The sloppy play did not stop in the second set as neither play got more than half of their first serve in play. This time, however, Federer was able to send it to a tiebreak, which he won 7-2.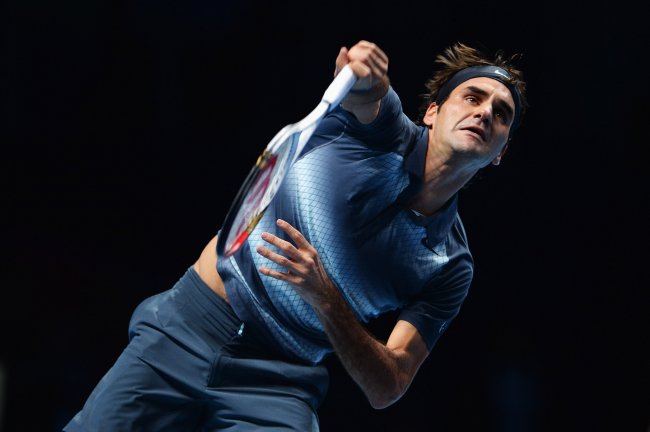 Michael Regan/Getty Images
Of course, this was the last positive moment for the veteran as the third set belonged to Djokovic. The No. 2 seed had seven aces and won 18 of his 20 points on first serves, providing an effort that few would beat.
As Ben Rothenberger of the New York Times notes, it takes a lot to beat Djokovic when he is playing this well:
Djokovic defeats Federer 6-4, 6-7(2), 6-2. Roger just not steady enough right now for the wall-to-wall excellence needed to beat a Novak.

— Ben Rothenberg (@BenRothenberg) November 5, 2013
Federer simply did not have that in him, and he fell in his first match of the ATP World Tour Finals.
Follow Bleacher Report Featured Columnist Patrick Clarke on Twitter.