London Masters 2013: Players Who Qualified for Barclays ATP World Tour Finals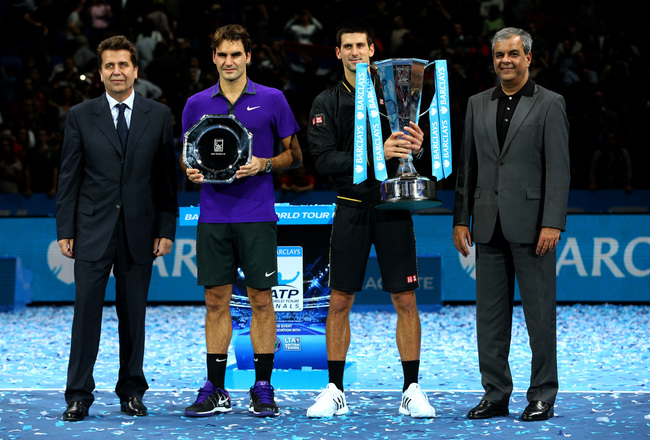 Julian Finney/Getty Images
The world's best tennis players gather in London this week for the prestigious ATP Tour Finals, with only the top performing eight players of the past year in attendance.
In the absence of Britain's Andy Murray, world No. 9 Richard Gasquet completes the qualifiers for this year's tournament. He was the final player to confirm his qualification on October 31.
Over the course of the next week, the eight players will compete in two round robins before heading onwards to both semifinal and final stages, where the winner will be crowned on Sunday.
Who are the eight singles stars in attendance?
*All statistics quoted taken from the ATP Tour official website.
8. Richard Gasquet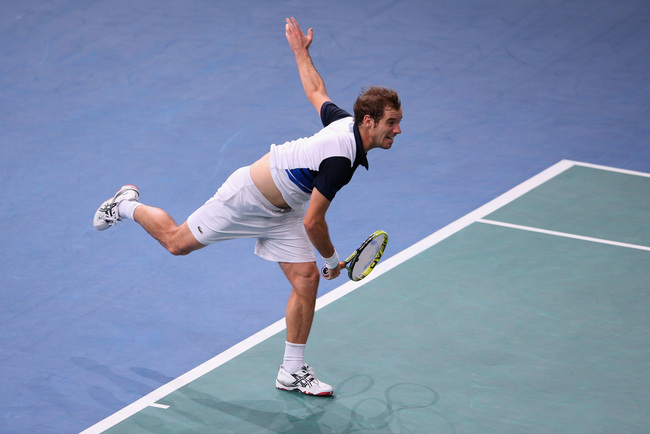 Julian Finney/Getty Images
An appearance in the U.S. Open semifinals was the highlight of Gasquet's improved year in 2013, which also saw him win three titles.
The Frenchman was somewhat of a prodigy as a teenager, but has failed to live up to his initial promise as a professional.
Titles at the Open Sud de France, Qatar Open and Kremlin Cup, though, rank 2013 as the joint best of his career in terms of titles, while his showing at Flushing Meadows also equalled his best result in a major.
7. Stanislas Wawrinka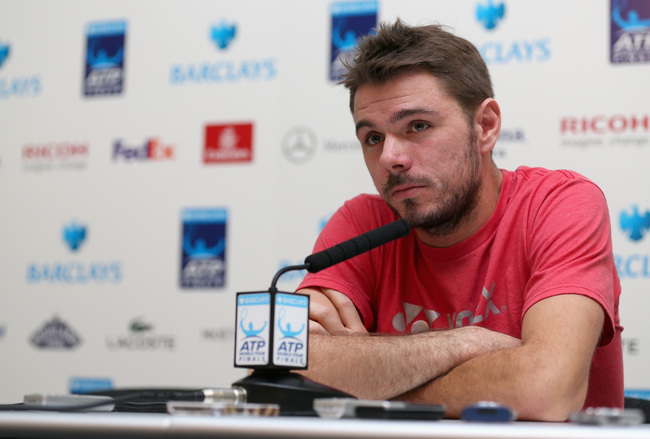 Clive Brunskill/Getty Images
Swiss No. 2 Wawrinka also only secured his attendance on October 31, but has had the best year of his professional career over the past 12 months.
A first ever appearance in a Grand Slam semifinal came in New York. Meanwhile, he has appeared in three tour finals in 2013, and won the Portugal Open. He would also reach the final of the Madrid Masters, losing to Rafael Nadal.
Wawrinka, now 28, looks to be finally building on the promise of his early career to establish himself as a member of the world's top 10.
Having beaten Andy Murray en route to the U.S. Open semifinals and taken Novak Djokovic to five sets in Australia, he has shown that he can compete with the very best in the world when he finds his rhythm.
6. Roger Federer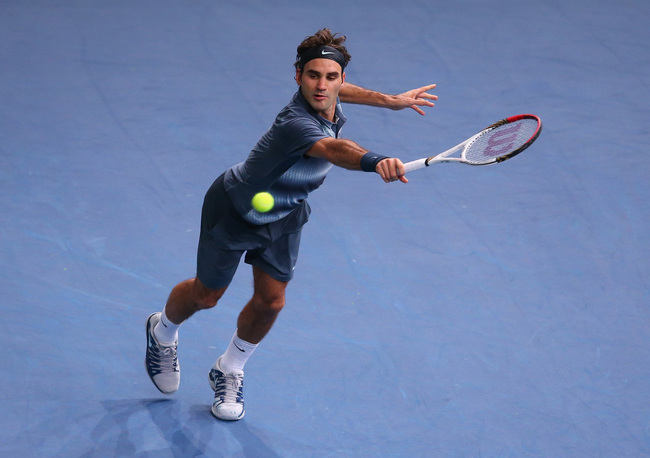 Julian Finney/Getty Images
A six-time winner of the ATP Tour Finals, Roger Federer will be hoping for a fourth consecutive finals appearance at the O2 Arena this week.
Federer has dropped to sixth in the world rankings, having failed to reach the final of a Grand Slam tournament this year for the first time in over a decade.
For the first time since 2008, Federer failed to clinch a Masters series title this year, while he has only won once on the ATP Tour as a whole at the Halle tournament in June.
He has, though, reached three other finals.
Over the last two weeks, Federer has reached at least the semifinals of major events—without success. He will now hope to set the record straight at a tournament where he has reigned supreme in London.
5. Tomas Berdych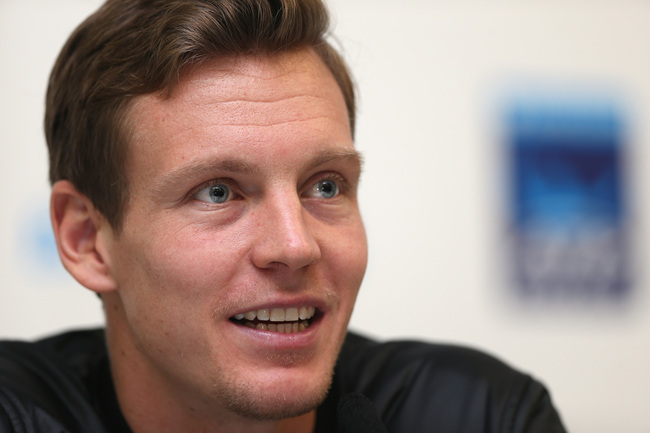 Clive Brunskill/Getty Images
Czech star Tomas Berdych was the fifth of the competitors to confirm his attendance at this year's tour finals, having firmly established himself inside the world's top 10.
Three final appearances at ATP Tour events in 2013 have brought no wins, but his ranking is a reflection of his consistent performances over the course of the year.
It is the fourth consecutive end-of-year finals event that Berdych will attend, having reached the semifinal once.
His overall record at the tournament is poor, having won just four of 10 matches played.
4. Juan Martin Del Potro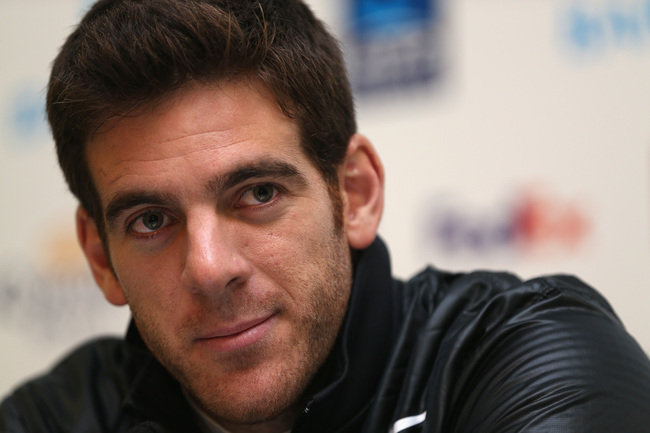 Clive Brunskill/Getty Images
Argentine giant Juan Martin Del Potro is also attending the ATP World Tour finals for the fourth time, and is a previous finalist, having lost in 2009 to Nikolay Davydenko. He has an overall 6-6 record at the event.
Del Potro has won four tour titles in 2013. He has also reached two Masters Series finals—in Shanghai and Indian Wells—earning himself a ranking of fifth in the world heading into the London event, which is one off his career best.
One statistic that stands him in good stead for the coming test is his record on indoor courts in 2013, on which he has won 11 times and lost just once.
As far as best outside bets for the title go, look no further than the man known as Delpo.
3. David Ferrer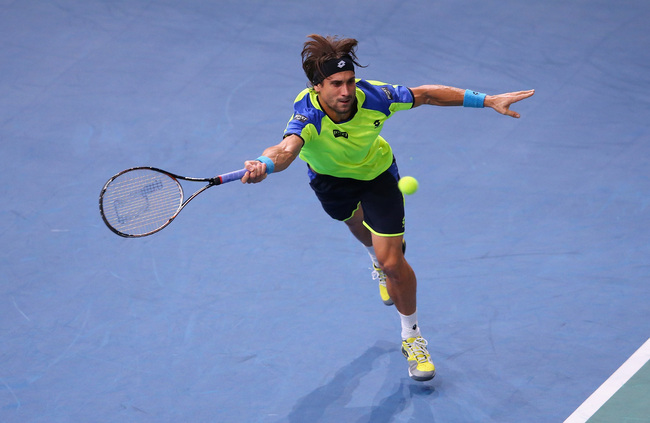 Julian Finney/Getty Images
Spanish baseliner Ferrer would seem to be getting better with age, having reached the quarterfinal stage of the past eight Grand Slams at the age of 31.
Ferrer has two tour titles to his name this year, winning on clay in Buenos Aires and on the hard courts of Auckland. He has also reached a further six finals, two of which were indoors, including two Masters Series events.
The latest of those finals came only this weekend in Paris, where he was defeated by Novak Djokovic after a sensational semifinal win over compatriot Rafael Nadal.
He will arrive in London in excellent form and off the back of excellent indoor performances this season. Having replaced Murray as No. 3 in the world in his absence, he will hope to further build with a strong showing in London.
2. Novak Djokovic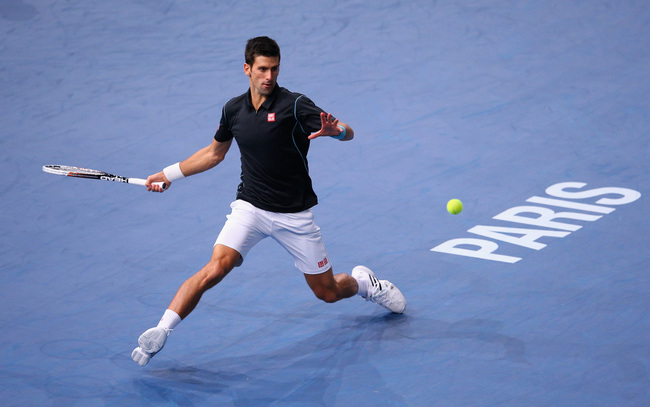 Julian Finney/Getty Images
Following his win at the Paris Masters on Sunday, Novak Djokovic keeps alive the possibility of regaining his world No. 1 ranking if he can repeat his success of 2012 and should Rafael Nadal drop out at the first stage.
It will not be straightforward, but a strong end to what had been a slightly disappointing year has put the Serb back in the hunt for the top spot.
Djokovic has five titles to his name this year, including the Australian Open and two Masters Series titles. He also reached the finals of both Wimbledon and the U.S. Open, but was without success.
A 5-0 record on indoor courts this year would suggest that repeating his victory of last year is far from out of the question.
1. Rafael Nadal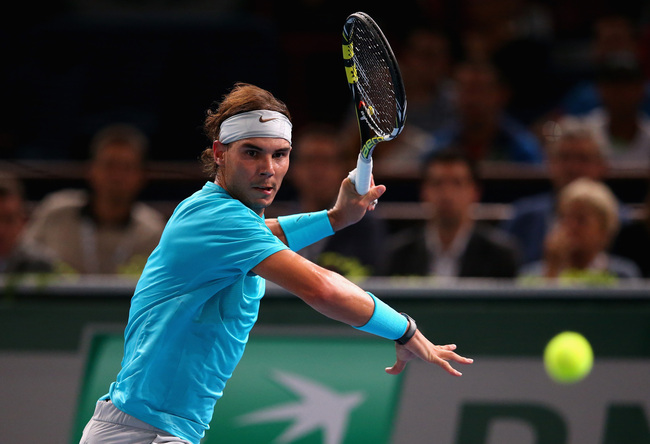 Julian Finney/Getty Images
World No. 1 and U.S. Open champion Rafael Nadal is the man to beat in London this week, having won 10 titles since his return from a long injury absence earlier this year.
Those successes include five Masters Series titles and two Grand Slams, making Nadal the undisputed best player of the past 12 months—a period in which he has lost just five times.
On indoor courts, he is unbeaten in 2013, although he has only played on the surface four times. He also has an exceptional 19-3 record against players in the top 10.
Nadal has played the ATP finals on six occasions, but has never won and has reached the final on just one occasion. His overall record at the event is not good, having lost 10 of 19 matches at the tour finals.
Keep Reading