The 2013 Breeders' Cup is still several days away, but it's never too early to think about the top contenders for the annual event.
While Friday and Saturday will be loaded with races, the main event is the 1.25-mile Classic race. The Classic will be the 14th and final race of the weekend and is set to begin at 8:35 p.m. ET on NBC.
Here is the complete list of horses scheduled to run in the Classic, courtesy of BreedersCup.com.
1.
Fort Larned
2.
Game On Dude
3.
Mucho Macho Man
4.
Ron the Greek
5.
Declaration of War
6.
Flat Out
7.
Graydar
8.
Last Gunfighter
9.
Moreno

10.

11.

12.

13.

Palace Malice

Paynter

Planteur (IRE)

Will Take Charge
For a breakdown of the horses with the best shot of taking home the title, simply scroll down.
Fort Larned
Fort Larned is the defending champion in this race and should be considered a legitimate threat to repeat.
Although the five-year-old has struggled at times this year, he is coming off a recent win at the Homecoming Classic Stakes at Churchill Downs on Sept. 28. He also won the Stephen Foster Handicap on June 15.
Fort Larned deserves some respect after his unbelievable showing in this race last year. He led the race from end to end and fended off a furious charge from Mucho Macho Man to hold on to the victory.
With experience on the track and some positive momentum, look for Fort Larned to at least finish within the top three.
Game On Dude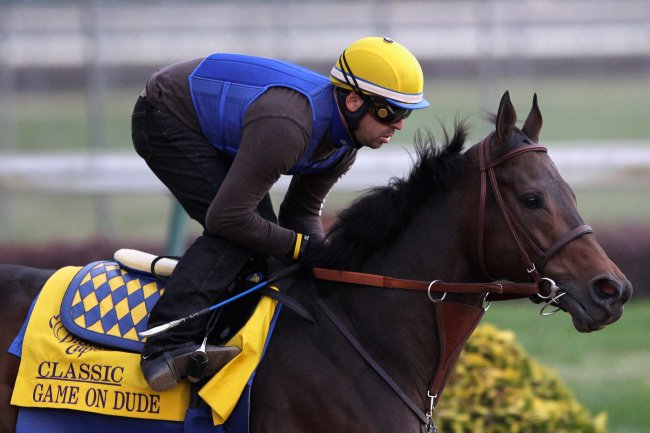 /Getty Images
Game On Dude was the favorite in last year's race, but he finished in a disappointing seventh place. Look for him to rebound with a strong showing in 2013.
The talented six-year-old has been absolutely dominant this year, winning each of his five races thus far. He has earned nearly $2.5 million in the process, and I expect him to significantly add to that total at the $5 million Classic.
With legendary trainer Bob Baffert in his camp, Game On Dude should be considered the favorite again this weekend.
Mucho Macho Man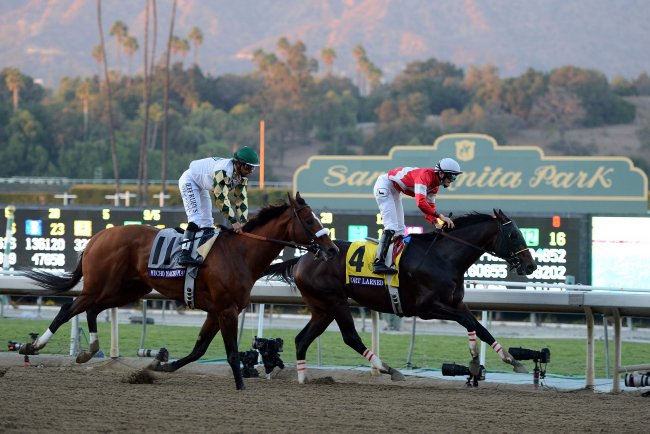 /Getty Images
As you saw above, MMM provided some theatrics at the 2012 Classic, charging hard down the stretch to nearly steal the victory from Fort Larned.
That experience could prove to be crucial for MMM, who has just one win this year. His chances will be even better thanks to his jockey, Gary Stevens, who rode Oxbow to the 2013 Preakness crown.
I wouldn't pick MMM to take home the win, but I'm expecting him to at least finish in the top five. Depending on how the odds look when race time rolls around, he could be a great bet.
Here is the complete 2013 Breeders' Cup schedule.
| | | |
| --- | --- | --- |
| Races for Friday, Nov. 1 | Post Time (ET) | TV |
| Marathon Stakes (G2) | 4:45 p.m. | NBC Sports |
| Juvenile Turf | 5:25 p.m. | NBC Sports |
| Dirt Mile | 6:05 p.m. | NBC Sports |
| Juvenile Fillies Turf | 6:50 p.m. | NBC Sports |
| Distaff | 7:35 p.m. | NBC Sports |
| | | |
| Races for Saturday, Nov. 2 | Post Time (ET) | TV |
| Juvenile Fillies | 3:05 p.m. | NBC Sports |
| Filly & Mare Turf | 3:43 p.m. | NBC Sports |
| Filly & Mare Sprint | 4:21 p.m. | NBC Sports |
| Geico Turf Sprint | 5:05 p.m. | NBC Sports |
| Juvenile | 5:43 p.m. | NBC Sports |
| Turf | 6:22 p.m. | NBC Sports |
| Xpressbet Sprint | 7:01 p.m. | NBC Sports |
| Mile | 7:40 p.m. | NBC Sports |
| Classic | 8:35 p.m. | NBC |
Source: BreedersCup.com.