The St. Louis Cardinals overcame another late home run from David Ortiz to claim a narrow 4-2 win over the Boston Red Sox on Thursday night, tying the World Series at one game apiece.
The Cardinals take Game 2! The Red Sox's 9-game World Series winning streak comes to an end after the 4-2 win and the series is tied 1-1.

— Bleacher Report (@BleacherReport) October 25, 2013
Ortiz hit a two-run homer over the Green Monster to put the Sox ahead, 2-1, in the bottom of the sixth, but it wouldn't hold up. Fueled by some timely hitting and a Craig Breslow throwing error, the Cards put three on the board in the seventh.
From there, Carlos Martinez and Trevor Rosenthal shut things down in emphatic fashion, together striking out six and giving up one hit over the final three innings to secure the crucial road win for St. Louis.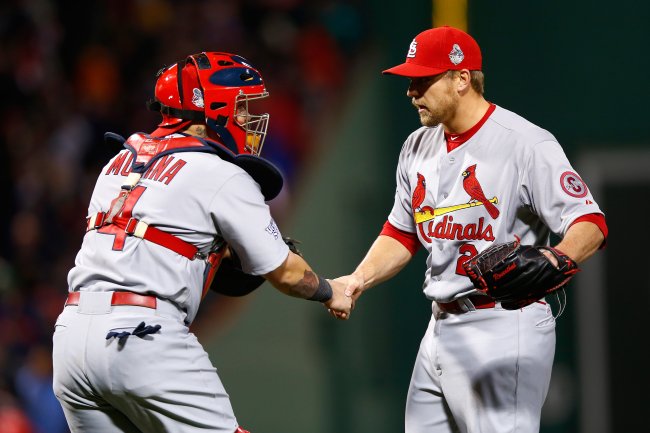 /Getty Images
Rookie Michael Wacha got the start for St. Louis, and much like the rest of the postseason, he cruised through the first five innings. But even as his pitch count ran high and he began to face the dangerous Boston lineup for the third time, Mike Matheny elected to keep him on the mound.
That turned out to be the wrong decision, as Ortiz delivered the opposite-field bomb after a Dustin Pedroida walk to give Boston the lead.
PHOTO: David Ortiz hit a two-run homer in the sixth inning, giving the Red Sox a 2-1 lead. http://t.co/7QBx31DfvB pic.twitter.com/ujUULZc9rO

— The Boston Globe (@BostonGlobe) October 25, 2013
Wacha was able to get out of the inning, however, finishing with three hits, four walks, six strikeouts and two runs allowed through six innings. The 22-year-old righty's outing was rewarded with the victory, however, as the Cards offense came through the very next half-inning.
After an Allen Craig strikeout, David Freese walked and Jon Jay singled to drive Boston starter John Lackey from the game after 6.1 innings.
Lackey would take the loss and gave his thoughts on that after the game (via MLB):
"Who really cares who gets the win or loss next to their name? We're trying to win four games, trying to win a ring." – John Lackey

— MLB (@MLB) October 25, 2013
Craig Breslow came on in relief and it was a nightmare appearance for the normally reliable lefty, as he walked Daniel Descalso and gave up a sacrifice fly to Matt Carpenter to tie the game. After the throw home on the sac fly skipped past catcher Jarrod Saltalamacchia, however, Breslow made an unnecessary throw that sailed over third and allowed the game-winning run to score.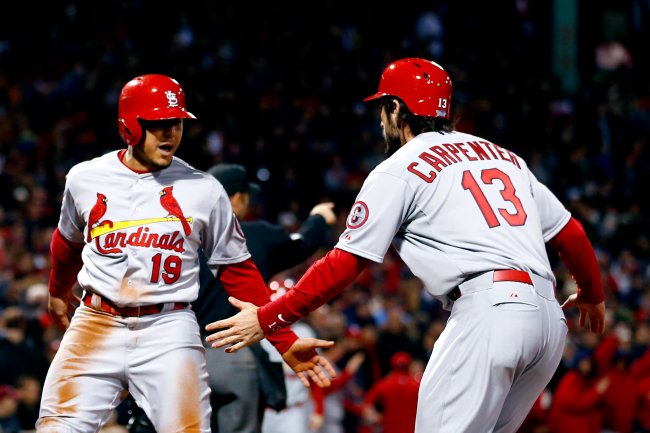 /Getty Images
He gave up a single to the next batter, Carlos Beltran, pushing the Cardinals lead to 4-2.
Martinez and Rosenthal then slammed the door shut, needing just 35 pitches to get through the final three innings and complete the 23-years-and-under complete game.
Player Grades
Michael Wacha, Cardinals: B+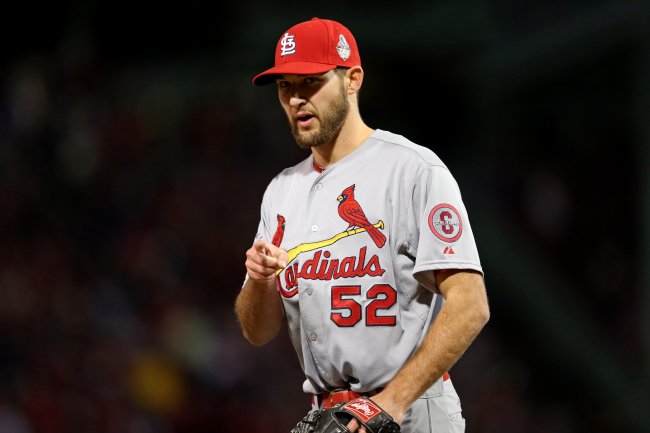 /Getty Images
For the first five innings, Wacha was dynamite. He used his changeup to make hitters look silly, and in the fourth inning, he escaped a two-on, zero-out jam by forcing Mike Napoli into a double play.
Via @eliassports Michael Wacha: 16 2/3 consecutive scoreless innings. That is a rookie record for a single postseason.

— ESPN Stats & Info (@ESPNStatsInfo) October 25, 2013
His downfall, however, was a lack of efficiency.
Wacha needed just under 100 pitches to get through those five shutout innings, and when Matheny left him in as his pitch count began to rise (he finished with 114), you could feel the Sox were eventually going to get to him.
Nevertheless, despite the unspectacular final line, it was a good night in a tense spot for the youngster.
John Lackey, Red Sox: B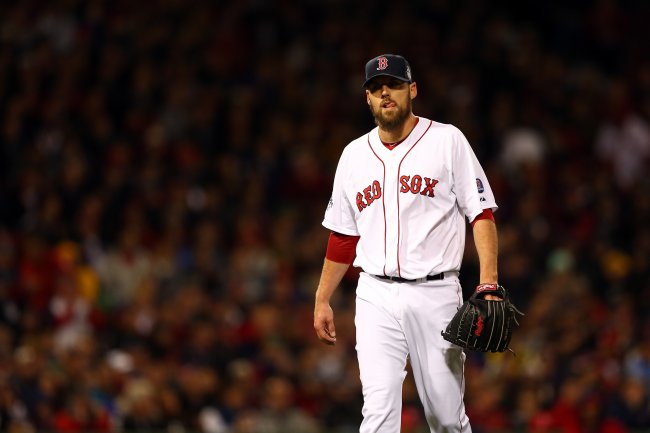 /Getty Images
Much like with Wacha, Lackey finished with a so-so final line (6.1 IP, 5 H, 3 R, 6 K), but most of the damage came late after looking sharp early on.
Lackey's slider was especially effective, and although he was eventually saddled with the tough-luck loss, he shouldn't be blamed too much.
Carlos Martinez, Cardinals: A
Two near-perfect innings of relief, three strikeouts and a whole bunch of filthy pitches:
Carlos Martinez: Wow. 95 mph moving fastball, followed by ridiculous slider. Almost unfair for hitters.

— Buster Olney (@Buster_ESPN) October 25, 2013
There are warrants out for the arrest of Carlos Martinez's slider.

— Jeff Passan (@JeffPassan) October 25, 2013
In a tough spot, Martinez needed just 24 pitches to bridge the two-inning gap from Wacha to Rosenthal.
David Ortiz, Red Sox: A
Ho-hum, just another home run of monstrous importance for David Ortiz. Nothing to see here. Here are a few impressive stats for Big Papi's big blast:
David Ortiz: 17th career postseason HR (ties Jim Thome for 7th all-time)

— ESPN Stats & Info (@ESPNStatsInfo) October 25, 2013
David Ortiz's 3 career World Series HR are tied for most in Red Sox history with Carl Yastrzemski, Dwight Evans & Larry Gardner

— ESPN Stats & Info (@ESPNStatsInfo) October 25, 2013
Even though the Cardinals were able to respond in impressive fashion to take back the lead, it was still another clutch hit for the veteran. He also drew a walk early in the game and delivered a two-out single in the eighth.
What's Next
The teams will head to St. Louis for Game 3, which takes place at 8:07 p.m. ET on Saturday.